What is an Affiliate program? Sign up now!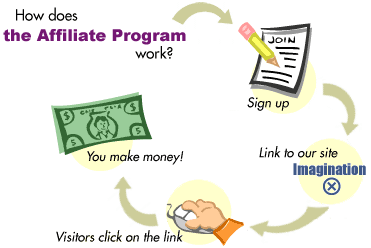 If you have never heard of an affiliate program it is really quite simple. The chart above gives a quick visual depiction of an affiliate program. Simply put we pay you to help us advertise.
Step 1:
Join the affiliate program
Our affiliate program is powered through Share-a-Sale. One of the leading providers of affiliate programs on the internet today. They have been around since 2000 and are noted for making accurate and on time commission payments.
First you will apply for a Share-a-Sale account. Once approved you can then apply to be part of the Expressions Vinyl affiliate program.
One great part of being powered by Share-a-Sale is that you can easily work with other merchants and their Share-a-Sale powered programs as well.
Step 2:
Link To our Site
Once your account is approved you will be able to log in at Share-a-Sale and get banner ads and links to direct people to Expressions Vinyl.
These links allow you to refer traffic to us and in turn you get paid. Some affiliate programs will pay just for referrals, but we only pay for converted sales. When people come to us through your links they are now connected to us through you. When the sale is completed you are credited with a commission.
This does not have to happen immediately after they click the link. If they come back any time in the next 30 days after clicking the affiliate link you will be credited with a commissioned sale.
Get creative here. In addition to putting links on your website you can also use Blogs, Facebook pages, Twitter, Email, Article writing; use your imagination and work to get get traffic that is interested in purchasing our products.
Step 3:
Get Paid!
It's just that simple! Join the program, use your special links to link to us, get paid when someone you reffer completes a sale. Every month you could open your mailbox to a check.
To sign up for our affiliate program Click Here
Terms and Conditions
By signing up for our affiliate program you agree to the terms and conditions.

Share-a-Sale Terms of Service - Click Here

These terms and conditions are subject to change without notice. We reserve the right to terminate any affiliate at our discretion.