Cricut Vinyl Idea - Decorative Plate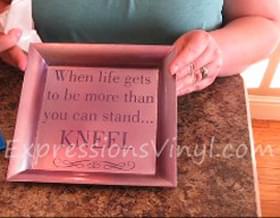 In this Cricut Vinyl project idea we are going to use a plate we picked up for cheap from a craft store to make a decoration that can be used in your home or given as a gift. This project idea is pretty simple and can be completed in just a few minutes. For this idea we have chosen Violet Metallic vinyl. It makes a nice accent for our plate color and the deep sparkle of the metallic color is just pretty.
First we need to know the area that our project idea will cover. To find this measure the flat part of the plate. With this measurement we then set up our phrase to cut on the Cricut machine. With the cutting complete we can now remove or weed out the unwanted vinyl. Cover the entire project with some transfer tape a smooth down to remove all the air bubbles.
Remove the backing to expose the vinyl adhesive and then place it on the plate in the desired location. Rub down the entire project with an application tool to make sure the vinyl is stuck down well and free of air bubbles. Remove the transfer tape and your project is finished.
The gloss metallic vinyl has a permanent adhesive and is suited to be used outdoors. It will also withstand an occasional trip through the dishwasher if you want to use your plate as a serving dish. However I would recommend hand washing.