Cricut Vinyl Project - Fall Blocks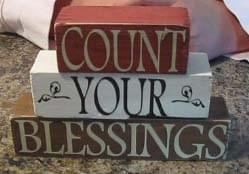 Fall decorating is so much fun! This Cricut vinyl project has a fall time holiday flare to it, but can definitely be adapted for any time of year. This project is also very quick and inexpensive, so if you just need a little something to finish off that shelf or need a quick little gift for a friend or neighbor this project will work very well.
In this Cricut vinyl project we are using three 2x2 blocks. The phrase you choose will determine the length of your blocks. For this project we have chosen the phrase "count your blessings". We also used a couple of decorative scrolls to dress things up a little bit.
We used some watered down acrylic paint to give our blocks a semi transparent washed look. We also used some sandpaper to scuff the edges for a rustic look. The look of the finished product is up to you. Then we chose some Cricut vinyl colors to compliment there corresponding blocks.
We chose to add the decorative scrolls to help fill in a block that was a little to long for our word. These types of decoration are available to download as a font from many places on the internet. They don't cost much and can be used over and over.
After cutting the lettering on your Cricut you will want to weed the excess vinyl from the backing. After weeding you can apply the transfer tape.
With the transfer tape applied you are ready to remove the backing and stick the vinyl lettering to the matching block. Make sure your paint is totally dry before applying the vinyl. If the paint is still wet the vinyl will not stick. Remove the transfer tape and your blocks are complete.
You can leave the blocks as they are to arrange however you feel, or you can hot glue them together for a somewhat permanent fixture.
This Cricut vinyl project is easy on the pocketbook and makes a nice little decoration for your home or a gift for someone, and with a little imagination it can be adapted to other holidays, seasons, or just for an all around decoration.