Cricut Vinyl Projects - Laundry Baskets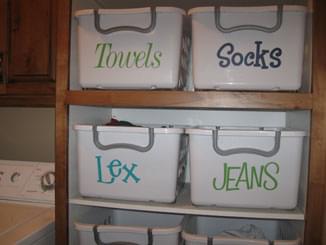 Materials Needed:
Laundry baskets
Cricut Vinyl
Font List:
This Project is really quite simple, but very useful in organizing your laundry room. This way when anyone in the family takes dirty laundry into the laudry room they know right where it needs to go. Then when its time to do laundry it is already sorted and ready to wash. You can use the same idea for baskets of clean clothes as well.
Measure the area of your laundry basket side to determine what size to cut your Cricut vinyl. Choose your color and font and get to cutting. Use transfer tape to apply your Cricut vinyl to the laundry basket. The transfer tape will make it easy to keep all the letters where they belong.
Remove the transfer tape and before you know you will have your laundry room under control.