Faux Rhinestone Baby Blanket Tutorial
How many times have you wanted to put rhinestones on something adorable for a baby? A million right?! Then you remember you don't want the baby to choke on the rhinestones and your project is ruined. Not so fast! We have the perfect solution for you...
HOLOGRAPHIC HEAT TRANSFER VINYL!
You might think I'm crazy, but stay with me here. This stuff is life changing.
The boss-man brought me home a couple of sheets and said, "make some projects..." Honestly, my first thoughts were along the lines of, "Ummmm, what the ugly?!" Then he mentioned that if you cut it into circles it will look like rhinestones. With that realization, I was all, "Ummmm, what the amazing!" What he didn't mention, however, were all the amazing colors we were getting in.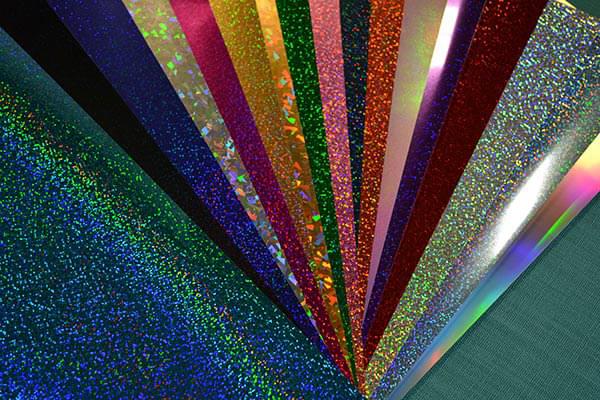 Oh my! He asked me to make 1 project, and by the time I was done I had made 11 different items with ideas for so many more. If you have ever made projects with rhinestones before, this is going to be a breeze for you. It takes half of the steps!
So let's get started. The first project I am going to show you is super simple. My niece's 1st birthday is coming up, and so is summer. I wanted to make her a super lightweight blanket. I found some super cute material at JoAnn's that is 100% cotton. I cut it into a 40"x40" square, and then put it through my Serger.
Now let the fun begin! I wanted to put some "bling" on her blanket. To get some ideas, I searched "rhinestone" in the Silhouette Store, and I found TONS of cute things I could cut.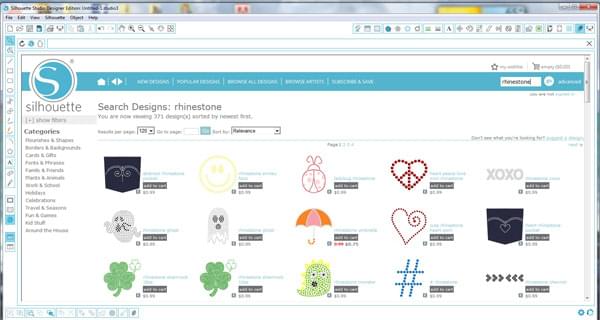 I came across this cute crown, it was perfect!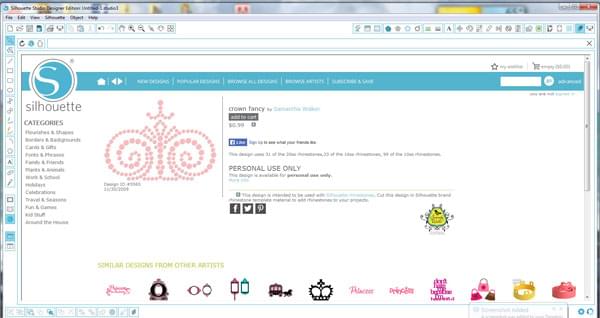 After I bought it and downloaded it into my library; I opened it in the Silhouette Studio program.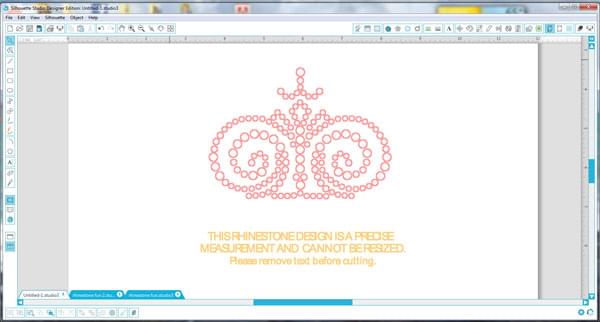 Do you see the "Notice"? If I were doing actual rhinestones this would be super important. This template has differently sized circles for the various sized rhinestones. After you cut the template, the right sized rhinestones slip right into their corresponding holes. However, since we aren't doing real rhinestones, we are going to erase this and pretend it never existed.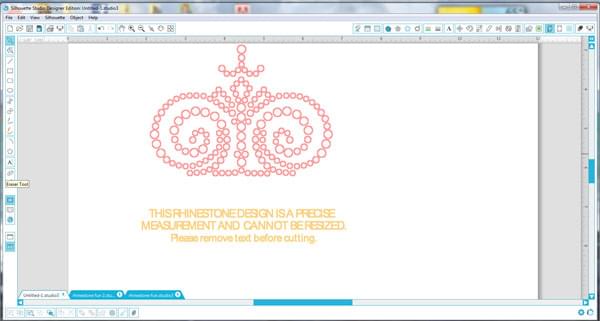 I click on the eraser tool on the left-hand side of the screen.
I am using the Designer Edition of Silhouette Studio, which is why I have a variety of erasers to choose from. It doesn't matter which you choose, just make sure to erase away all of the words.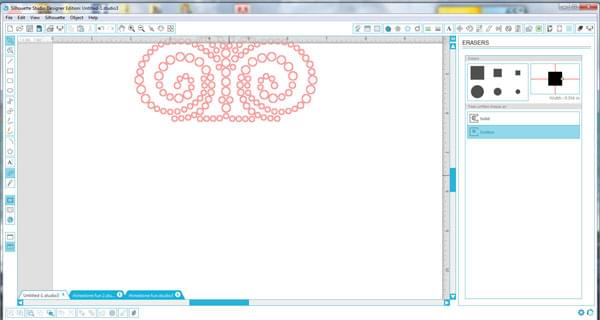 Yay all erased!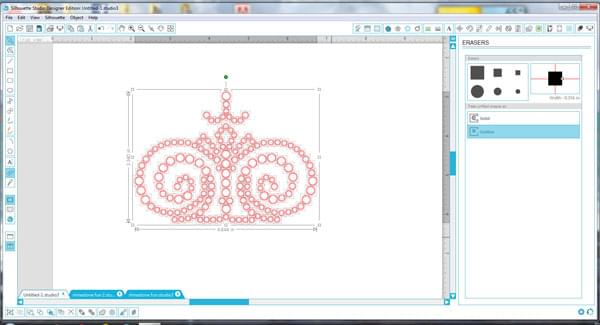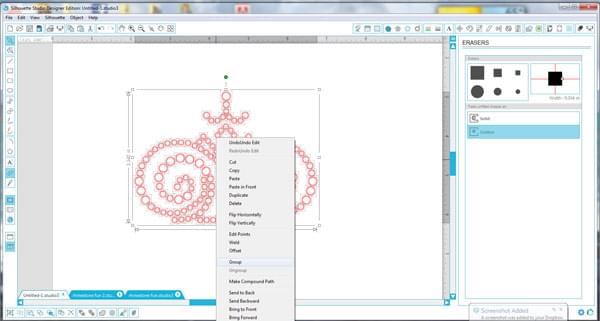 Now notice that each little circle has a square around it? That can make moving things around a little tricky because each circle is on its own. I am going to group the image together.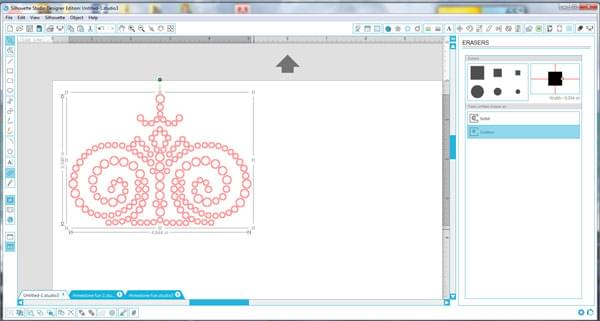 This will make it much easier to work with when sizing.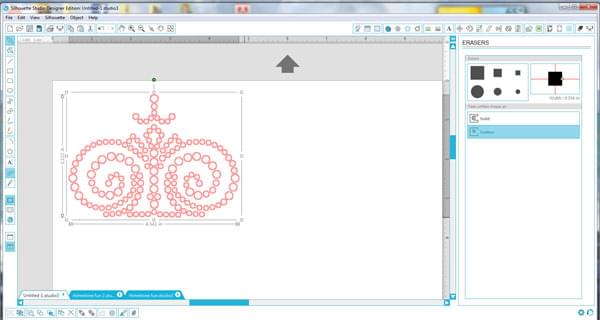 I am now going to size the image as a whole. I want it to be just over 4 1/4" wide.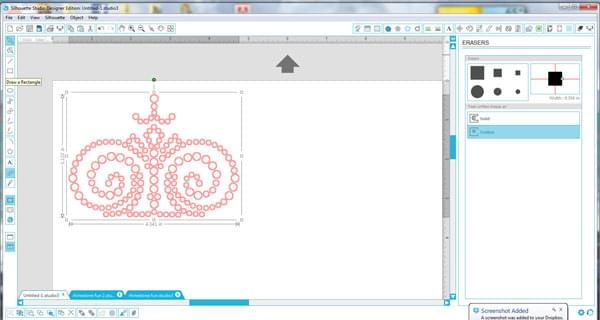 Now the tool I use on every single thing that I cut...The Rectangle Tool!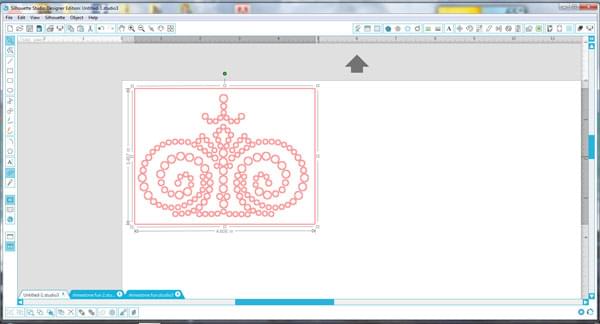 Yep- I couldn't live without it. I draw a rectangle around every cut I make. This makes weeding soooo much easier. It also gives a nice clean edge to trim around.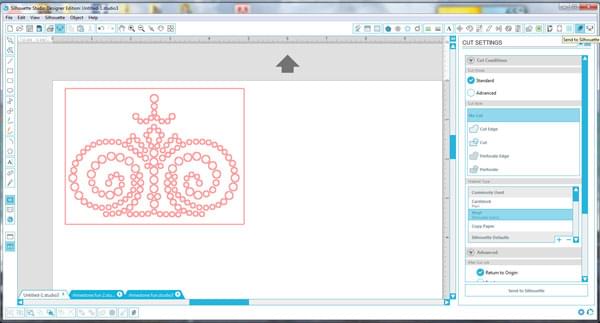 I am finally ready to cut! I click on the "Send to Silhouette" button, and then scroll down to select vinyl as the material type.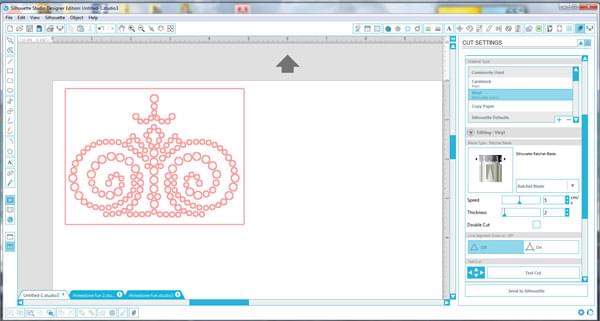 Then, I am going to click on the plus(+) button just under the "material-type" menu. This allows you to do some fine tuning. This vinyl is a little tricky to cut through, there are actually 3 layers.
*Layer 1: Adhesive layer (not sticky-heat activated) this looks dull
*Layer 2: Actual holographic material.
*Layer 3: Clear carrier sheet. This is shiny, and will be peeled off after you apply the heat.
Ok, back to cutting our vinyl. Play with your machine, get to know it. Do test cuts until you have it right. You only want to be cutting through layers 1 and 2, NOT through layer 3 at all! If you do cut into layer 3, weeding will be a nightmare. Just a friendly warning: I have found with my machine, the best settings for this vinyl was for the blade to be on 2, speed on 5, and thickness on 2. Each machine is different, and will cut differently.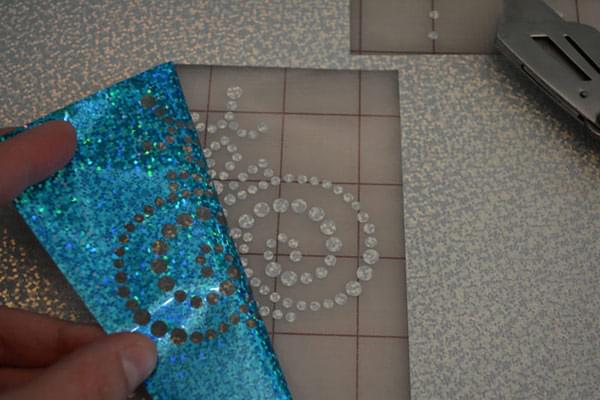 When I loaded the material into my machine, I put it in with the adhesive layer up and the shiny carrier sheet facing down. If you were doing lettering, or an image that is not symmetrical, you would want to mirror your image before cutting it out just as you would with any heat transfer vinyl.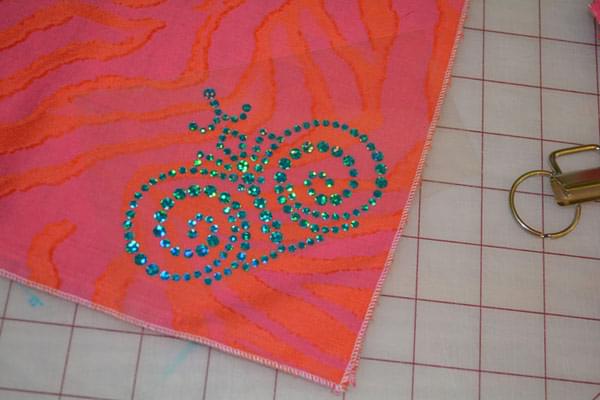 Weeding this is super easy, since you are leaving all of the little circles. Next, I'll take my knife or scissors and trim around the edge. Look closely at the next picture and you can see the clear carrier sheet. The carrier sheet is sticky so it hold the vinyl that we want to put on our blanket in place. I flip it over and then position it on my blanket.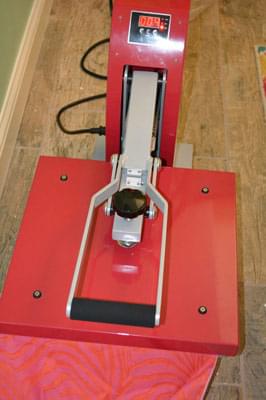 I have my heat press set at 320°. I preheat my material for a few seconds.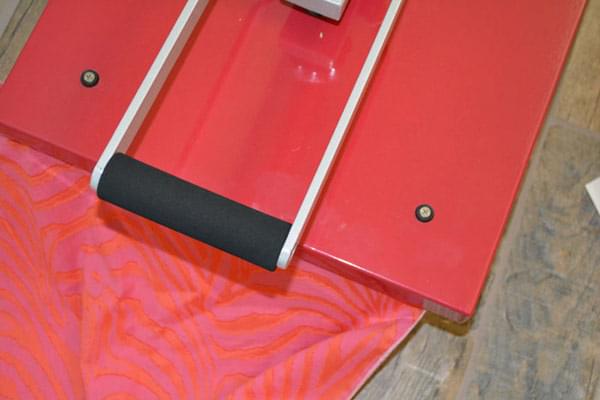 Then, I lay the vinyl back on my material, and I am ready to press. I want medium pressure and I set my timer for 15 seconds.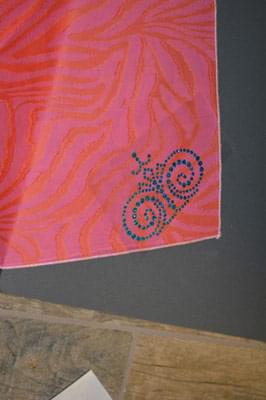 Wahoo! Ok, I am soooo tempted to peel off that carrier sheet, but I am going to exert a little self control and wait...the holographic vinyl likes a cold peel.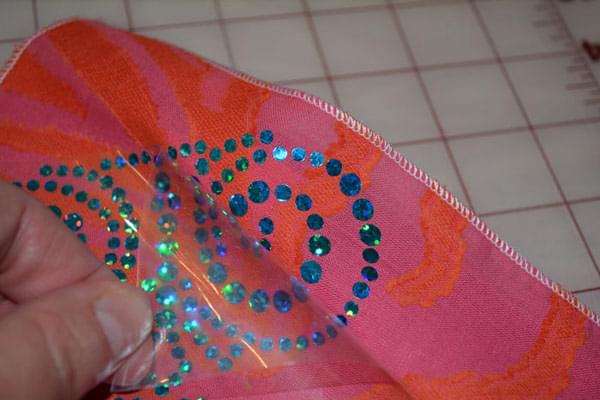 Finally, it's cooled off. Now for the best part of this entire project...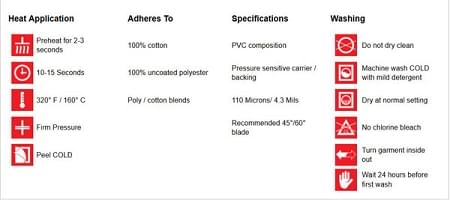 Here are a few specs on the holographic heat transfer vinyl.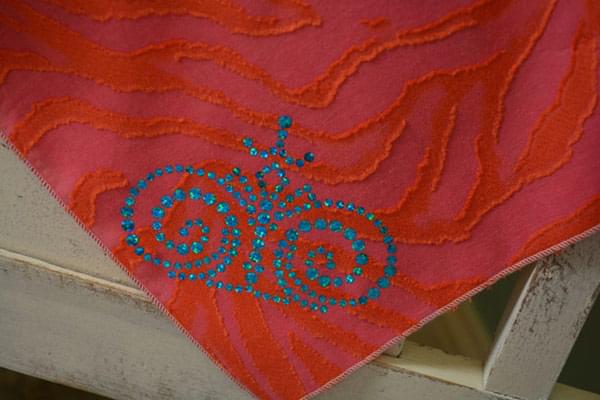 I love the way this blanket turned out!! It was a fast and fun gift to give.
It actually looks like rhinestones! I love the "blingy" look without all of the fuss and worry that actual rhinestones bring.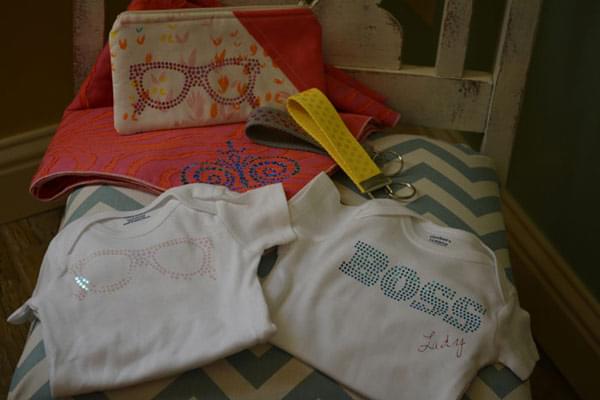 Here is a little sneak peak at some of the other projects I made using this same concept.
What will you make with Holographic Heat Transfer Vinyl?