We have several unique and exciting ways to use Siser Easyweed that we think you will have fun with. It's not just for T-Shirts. Here are all the different projects and a few tips and trick for each of them.
Sandals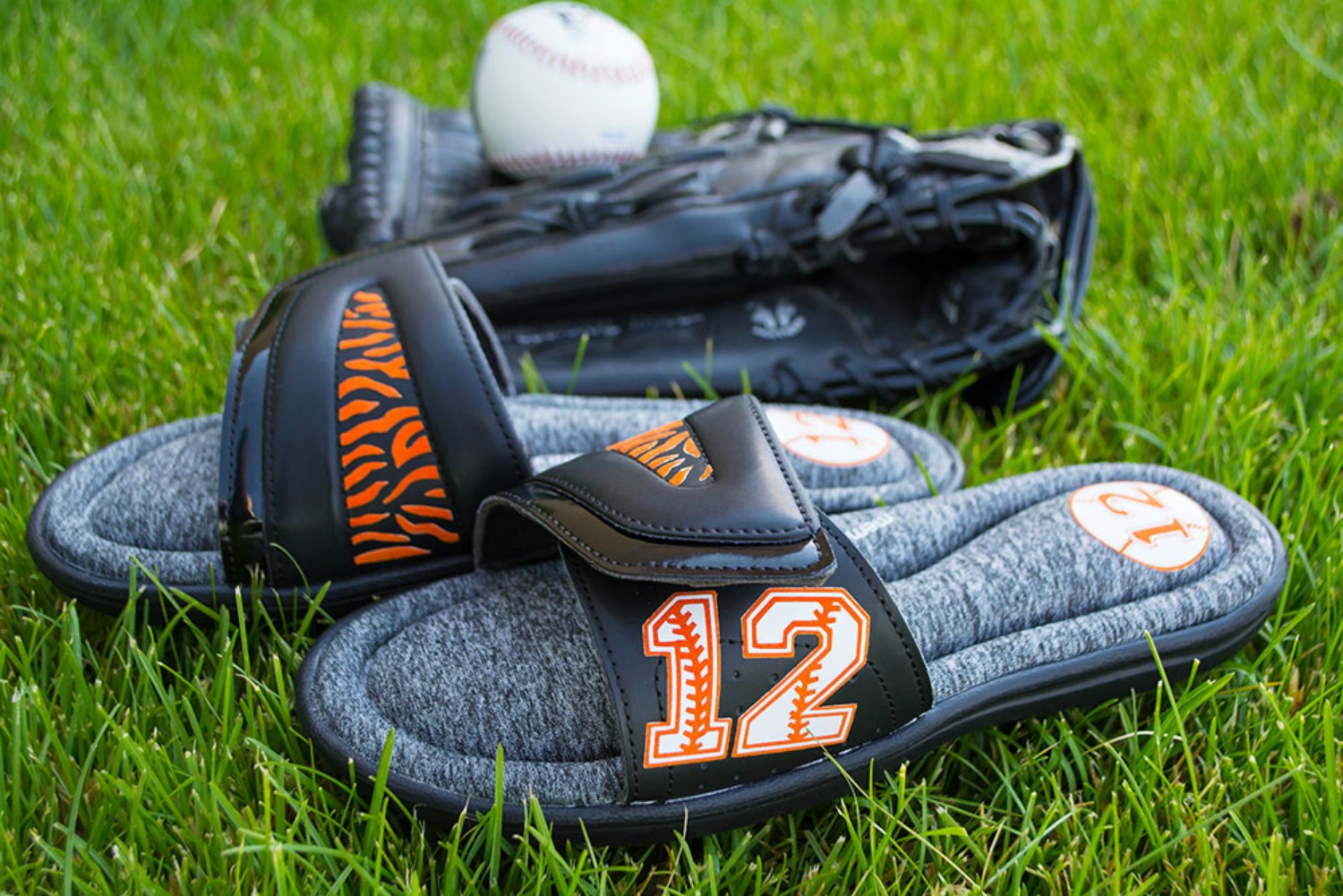 Heat Transfer Vinyl:
Font:
Varsity (dafont.com)
Images:
Baseball~by Snapdragon Snippets Design ID #10759
Tiger Stripes~ by StudioIlustrado Design ID #77455
Make sure you use the proper heat settings on your iron or heat press. You can also use one of the small craft irons that are available. We'd also recommend testing part of the sandal to make sure it will not melt under the heat. Some surfaces will not work.
Car Seat Cover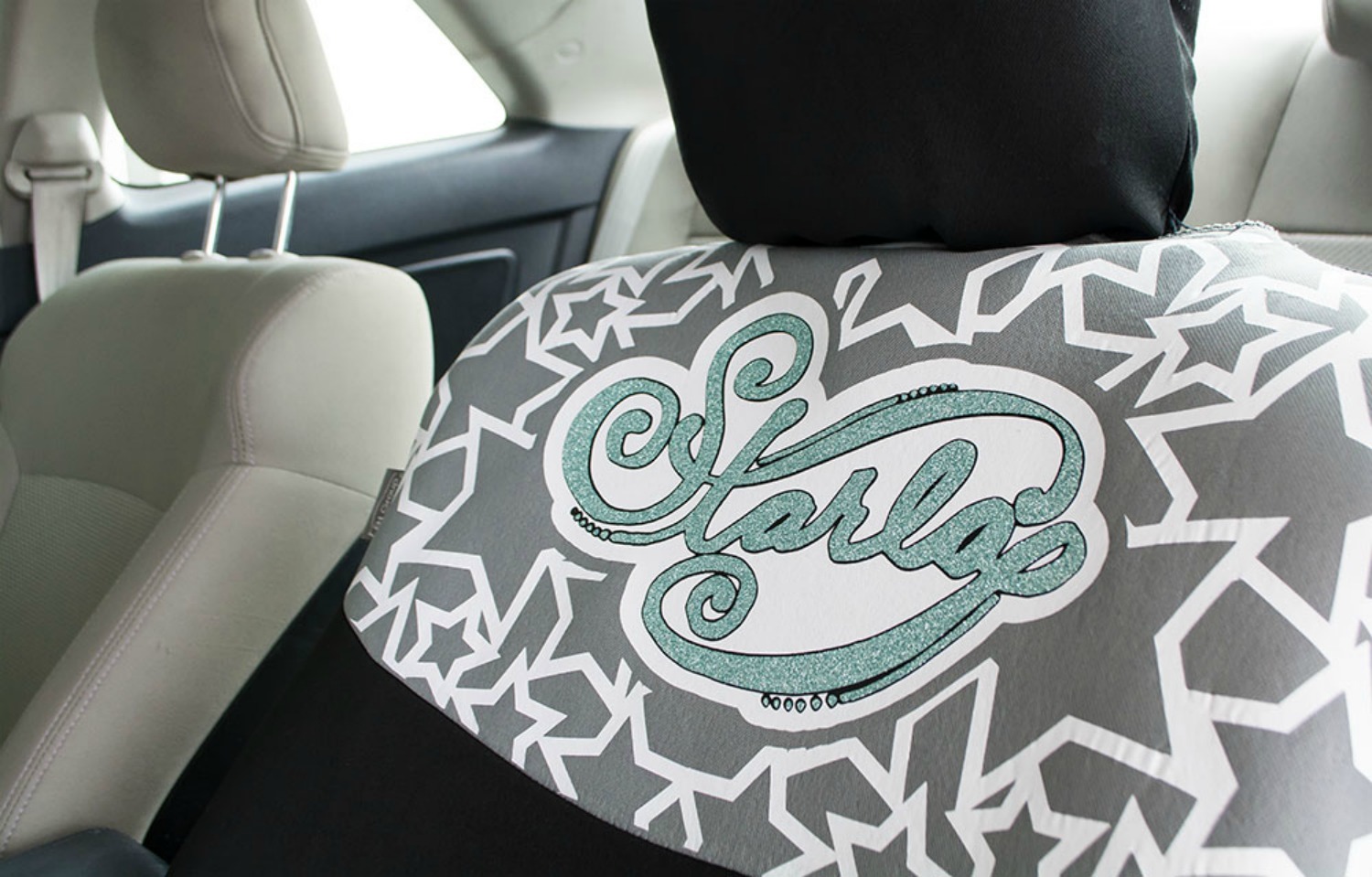 Heat Transfer Vinyl:
Font:
Starla's Signature
Images:
Star Screen~by Jennifer Wambach Design ID #41187
Make sure you test a piece and know what fabric you are ironing on. Some fabrics will react to the heat differently than others. Starla worked in different sections to get the entire pattern adhered to the cover. Such a fun idea to personalize your car.
Flip Flops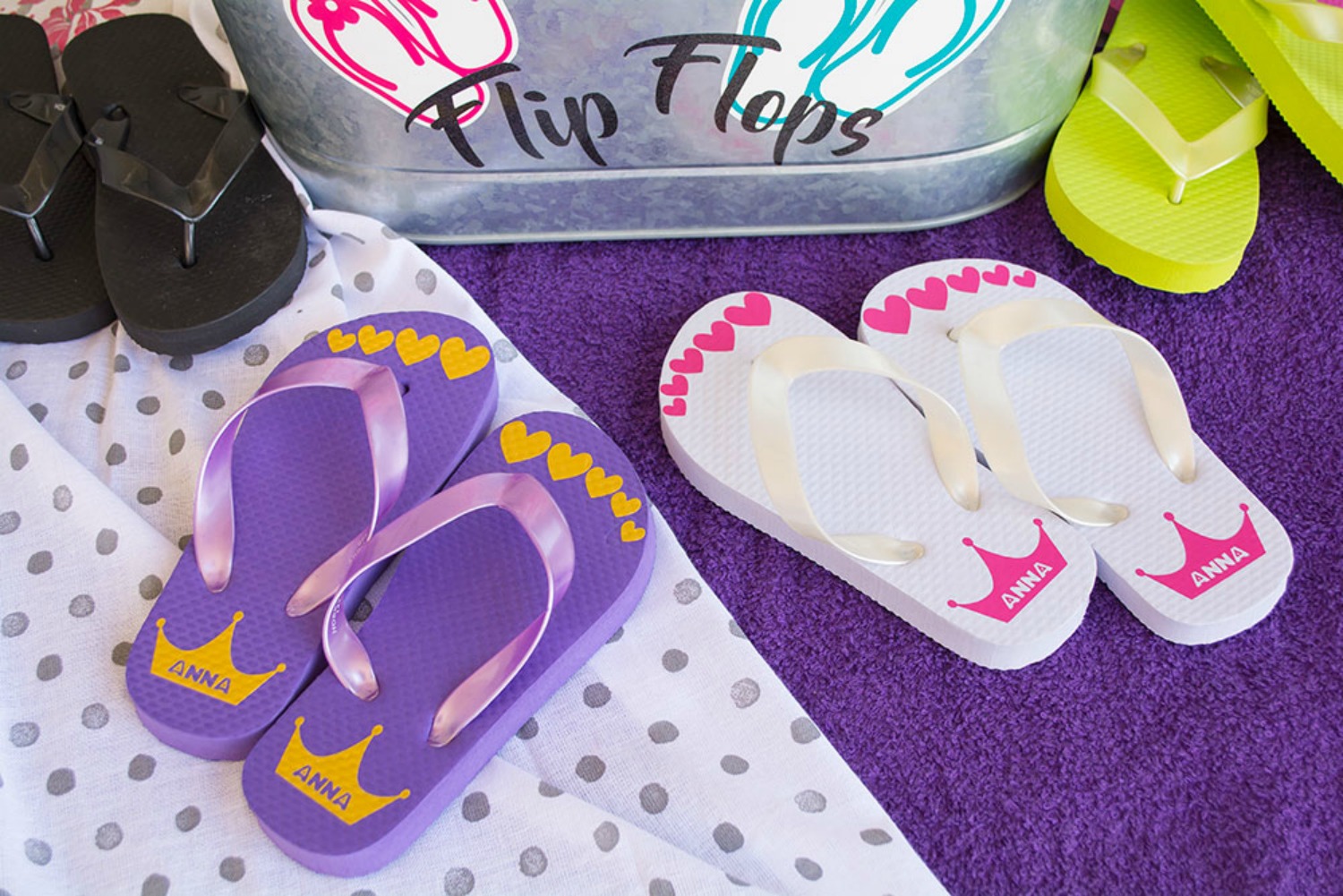 Heat Transfer Vinyl:
Images:
79747 "heart princess crown" by Strawberry Morning Cakes - Silhouette
When applying heat to flip flops make sure you are not too close to the plastic straps. These will melt with higher heat. Also, make sure that you are on a setting that will not singe or burn the shoes. You can always try pressing the iron to the bottom to see how it will react. If you are unsure still it is never a bad idea to use a sheet of MultiUse Paper.
Glass Milk Jar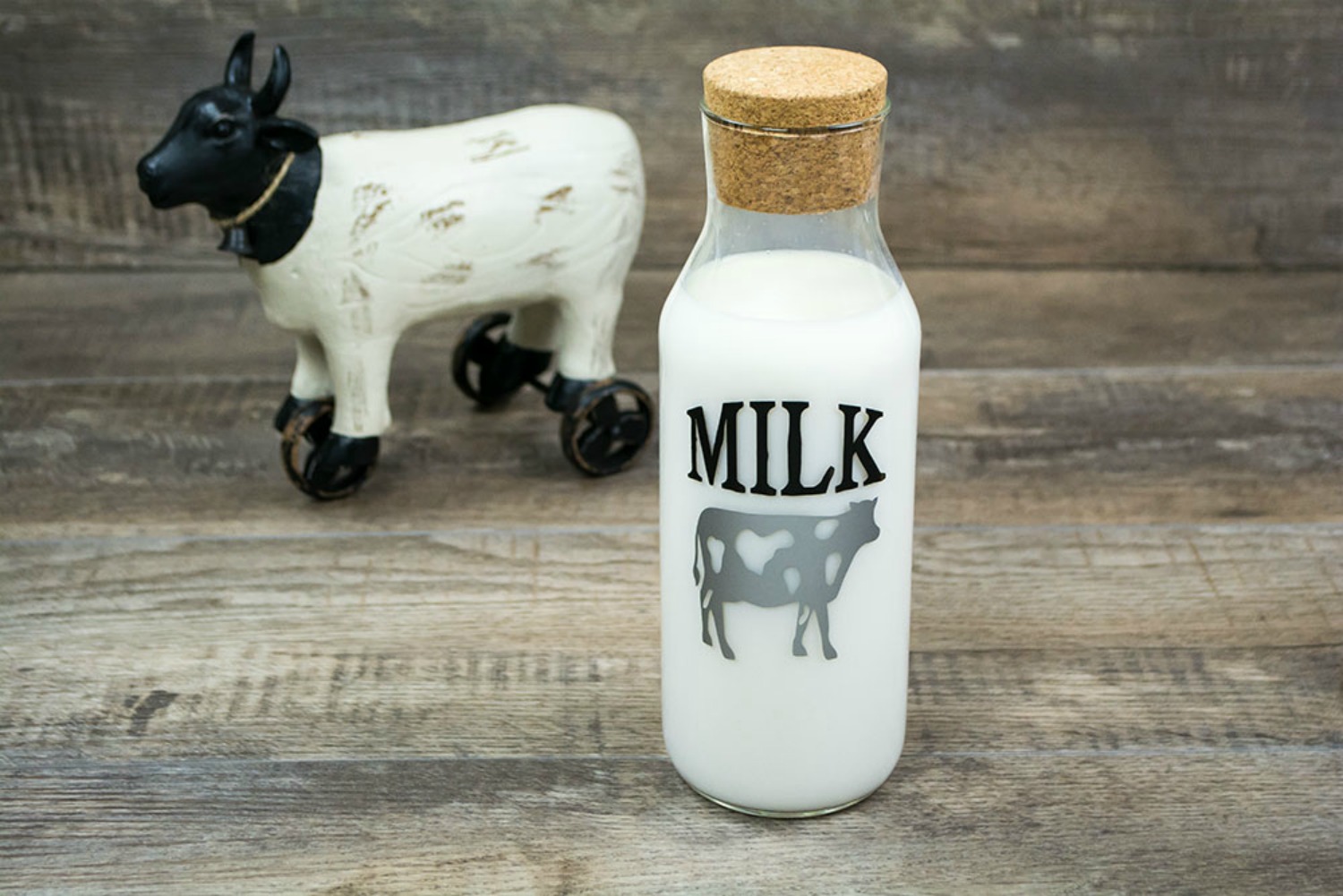 Heat Transfer Vinyl:
With the curve of the glass you are just going to want to take it a little slow. Of course we used a small iron for this one. There are mug presses that can be purchased along with your heat press that will help adhere it to mugs, but this type of glass is a lot thinner than that. We found it easier to work with if we had a way to brace the jar in place and then start working with the vinyl. Limitless possibilities.
Monogrammed Faux-Leather Bag
Heat Transfer Vinyl:
Images:
Monogram Flourishes - Silhouette
Again, and we can't stress it enough, always check the temperature you are using and test a small spot with your iron. If you can get in the inside or a spot that is not noticeable before trying the entire thing. We would hate to see a ruined project (we've all done it though.) This was easy to transfer on and we do recommend a coversheet to protect the bag from the direct heat of the press or iron.
Wood Sign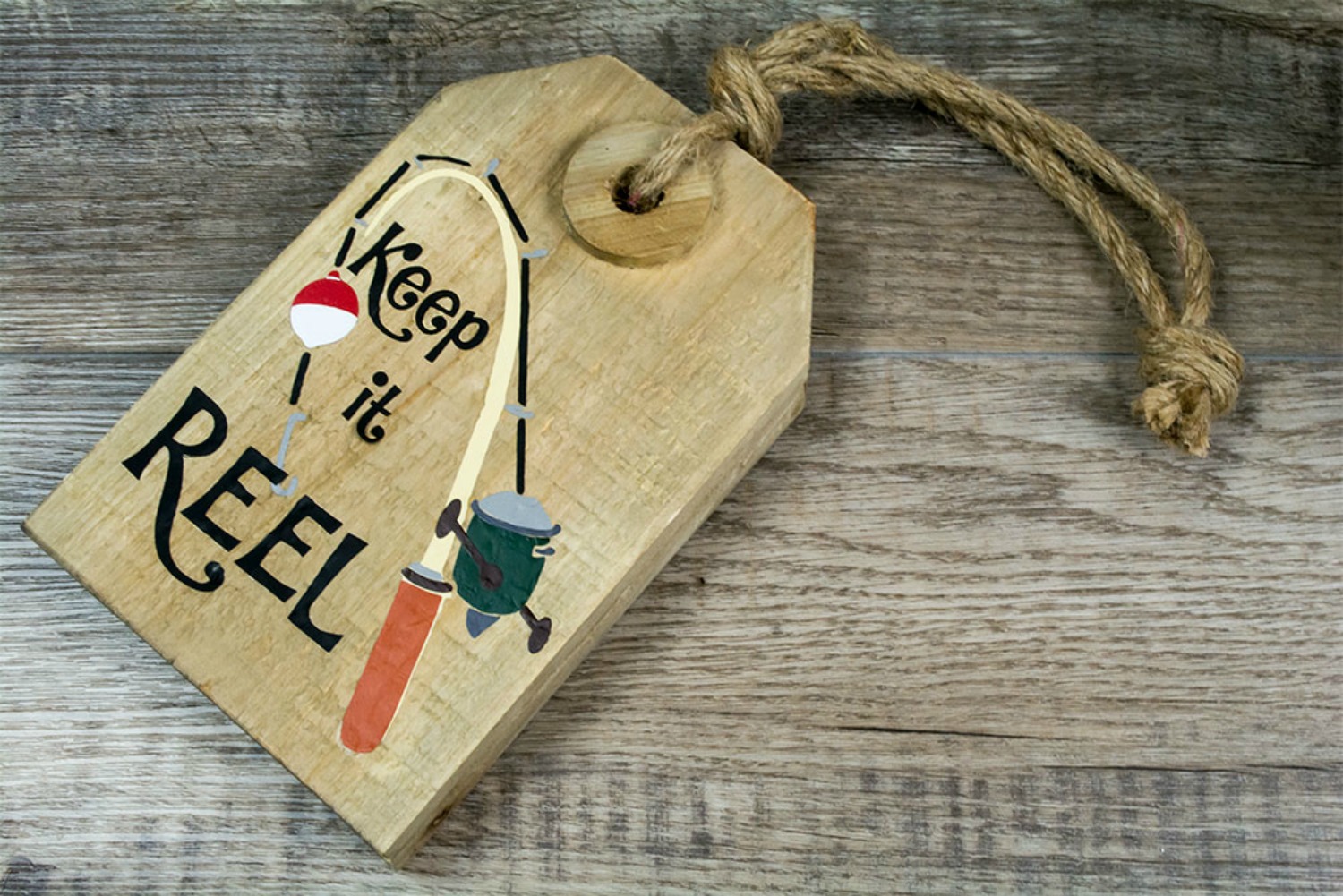 Heat Transfer Vinyl:
Font:
DK Jambo
Wood can be a tricky surface to work with. It may not be perfectly smooth and flat. Allow for any variances in the wood that might happen. We found it best to use a smaller iron while working with this. Don't let this limit you though. Think of all the fun signs that you can make with the adhesive vinyl as well as the heat transfer vinyl.
Books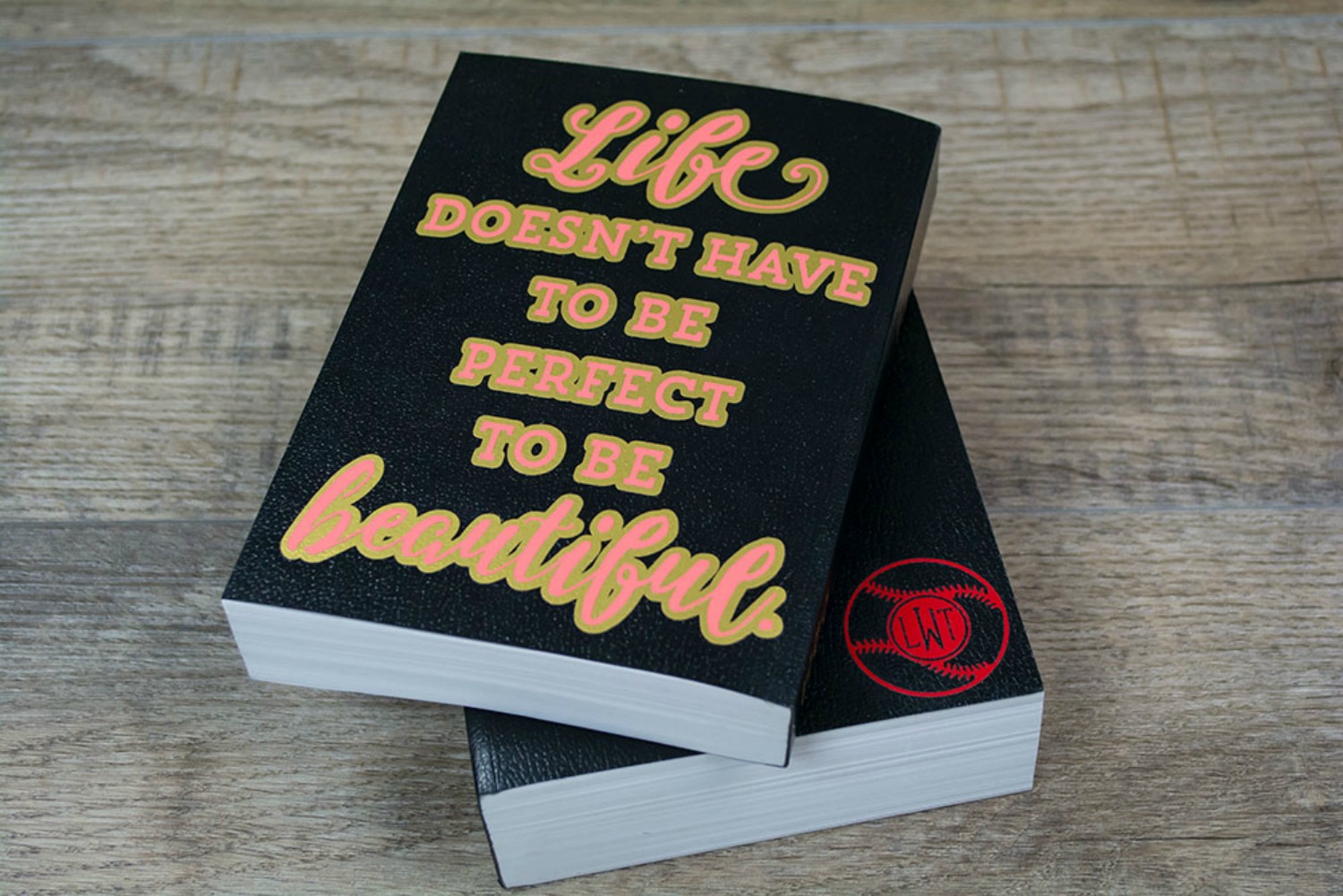 Heat Transfer Vinyl:
Easyweed - GoldEasyweed - CoralEasyweed - Red
Images:
Monogram J - Rivka Wilkins Design ID #3081 - Silhouette
Life doesn't have to be perfect - Echo Park Design ID #167599 - Silhouette (Offset by .075)
Baseball monogram - Sophie Gallo Design ID #126992 - Silhouette
The heat transfer worked great on these books. Since you do not have to worry about how it will last with washing it you can do it on a lower temp and a little less time to help protect the book.
Journals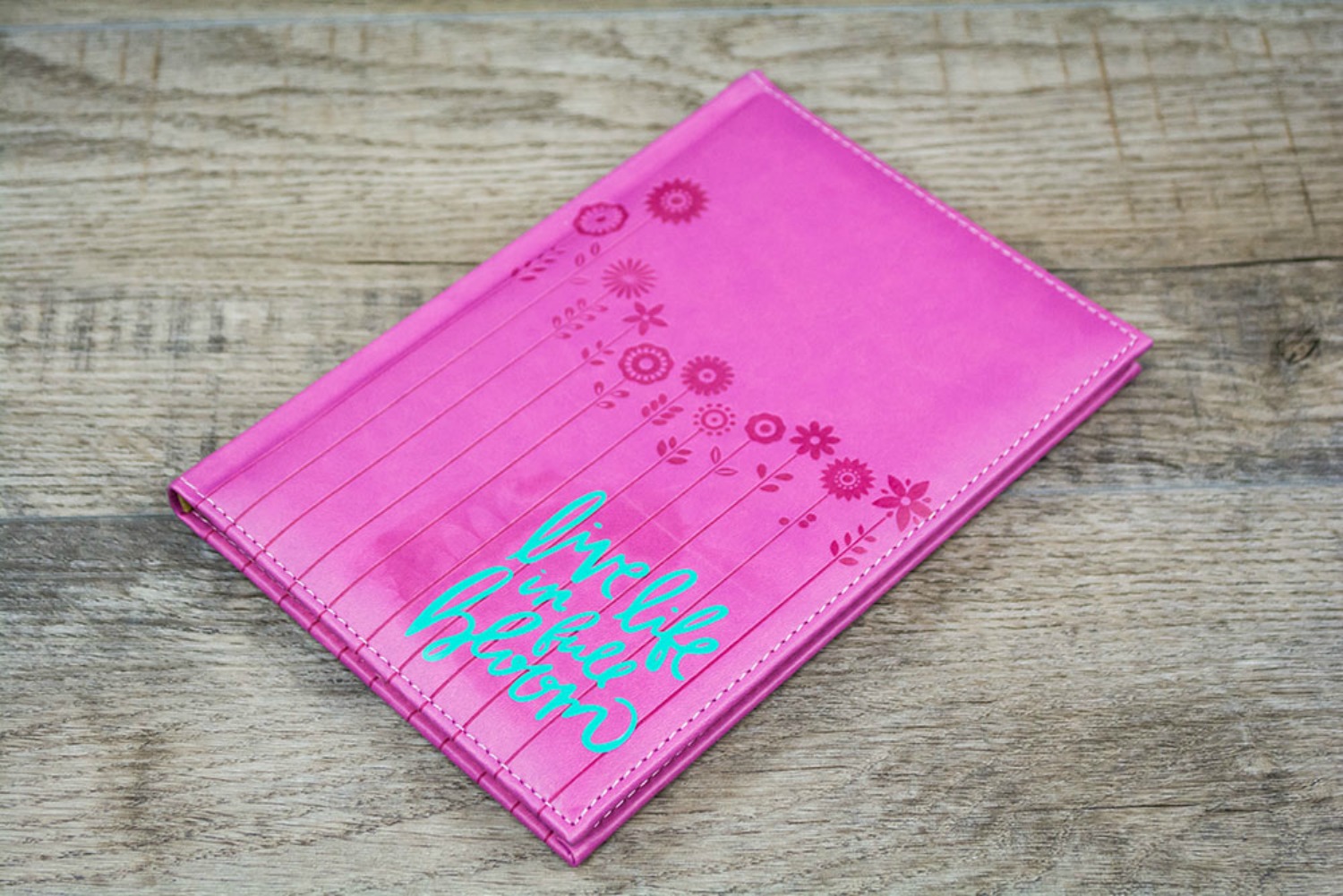 Heat Transfer Vinyl:
Images:
Live life in full bloom - Silhouette - Design ID #129071
As you can see by the picture, we did press the journal a little longer than needed. This is another example of why you would want to test the fabrics and not use as much heat. Use a cover sheet on these types of things and remember, that you do not have to use such a high heat if it will not get continual wash. Siser Easyweed only requires 280 degrees for it to adhere to the surface. Have fun creating!
Wallets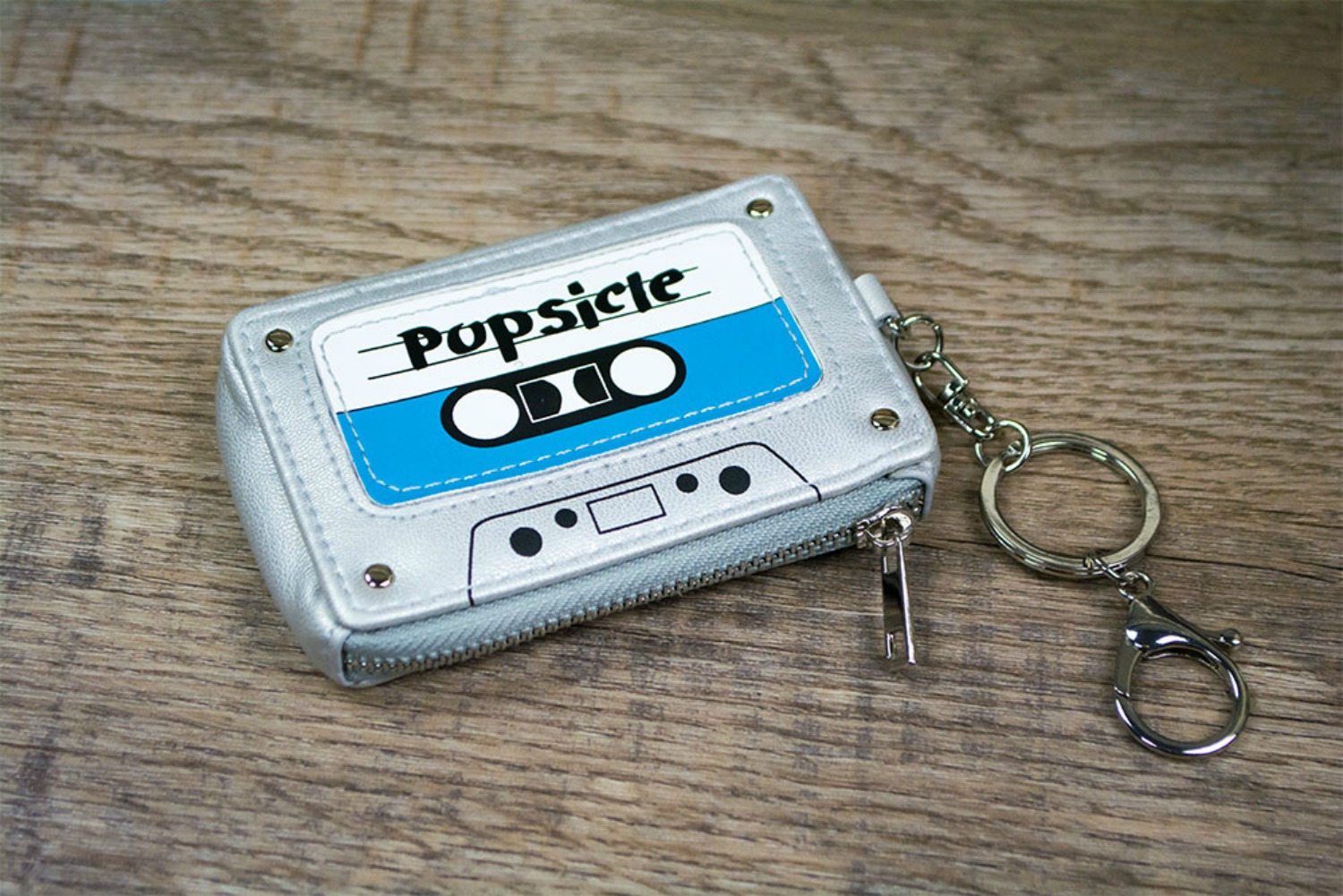 Heat Transfer Vinyl:
Font:
Arigato
This was a fun one to do to personalize any type of wallet or coin purse. We used a small craft iron on it and a cover sheet to protect the wallet as it was a synthetic type fabric. These types of things do not need the highest heat or the amount of times as others since it will not be washed. You can use Easyweed on leather wallets as well.
Lampshades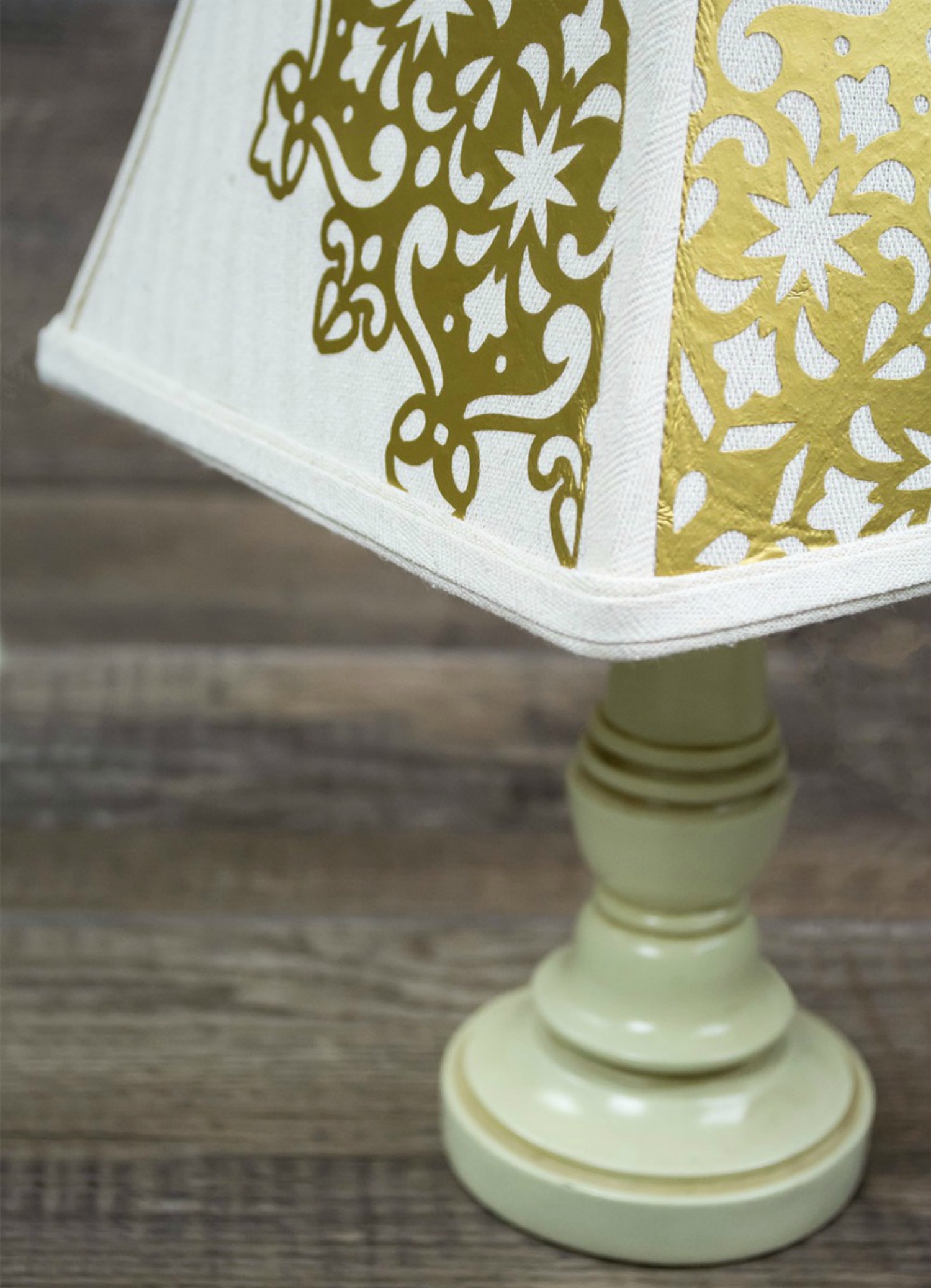 Heat Transfer Vinyl:
Images:
Lace Medallion Pieces - Cricut - #M23D2600 - Edge to Edge 2
Lampshades are a fun way to personalize the decor in any room. We recommend the shades that are all fabric. There are a lot out there that are a plastic drum shape and unfortunately they will melt (we tried it). So keep an eye out for the fabric ones. Also, due to their shapes they take a little bit of time and patience to completely adhere. We placed a rolled up towel on the back side to hold against the iron for the pressure that we needed and so that we wouldn't get burned. These are best with a regular iron or a small craft iron.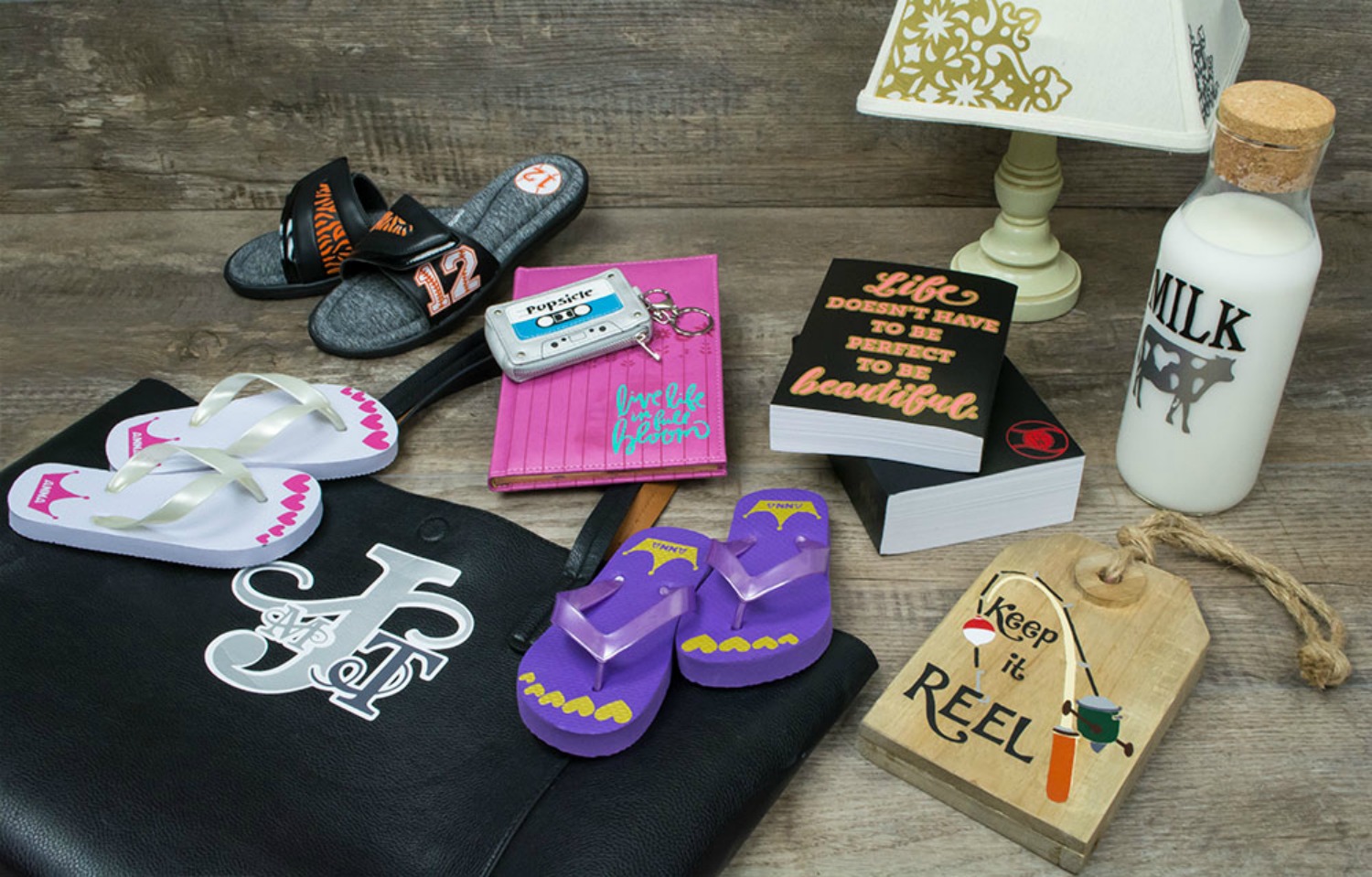 We hope you enjoy all these ideas and tips for using Siser Easyweed.
- Creative Team
Recent Posts
It's that time again! The September 2023 Mystery Project Box is finally here and it is full of al …

It's August, and you know what that means. It's time for the August 2023 Mystery Project B …

It's that time again! The July 2023 Mystery Project Box is finally here and it is full of …