March is National Crafting Month, and how fitting is it that Kid's Crafting Day falls right in the middle of it! To help you and your kiddos have fun and craft together, we've rounded up our favorite projects that are kid-friendly and easy to do. Keep reading to see all the fun crafts we have in store for you!
Kid's Crafting Day is Monday, March 14, 2022.
---
While kids may not be skilled enough to create their own projects alone, the help from a parent can make a fun family activity! For this project, we split our Creative Team up and had some kids visit our store to take part in a fun design challenge. The kids picked their team name and mascot, the colors for the vinyl, and even helped weed and press their designs. This was an experience that was super fun for everyone involved!
---
Finger Painting with Vinyl


While this was a project we did for St. Patrick's Day, it can be adapted to fit any time of year or home-decorating theme. This project was super simple to make, too! We used Oramask 813 stencil vinyl to protect the rest of our canvas from getting painted. Then, we gave our kids some finger paints and let them have fun! We used a variety of green and gold for more colors and accents, but you are more than welcome to use whatever colors you like!
Once the paint was all dry, we removed the stencil vinyl and added a gold outline to the center shamrock and a cute phrase to finish it off. Didn't this project turn out so cute?!
A project like this would be great to look back on as kids get older, or even recreate every year.
---
This was another holiday-themed project for our kiddos. We used EasyWeed to make coloring-page turkeys for the kids to color in on Thanksgiving. (You can use StripFlock Pro for helping stay in the lines, too!)
This project is great for kids of any age. You can use these shirts as party favors, place settings, for family reunions, and more. The possibilities are limitless!
---
Did you know we sell blackboard heat transfer vinyl? It's a great way to draw on a shirt without permanently altering it. Plus, this fun design can change every time they wear it, so they'll never get bored!
All you need is some EasyWeed HTV, blackboard HTV, chalk, and a heat press! If you trust your child with sharp scissors, you could have them use scissors to cut fun blackboard shapes, or you can use your cutting machine for more precise outlines.
Once your vinyl is all cut, weeded, and pressed, give your child a stick of chalk and let them have fun!
---
Do you want a craft they can make over and over again? Try this version of a coloring page shirt! You can have your child use washable coloring markers for a one-time use shirt, or you can use fabric markers for a more permanent addition to their wardrobe. This activity is great for all ages to enjoy!
This project would make a great present for a parent or grandparent, an activity at a childrens' party, a craft for holidays, or an activity for a fun afternoon.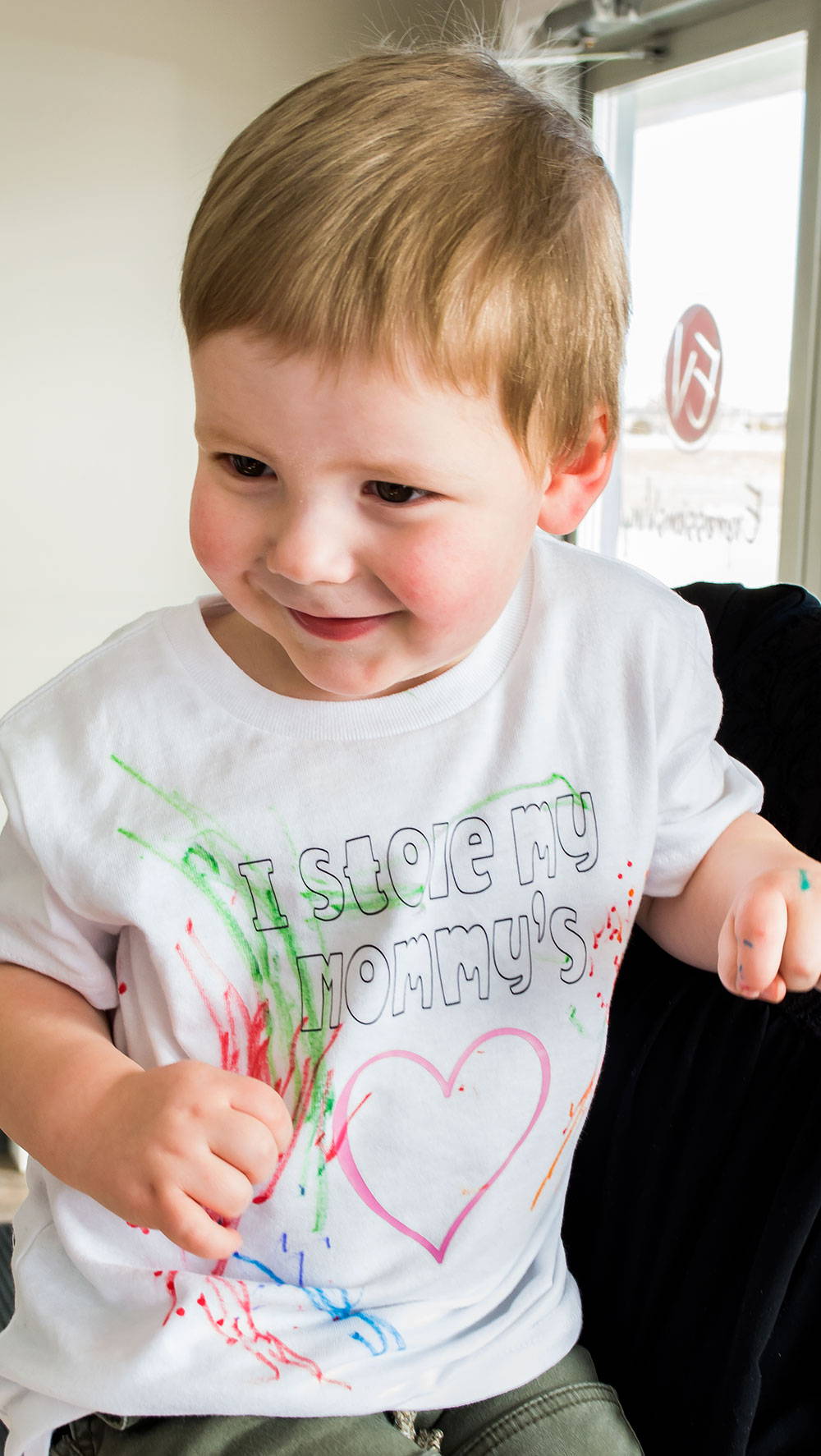 ---
Two crafts in one!
This slime ornament was made during the Christmas season, but it can easily be applied to other times of year, too!
You can start this craft by making your favorite slime recipe as a family, including your favorite scents and colors! Then, take any household container you'd like to use and add a fun vinyl design on the outside! This can be to label your child's name, a fun picture, or whatever your creative kiddos think of!
This is a fun family activity for all ages, and so easy to put together for Kids' Crafting Day!
---
Are your kids always asking you to put their things in your bag or purse? Now they can have their own! This fun coloring page tote bag is a great way to personalize a bag for your kids to carry around (and a fun way to play through an afternoon).
We used StripFlock Pro for this design to make it harder to color outside the lines. The design we chose for ourselves is a little complicated for a younger child, but you can choose any design you'd like for them. Their favorite superhero, movie character, or favorite animal are great places to start!
Once you have their design done, just give them some fabric markers and tell them to have fun!
---
Do you have a bunch of old crayons that your kids don't color with anymore but don't want to waste them by throwing them away? This is a great way to use scrap vinyl and old crayons!
To make these simple cards, all you need is craft paper, vinyl, crayons, multi-use paper, a pencil sharpener, and a heat press or iron. Cut and weed your heat transfer vinyl design, then press just long enough for it to adhere to the front of your card. Then, take your crayons and pencil sharpener and start making crayon shavings. Once you have as many as you think you'll need, start laying them out on your card where you want them to melt, place your multi-use paper and cover the top (no messy heat presses here!). Apply heat until the crayons are melted, remove the multi-use sheet, and you're all set!
This craft can be great for kids to make thank you cards, surprise cards to grandparents, birthday cards, and more!
---
We hope you got some great inspiration from this blog and that you have some fun crafting planned for Kid's Crafting Day! As always, tag us in your awesome creations on social media. We love to see all the fun things you make!
---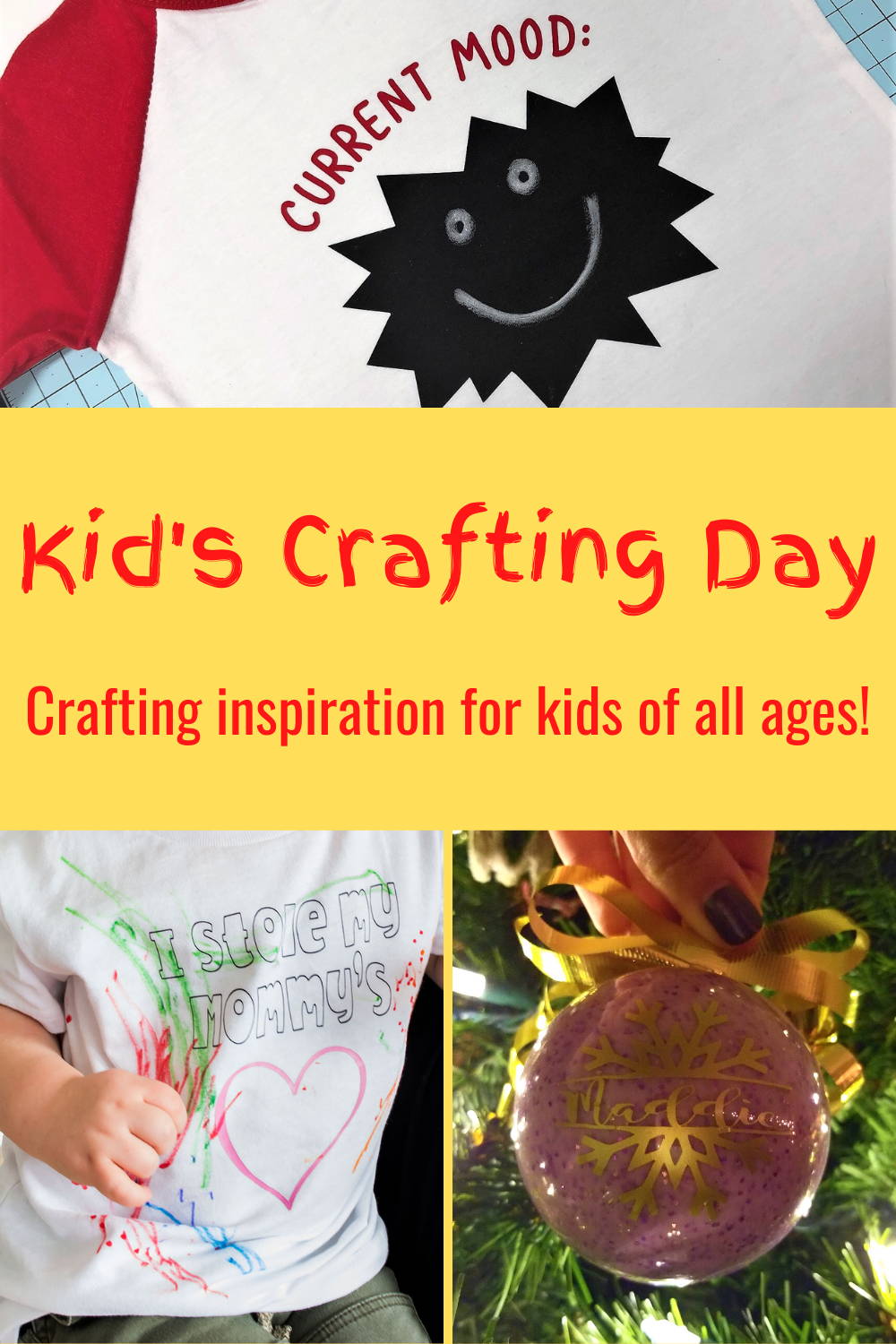 Recent Posts
'Tis the season of joy, and what better way to spread holiday cheer than by adding a personal touch …

Finally!!! The November 2023 Mystery Project Box is here and it is full of all sorts of fun vinyl …

It's that time again! The October 2023 Mystery Project Box is here. This box was designed by Jess …