Projects Using Specialty Adhesive Vinyl
While we all love our classics like Oracal 651 and Series 51, there's something special about, well, specialty vinyl! We have such a wide variety of specialty materials, from glitter to opal to glow-in-the-dark! Check out our round-up of some of our favorite projects using our specialty adhesive vinyl.
---
If you're tired of boring old folders and binders, try sprucing them up with glitter adhesive vinyl! This mandala elephant design is full of bright, shiny glitter from the base down to the tiniest details. Unlike glitter heat transfer vinyl, glitter adhesive vinyl can be layered, meaning less work dealing with knockouts and precise layering.
For this design, we simple took our Rosy Gold glitter adhesive vinyl and made the outline and base of our elephant. Then, we layered our Tiffany Blue, Marine Blue, and White glitter to make all the fun little details.
Vinyl Used: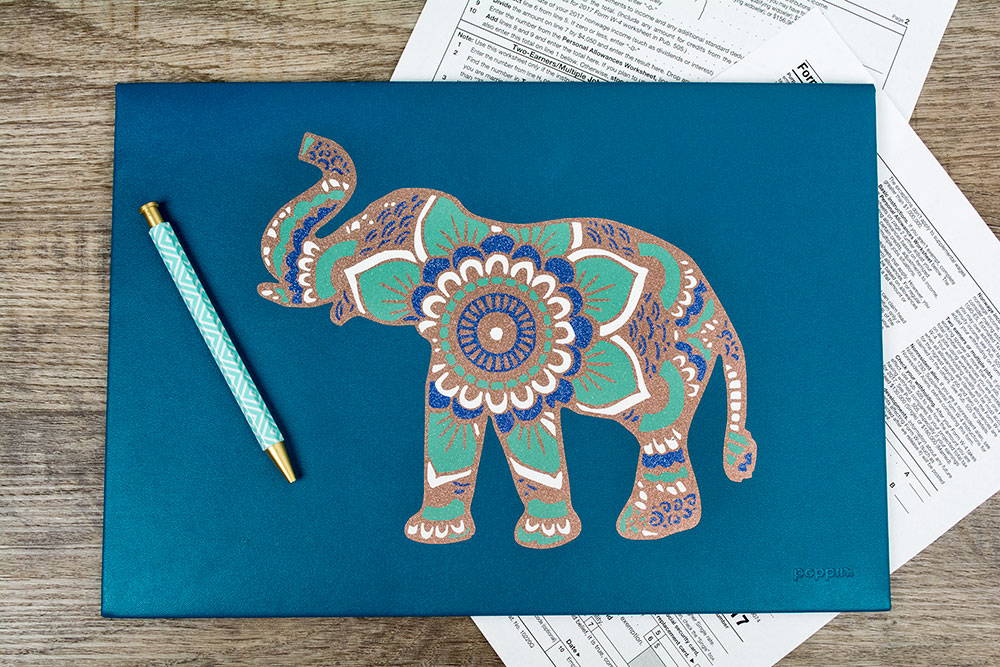 ---
If you've ever worked with etching cream, you know how stinky and messy it can be. You have to admit, though, it does get the job done. We have a vinyl that copies the work of etching cream without any stinkiness or permanent results to your glass. It's called Etched Glass vinyl!
As you can see in this project, we not only have the look of etched glass, but we also get fun color and a bit of sparkle, too! This vinyl is transluscent, meaning that you can still see through the vinyl the same way you would an etched glass.
Vinyl Used:
Cut Files: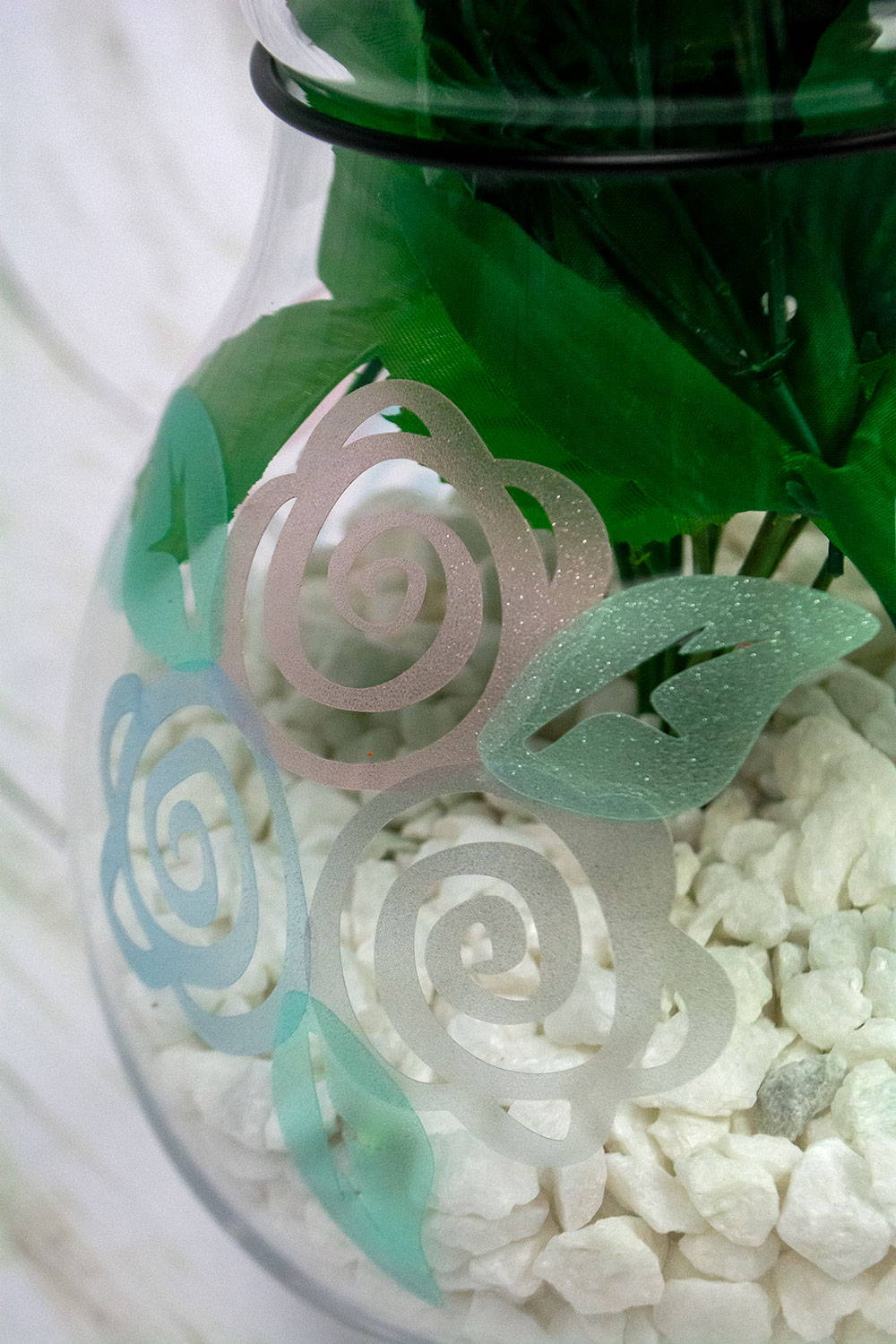 ---
If you love unicorns, rainbows, and all things shiny, this project is for you! We love our line of metalized vinyl because they are so bright and shiny, almost like real gold and silver. For this project, as much as we love the rainbow metalized vinyl, we opted for the matte version for a still shiny, but less blinding, vinyl. It was the perfect choice!
Vinyl Used:
Cut Files:
Etsy

Unicorn Mandala Moon (BestDesignsForYou)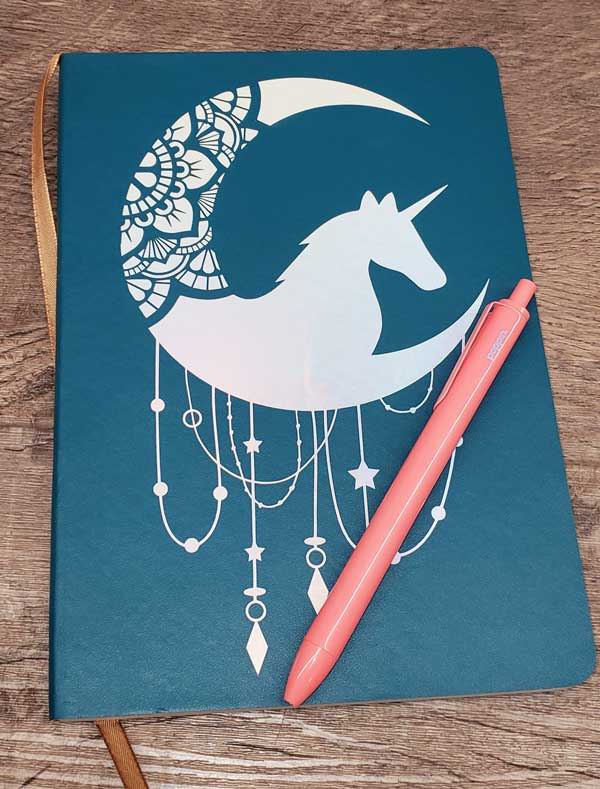 ---
If you want a makeup jar that looks as "mermazing" as you, try adding opal vinyl! Opal adhesive vinyl is *the* perfect way to copy mermaid scales. It is so shiny, plus the colors change with different lighting.
For this project, we layered Oracal 651 adhesive vinyl with our green opal adhesive vinyl. It just looks so magical!
Vinyl Used:
Cut Files:
SVG

Speech Bubble (#M877BA9A)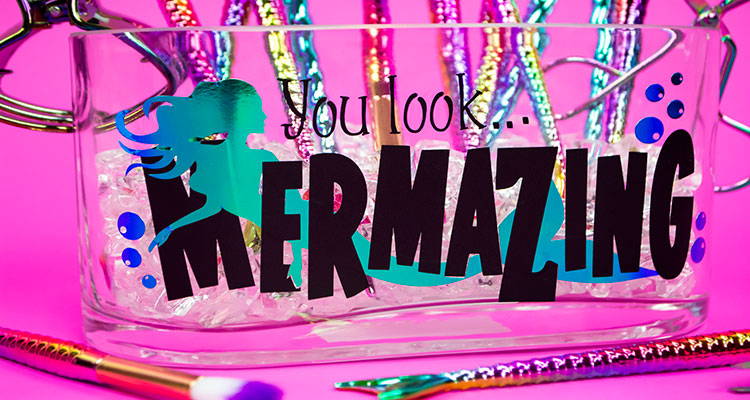 ---
#SquadGoals Reflective Superhero Frame


Do you know someone obsessed with superheroes? This project is for them! Our reflective adhesive vinyl is definitely super!
This vinyl is great for safety, just like heroes! You can add reflective vinyl to anything you might have difficulty seeing in the dark, like garage doors, road signs, objects you easily trip on, and more! There are so many practical uses, but we like the fun ones like this project, too! How will you use this vinyl?
Vinyl Used:
Cut Files: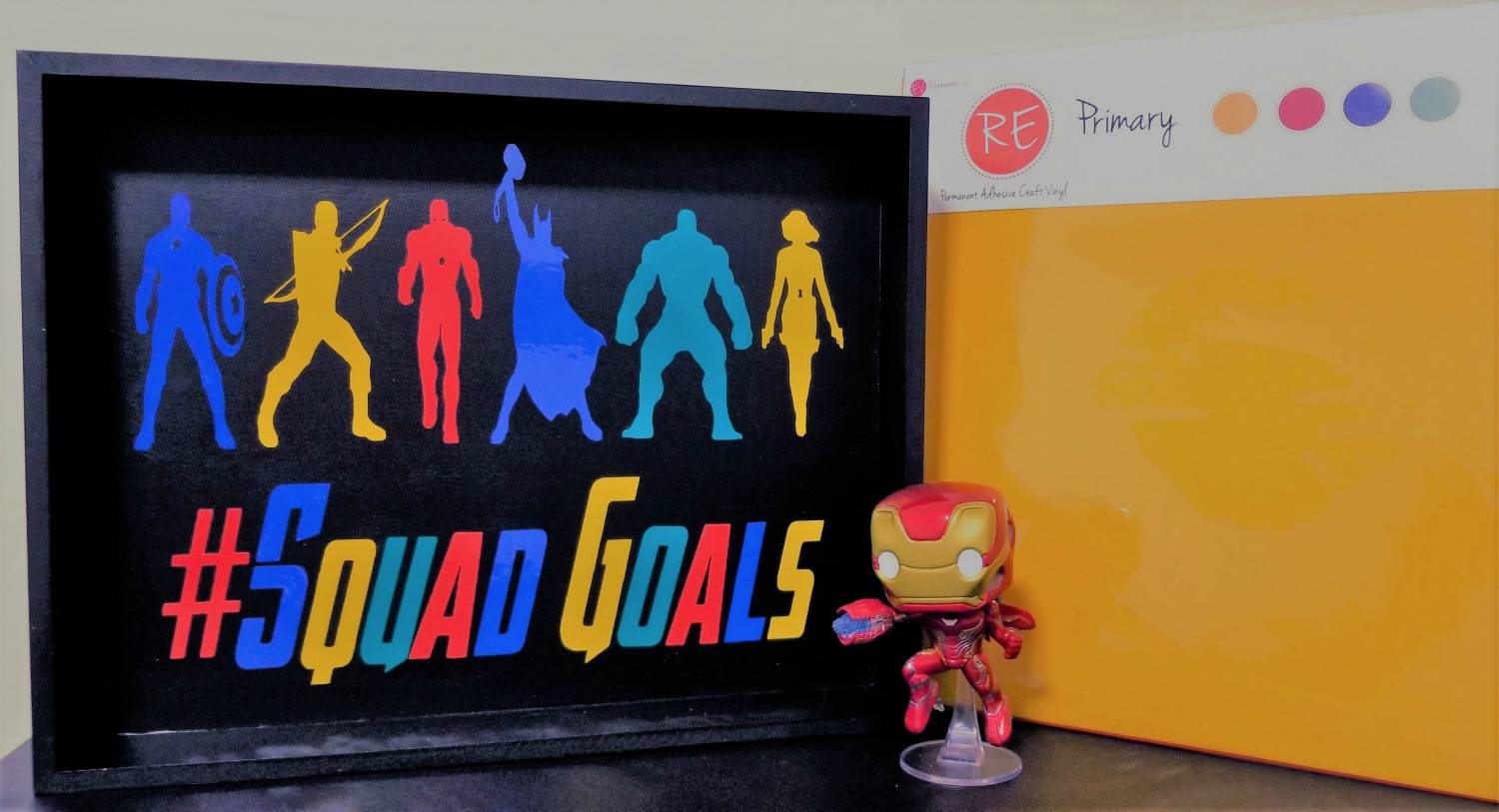 ---
Why have a boring bowl when you could have a color-changing bowl?!
Our color-changing vinyl comes in a variety of colors and types, from cold-activated to heat-activated to UV-activated! For this project, we used our cold-blue color-changing vinyl and Oracal 651 adhesive vinyl to add a fun design to these blank soup mugs.
As you can see, the mug on the top looks like a simple, fun mug, but once it is activated by something cold, it turns into a whole new design! There are so many creative ways to use this type of vinyl, and we hope you give it a try!
Vinyl Used: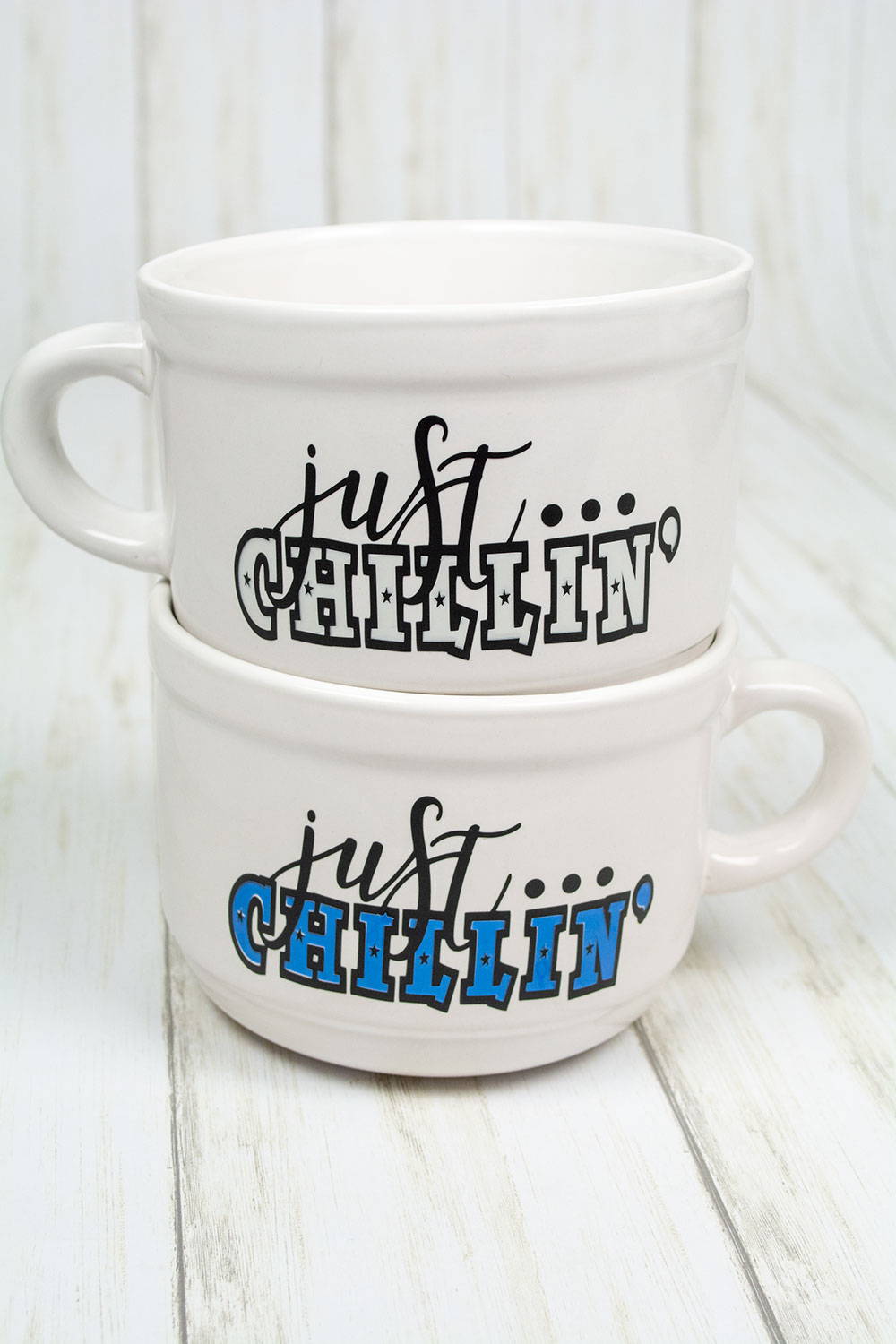 ---
This was a Valentine's Day project, but we think it's perfect for everyday use, too! This frame would make a great addition to a wall of photos or a nice end table decoration. Using glitter adhesive vinyl adds a touch of elegance and sparkle without being overwhelming, don't you think?
We have a wide variety of colors available in our glitter adhesive vinyl. Do you have a glittery favorite?
Vinyl Used: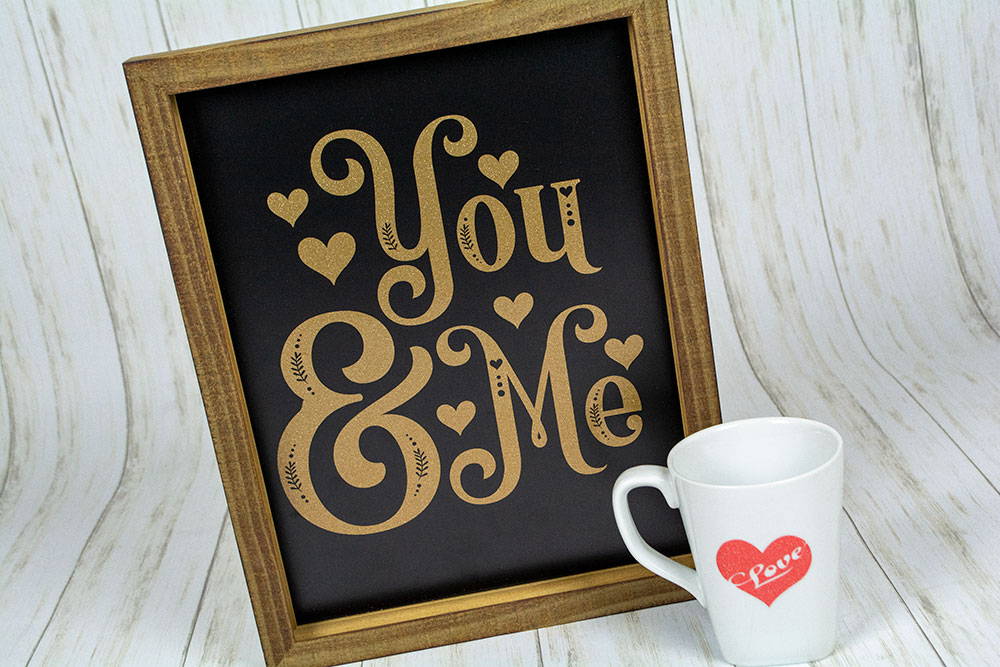 ---
We know we already showed you one opal project, but it's so pretty that we couldn't resist two! These bottles are already opalescent, but we added some opal vinyl to make them even more shiny!
We have so many great colors of opal vinyl, each one unique bright! For the water bottle on the left, we used the pink opal. The bottle in the middle has yellow opal, and for the water bottle on the right, we used every color of opal! Doesn't it add so much fun to your projects?!
Vinyl Used: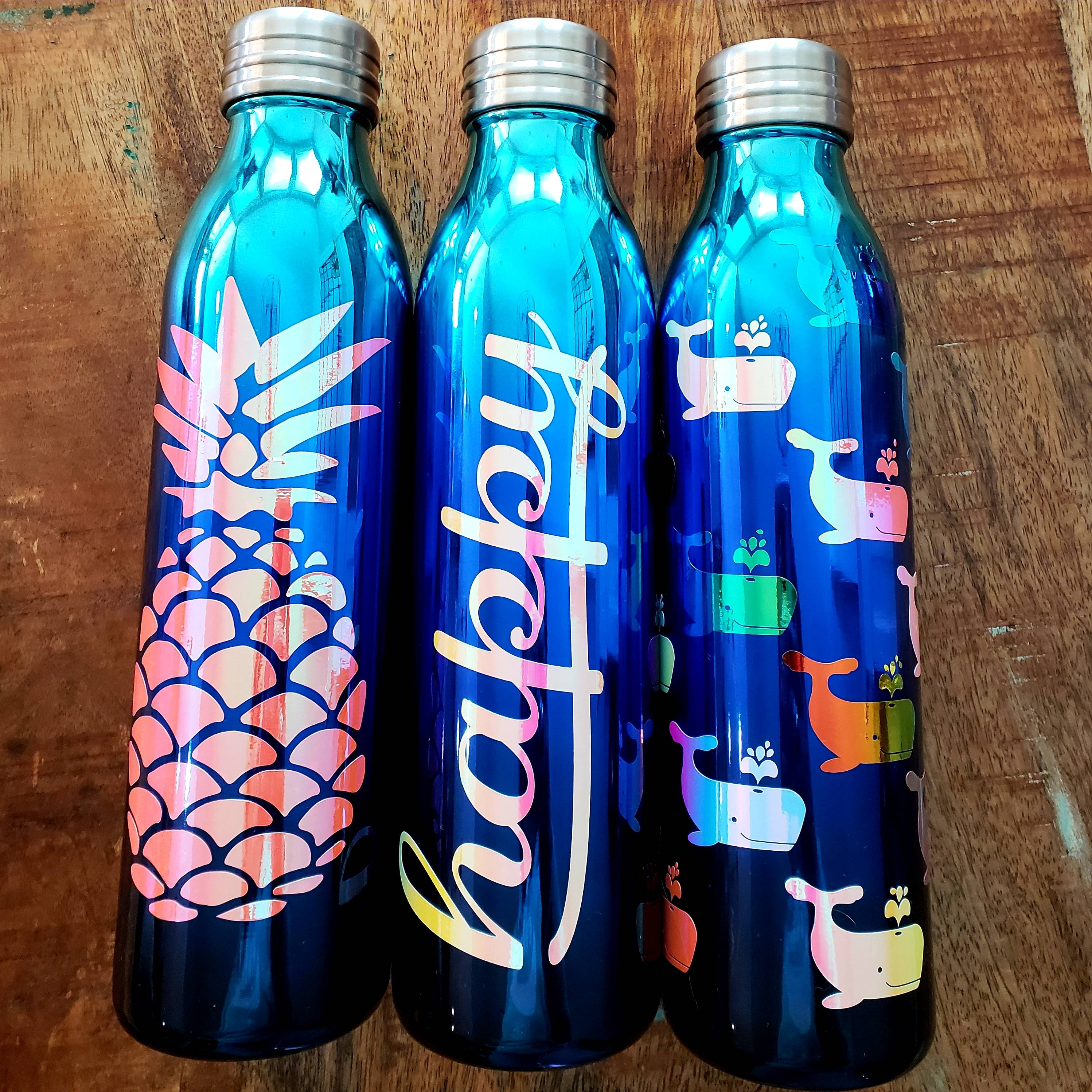 ---
Gold Metal and Glitter Art


This geometric fox is such an interesting design! The colors of the glitter pair perfectly with the metalized Gold Chrome background. With so many shades of vinyl available, it's easy to mix and match and create your own color palette.
The metalized Gold Chrome adhesive vinyl is also a great way to add some flair to your project. Add little gold accent details to your projects, or make your whole design with this vinyl for it to really shine! So many fun ways to use our metalized vinyl!
Vinyl Used:
Heavy Metal Royal Blue
Series 31 Adhesive Vinyl - Marine Blue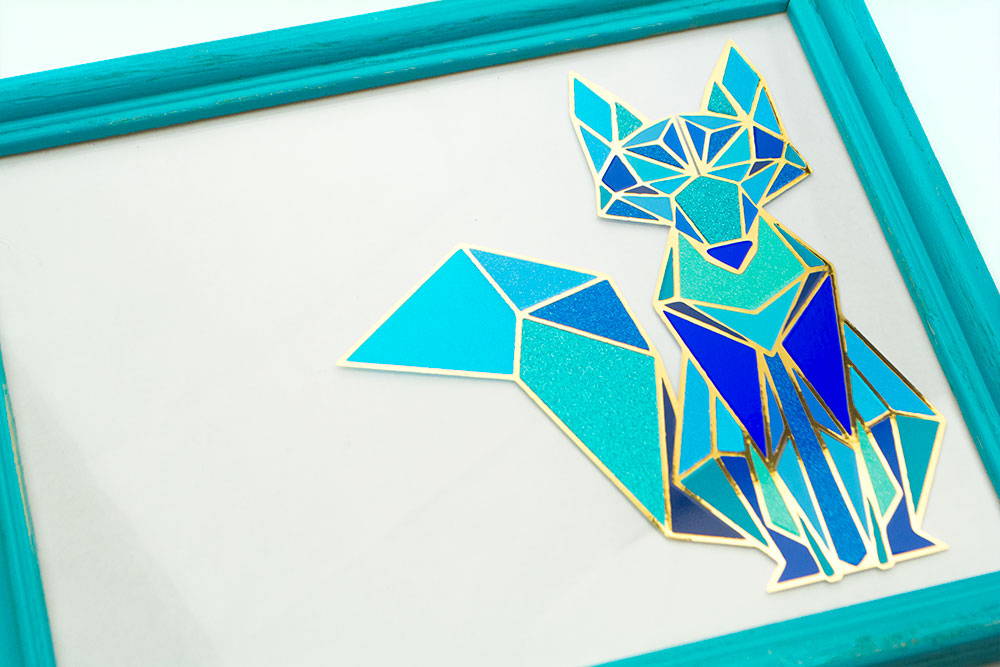 ---
There are so many ways this project could be used! Bachelor party favors, Father's Day gifts, stocking stuffers, "just because" gifts, or just personalizing a flask you already have. We like the extra shine the reflective vinyl adds to it. Just watch the video to see what we're talking about!
Reflective vinyl is also great for helping designs stand out more on darker surfaces, like this black flask.
Vinyl Used:
Cut Files:
Fonts Used:
---
Opal and Patterned Cow Block Decor


How "hip" is this fun project?! Plus, it's a great introduction to mixing various patterns and materials. Who would have thought mixing a tie-dye pattern with opal would look so cool?
For the main block, we started with our cow made out of matte black Oracal 651, then added our headband bandanna out of tie-dye rainbow patterned vinyl and the sunglasses made of gray Oracal 651 with lenses of pink opal vinyl.
Our accent blocks have a base of our Cow Spots patterned vinyl and are topped off with groovy pink opal vinyl. Such a fun project, and so many ways to personalize it!
Vinyl Used:
Cut Files:
Fonts Used: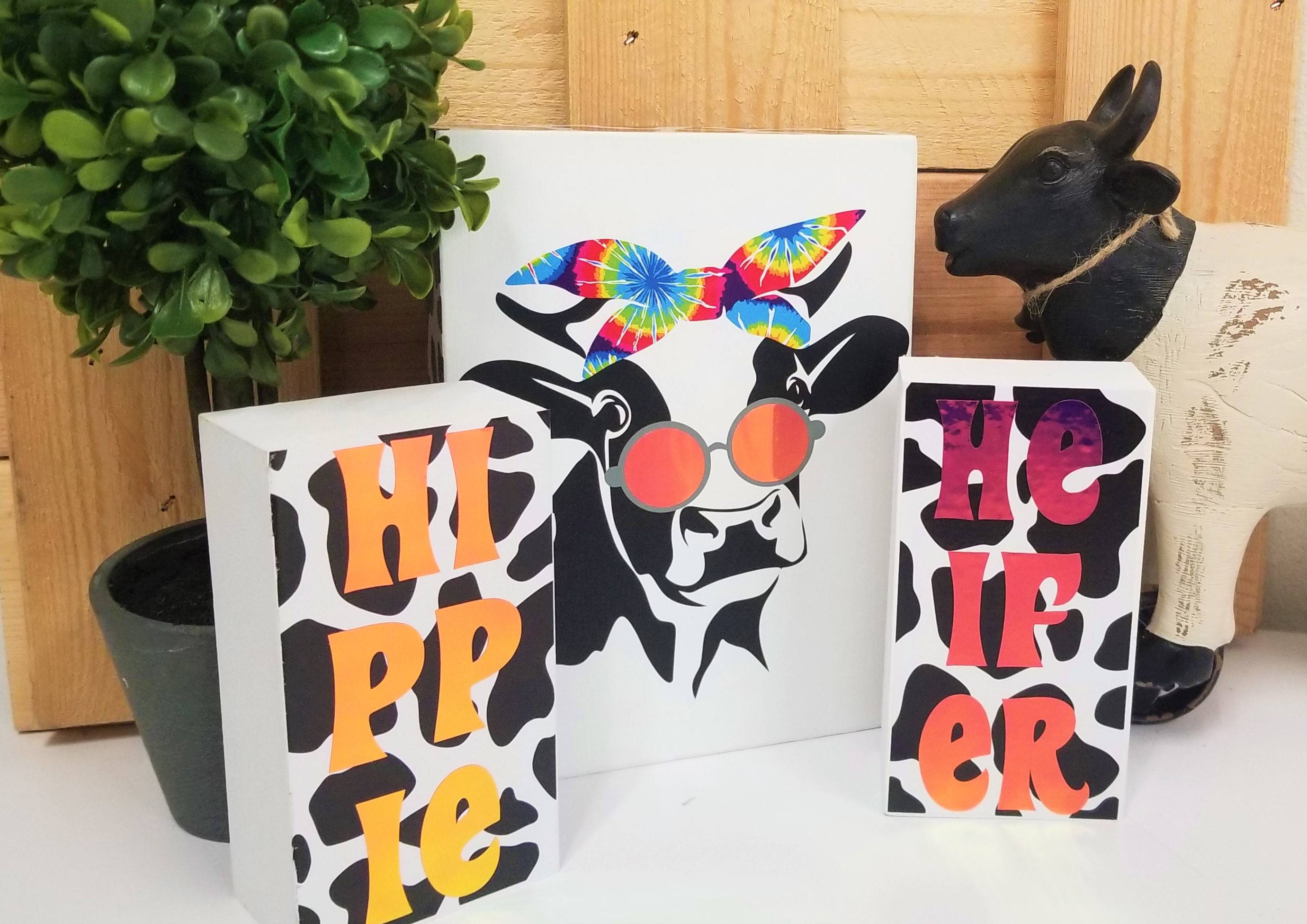 ---
Who knew something so pretty would be so easy to make? This gorgeous mandala Starbucks cup is made using only one sheet of vinyl (and it's all one piece!).
We used our metalized mist vinyl for this one. It's like an adhesive version of our holographic heat transfer vinyl, so if you love working with holographic, you'll love this vinyl!
Vinyl Used:
Cut Files: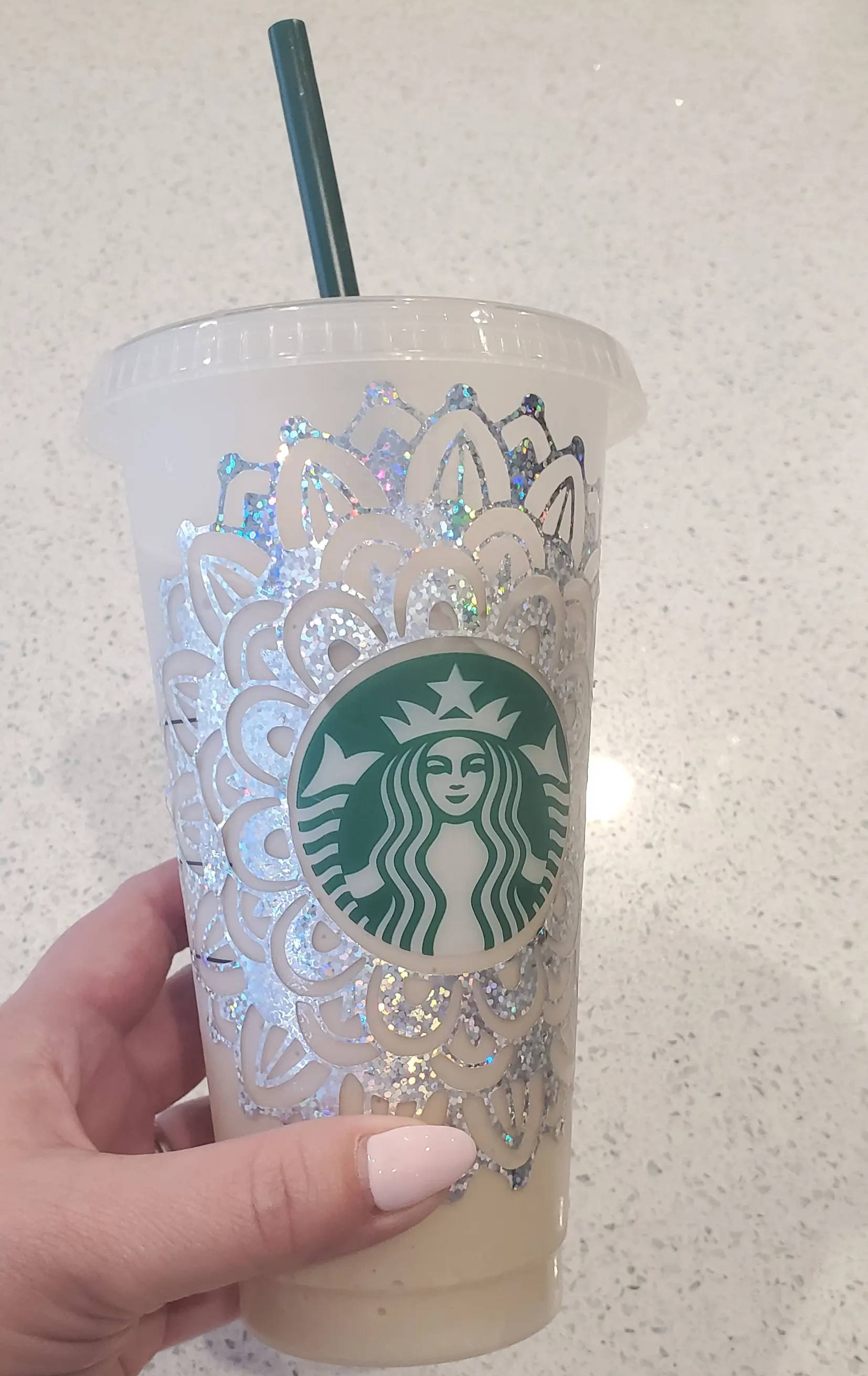 ---
This is another fun etched glass project! This design turns a drab table into a fab entertainment piece!
We used the wet application method to apply this design so that it would be perfectly aligned and have no bubbles or wrinkles. We've linked it below so you can see it in action!
Etched glass vinyl is a great way to get the etched look without stinky etching cream or permanent alteration to your glassware.
Vinyl Used: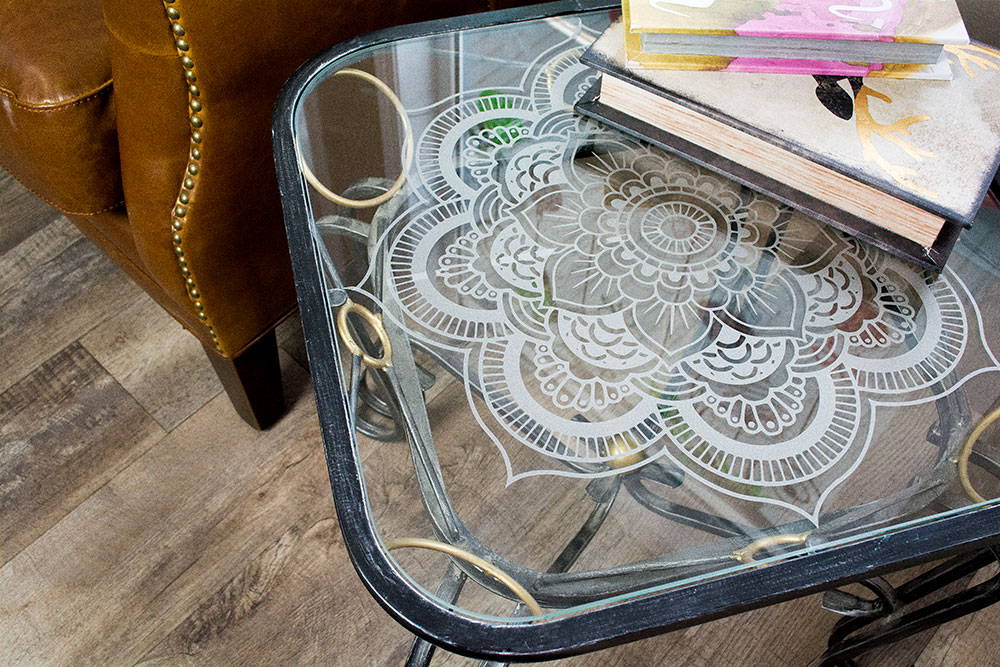 ---
We hope you got some great inspiration from this blog and that you have some fun ideas for what to craft next! There are so many unique ways to craft with specialty adhesive, and we can't wait to see what you make! Make sure to tag us on social media so we can see your projects, too! We're on Facebook, Instagram, Pinterest, and even TikTok!
---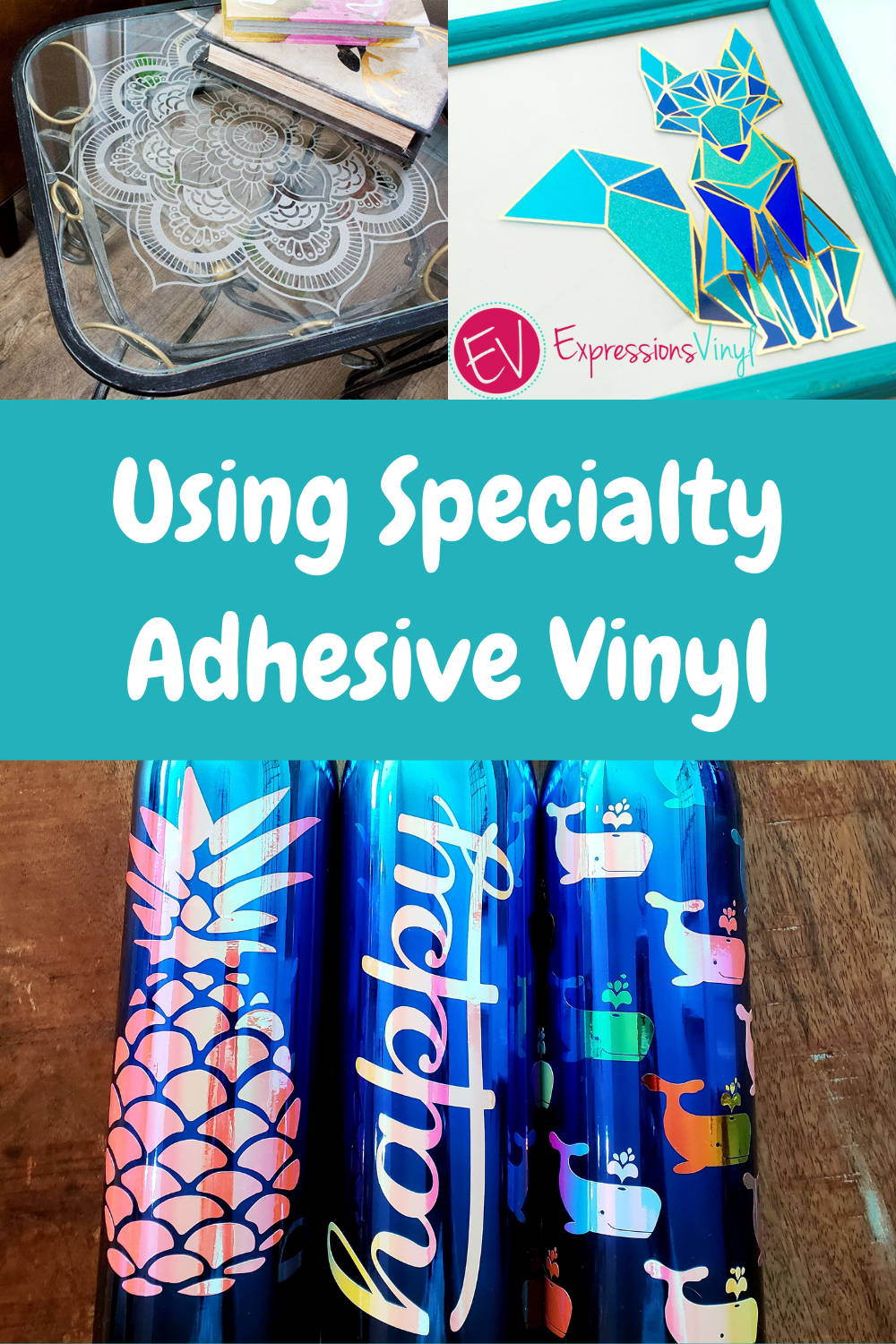 Recent Posts
It's our first Mystery Project Box of the new year, and we are so excited t …

What are the Holiday's without crafts? Some say it is not a holiday at all! We just migh …