What are the Holiday's without crafts? Some say it is not a holiday at all! We just might be some... So we have put together a nice little collection of some of our favorite holiday crafts. This might be just to give you some ideas that can help you on your way to your next craft project, or maybe you will love one so much you will make it just as we have. Either way we hope you enjoy and find inspiration from our creations!
Helpful Ways to Use Vinyl Around The House
Have you been needing to clean and organize, but also wanting to craft? Then look no further than this blog! We've compiled the best ways to use vinyl around the house so that you can keep organized and get your crafting fix in! Let's dig in and see what fun ideas lie in store!
---
File Folder and Binder Tab Labels

Have you ever been filing something and can't read the handwriting on the labels? Been there, done that! This tip is great for using smaller pieces of scrap vinyl, as well.
Vinyl can be used to label both paper and plastic tabs as well as binders, too. What will you label?
Vinyl Used:
Font Used:
Impact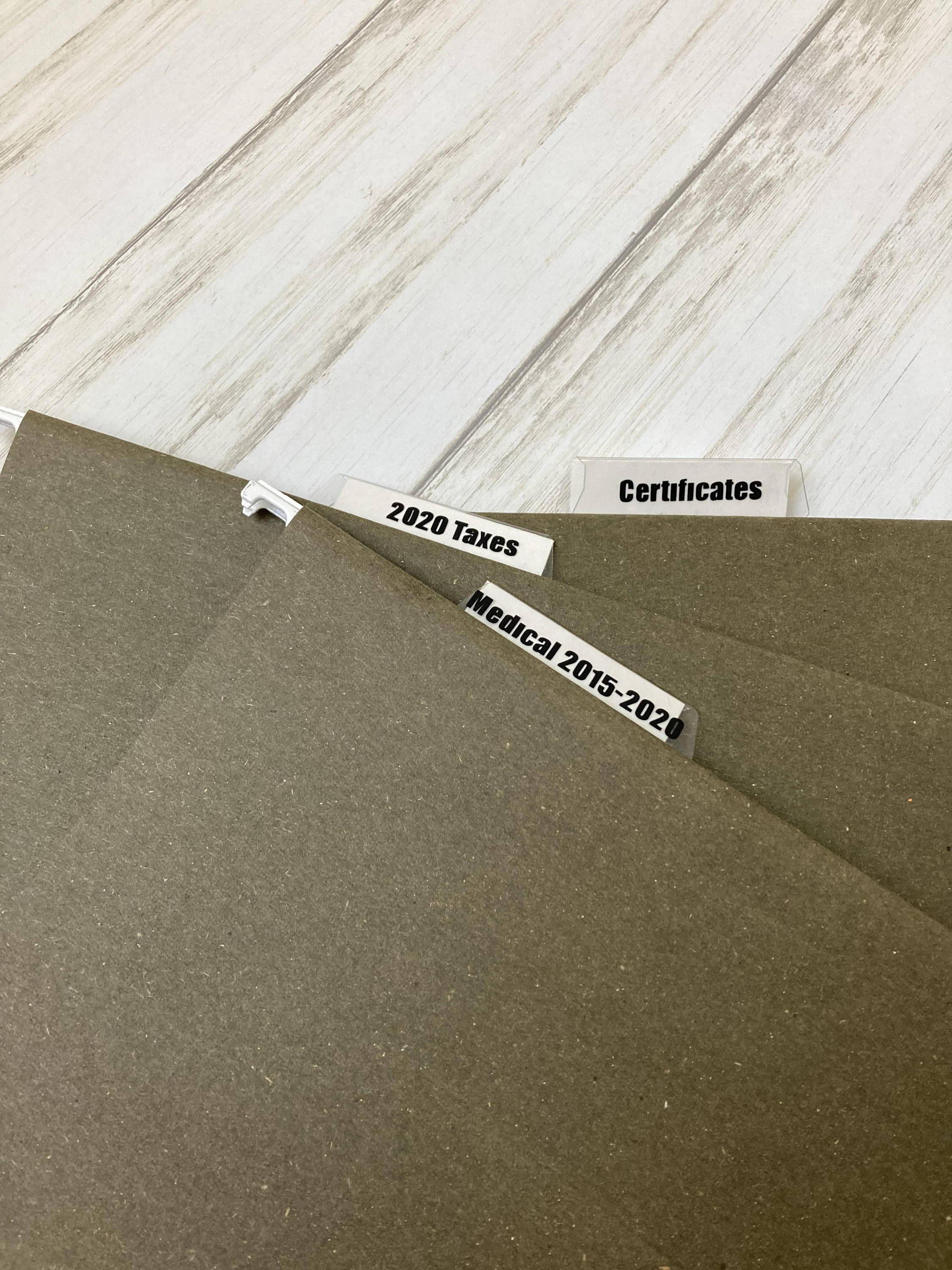 ---
Have you been longing to get your pantry and cupboards organized? Us, too! Plastic or glass storage bins are great for items like flour, sugar, chocolate chips, cereals, rice, and any other bulk or bagged food item you may need to store.
You can even use chalkboard adhesive vinyl to make an erasable expiration date box!
Vinyl Used: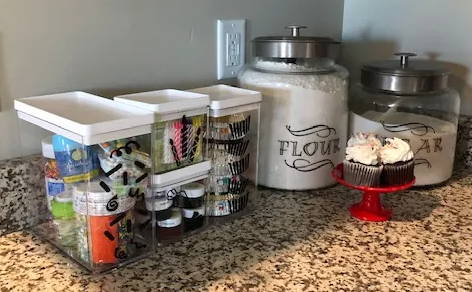 ---
Are you always on the hunt for your keys and wallet every morning? This key dish is just right for you! You can take any bowl or dish you already have, or buy a new one for this project. Then, just use permanent adhesive vinyl to add a cute phrase or a morning routine checklist. Another great thing about this checklist is that it can be customized any way you need it to fit your household. This can be a dish, a tray, or even a key hook you hang on the wall.
Vinyl Used: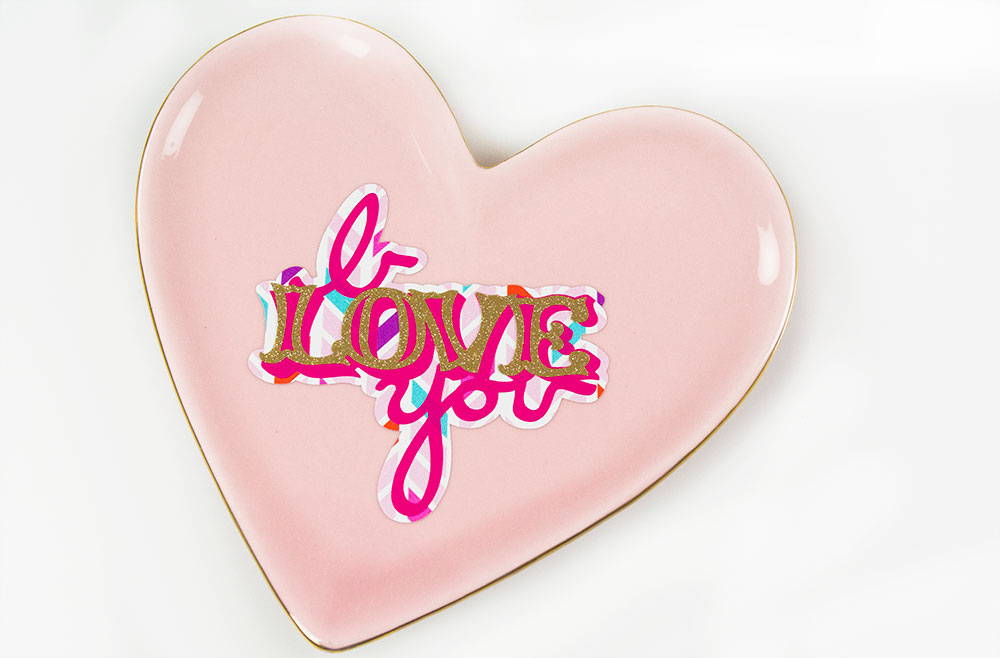 ---
When life starts getting busy, it's hard to keep track of all the activities your family has going on! Try making this awesome whiteboard calendar. You can have everyone write their daily activities and appointments so they never fall under the radar.
Vinyl Used: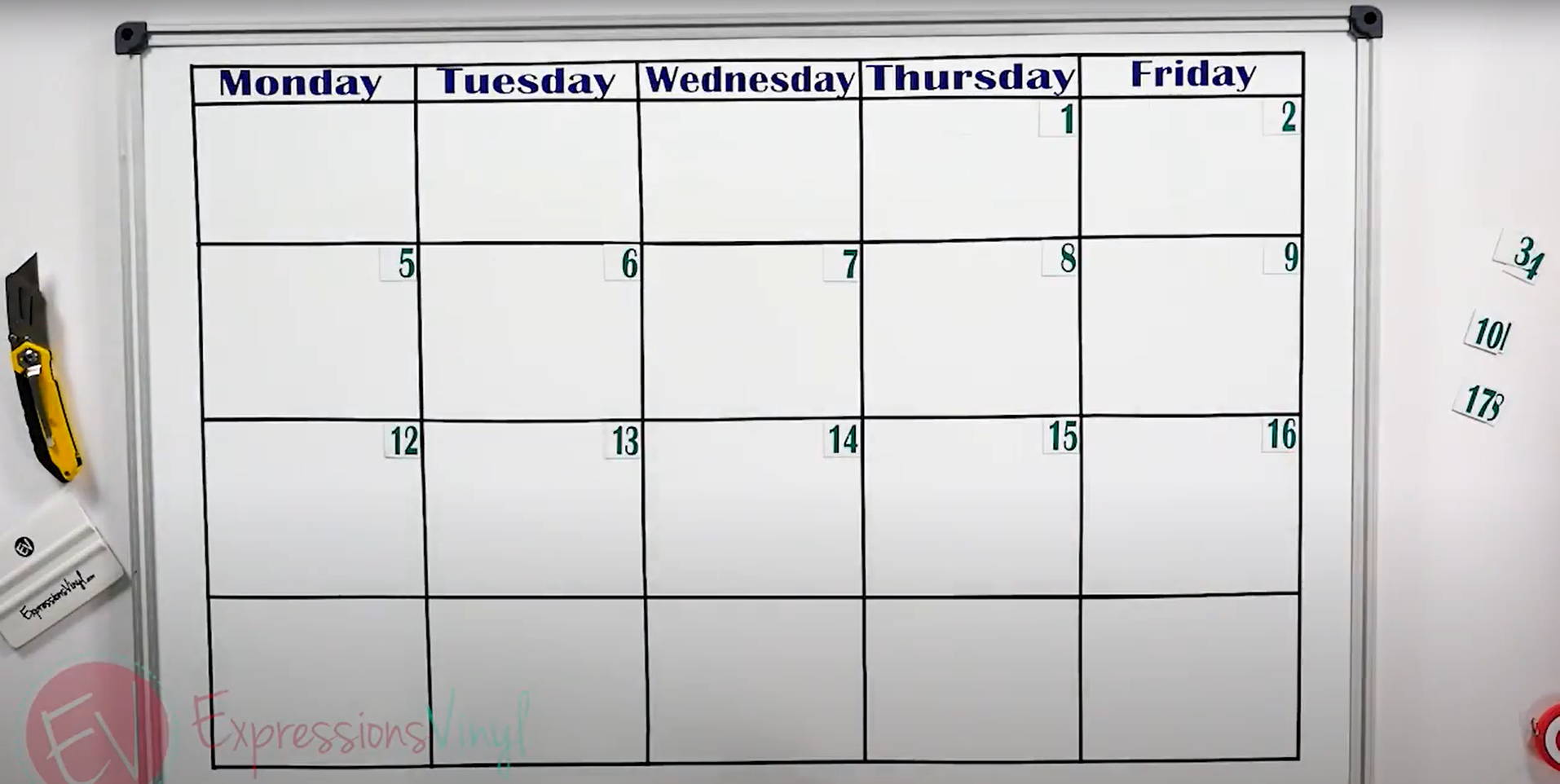 ---
Do you have so many pairs of shoes that you can't keep track of them? Try this shoe organization trick! We've done this with shelves, but it'll work just as well with a hanging organizer or other shoe storage method. Here we've labelled the occasions for shoes, but this could also be used for sorting different family members' shoes, too!
Vinyl Used:
Font Used:
---
Laundry Room Organization


If you're like us, your laundry room may not be the most tidy... that's why we have this craft for you! We used adhesive vinyl to label bins for hangers and socks, as well as simply added some fun designs to other bins! You can also label reusable containers that hold soap, clothespins, dryer sheets, and other laundry room basics. So fun!
Vinyl Used: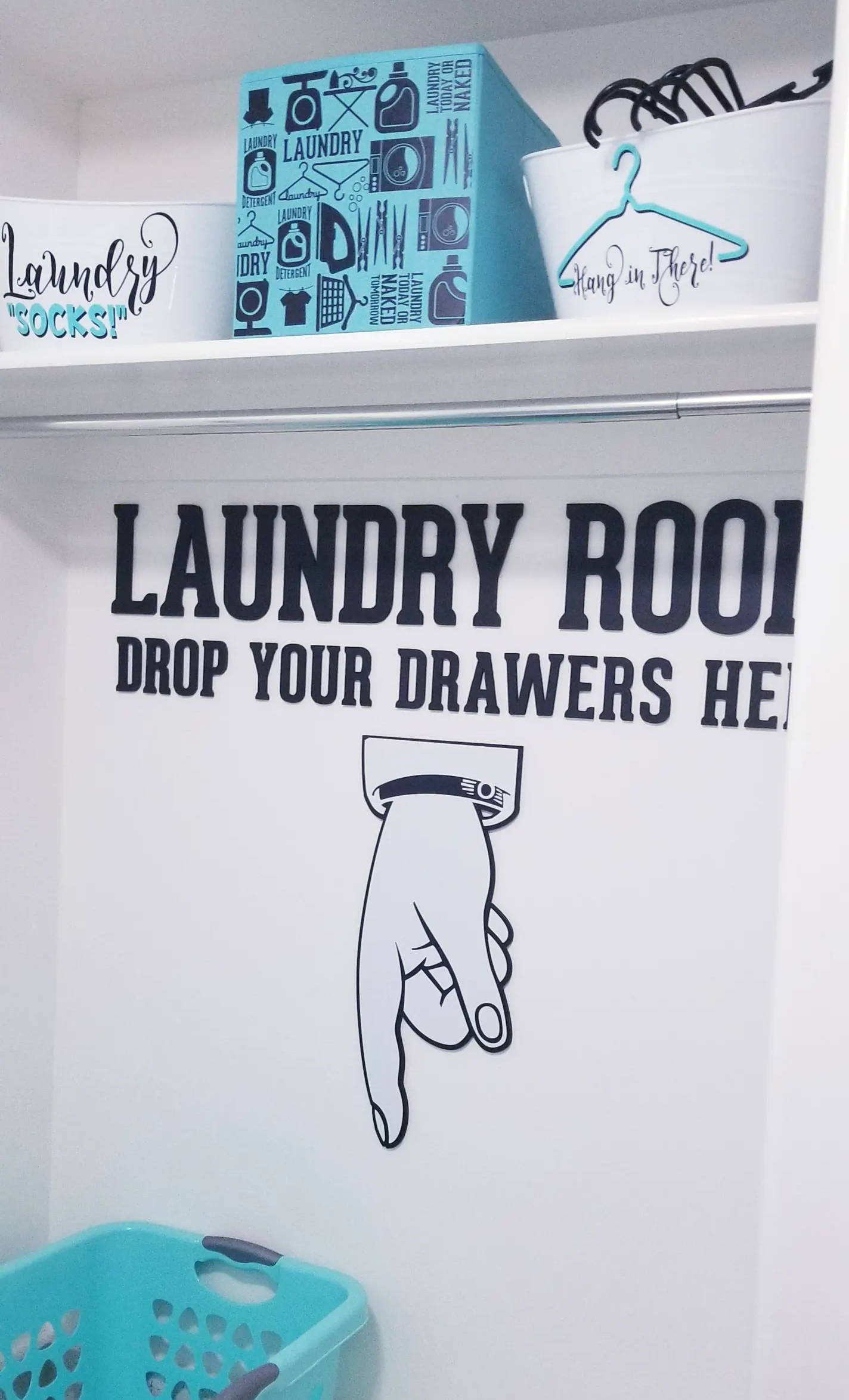 ---
If you're anything like us, you know how important organized vinyl is (especially when you have so much of it)! Simple scrapbooking boxes are great, until you need to know what's inside of them. We've labelled our boxes with their contents, making it so cute and easy to see what's inside.
Vinyl Used: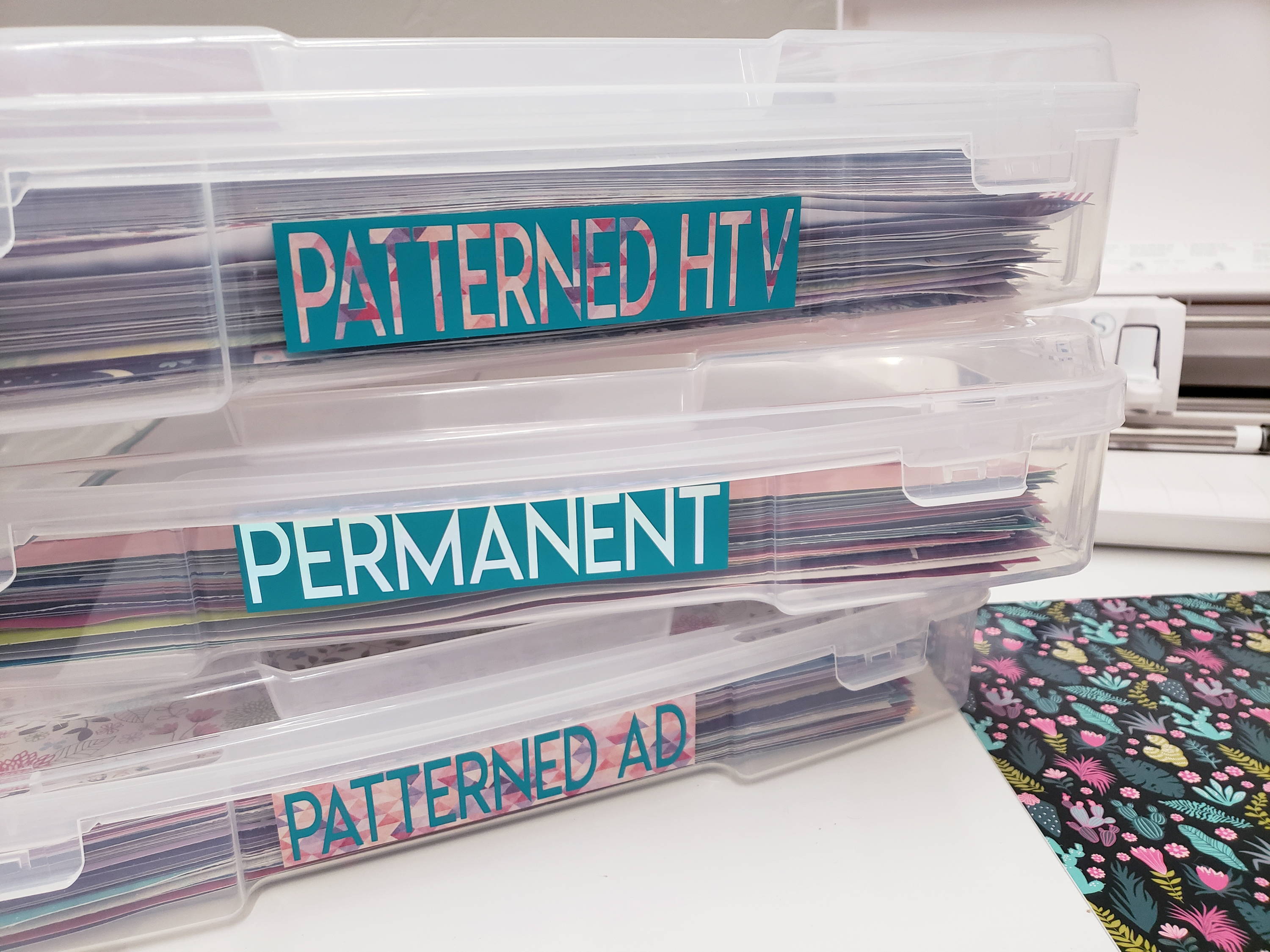 ---
Over-the-Door Vinyl Storage


The simplest of household items can be transformed into useful organization and storage! This hack is perfect for storing sheets and rolls of vinyl without cluttering shelves or your workspace. The best part? It's a simple over-the-door shoe organizer! Depending on size, it can hold anywhere from 12 to 20 rolls of vinyl easily!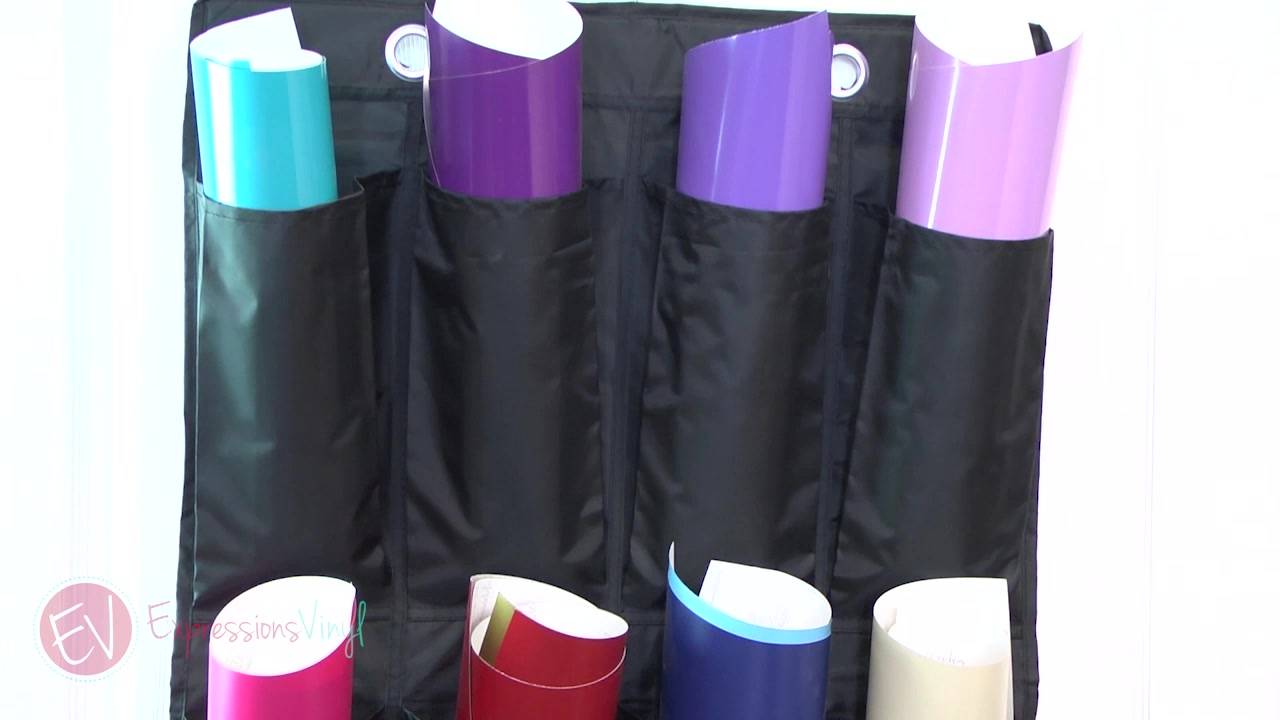 ---
Another great way to store vinyl is with a simple plastic bag holder! Our Expressions Vinyl rolls fit perfectly, as shown in the picture. We got ours from IKEA, but most home stores or even grocery stores should have them. Ours can hold 14 rolls of vinyl at a time! These can stand on tables or shelves, or be hung on a wall for more working space.
Product Info: Variera plastic bag dispenser, white from IKEA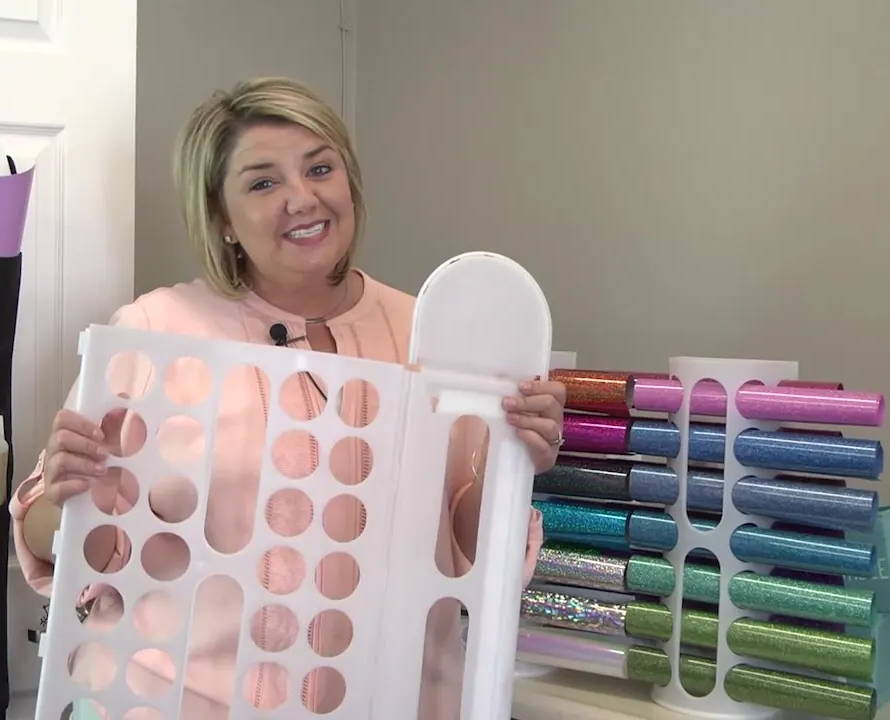 ---
This is such an interesting organization trick! Jessica has taken a large art portfolio and used it to store sheets of vinyl. This portfolio is nice because it can hold our 12"x24" sheets of vinyl perfectly! You can add labels to the sheet protectors so you remember which type of vinyl it is, as well as add cut settings (and heat settings, if it's HTV). Not only is everything organized in a way that you can see the differents colors you have, but it also stores flat, so no worrying about dog-eared corners and creases!
We bought this portfolio at Michael's, but you can find something similar at any store that sells art supplies.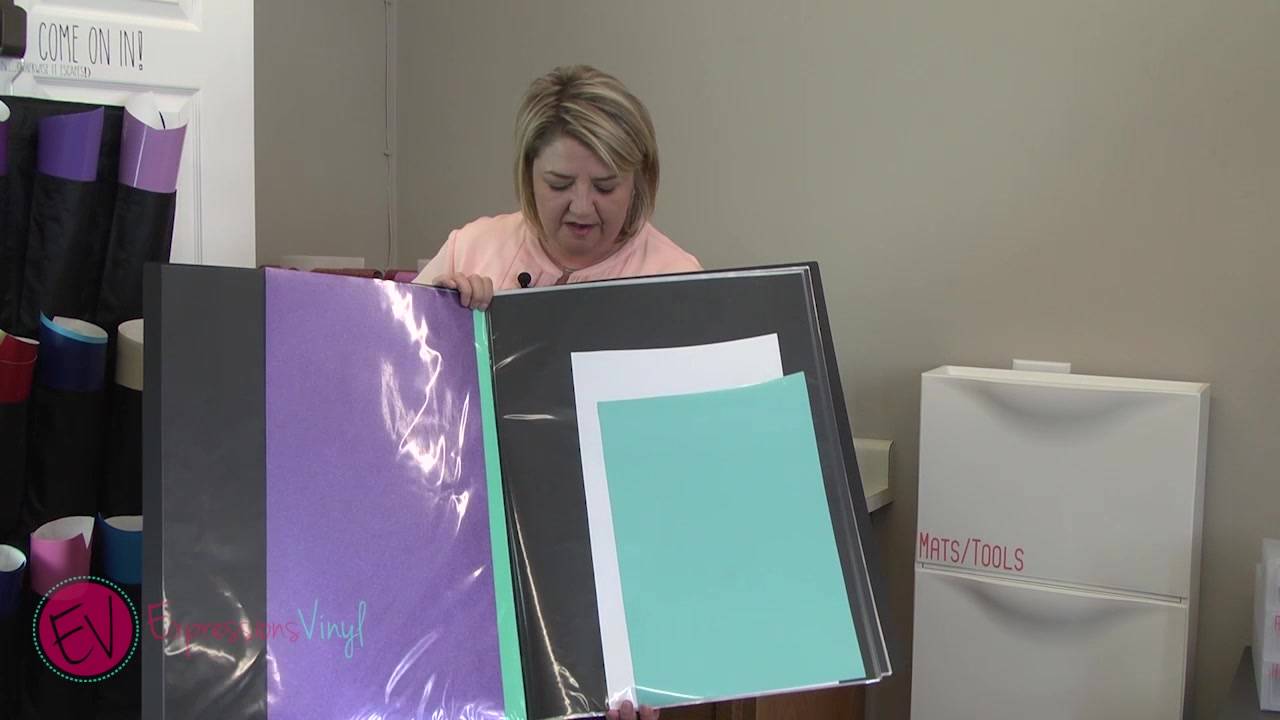 ---
Vinyl Rolling Drawer Organizer
Another great way to store vinyl is with this rolling drawer organizer from IKEA. We've labelled our drawers with the type of vinyl inside, but you can organize however you like! We've seen some people use these to hold their vinyl and set their heat press on top, and we've seen people stack multiple for floor to ceiling drawers.
Product Info: Alex drawer unit in gray-turquoise from IKEA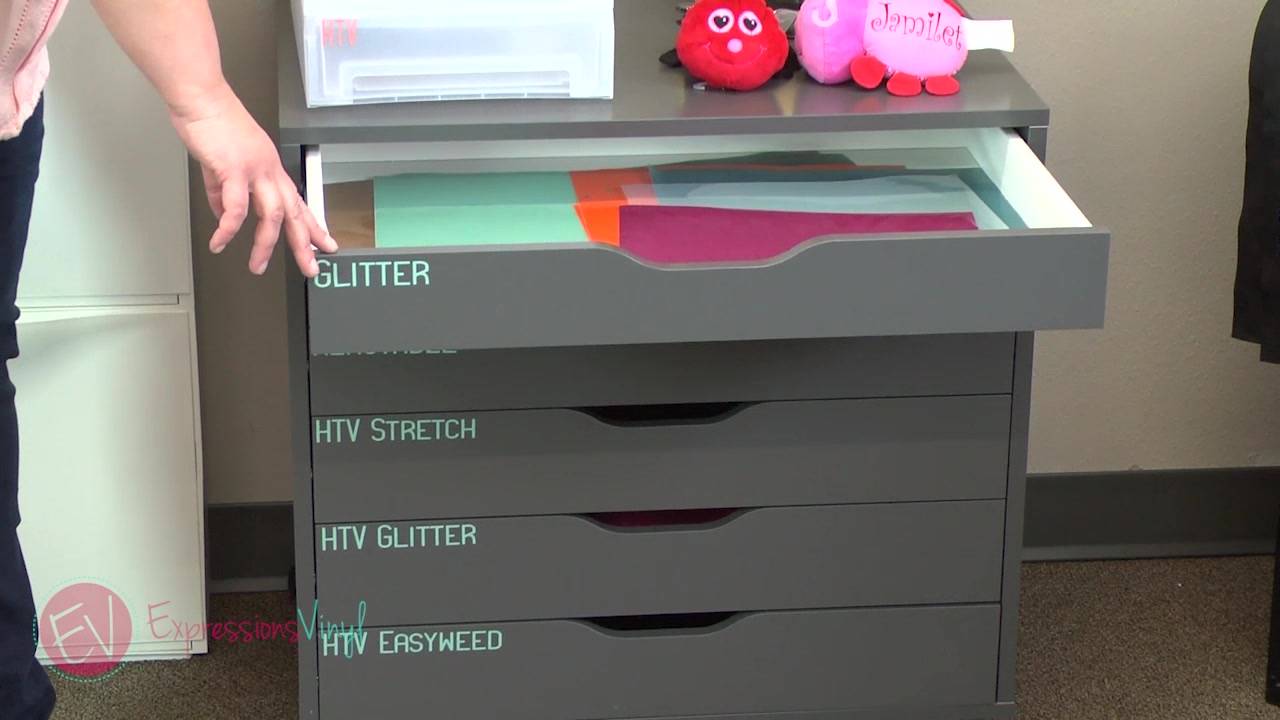 ---
If you're also a scrapbooker, you might recognize something like this! This wire rack perfectly holds 12"x12" sheets of vinyl, just as it would 12"x12" sheets of cardstock or scrapbooking paper. (We actually use these in our warehouse to store all of our patterned vinyl!) You can add labels to the ends to sort your various types of vinyl, or even hang your sample kits on them.
You can watch more about each of these vinyl storage hacks and more here.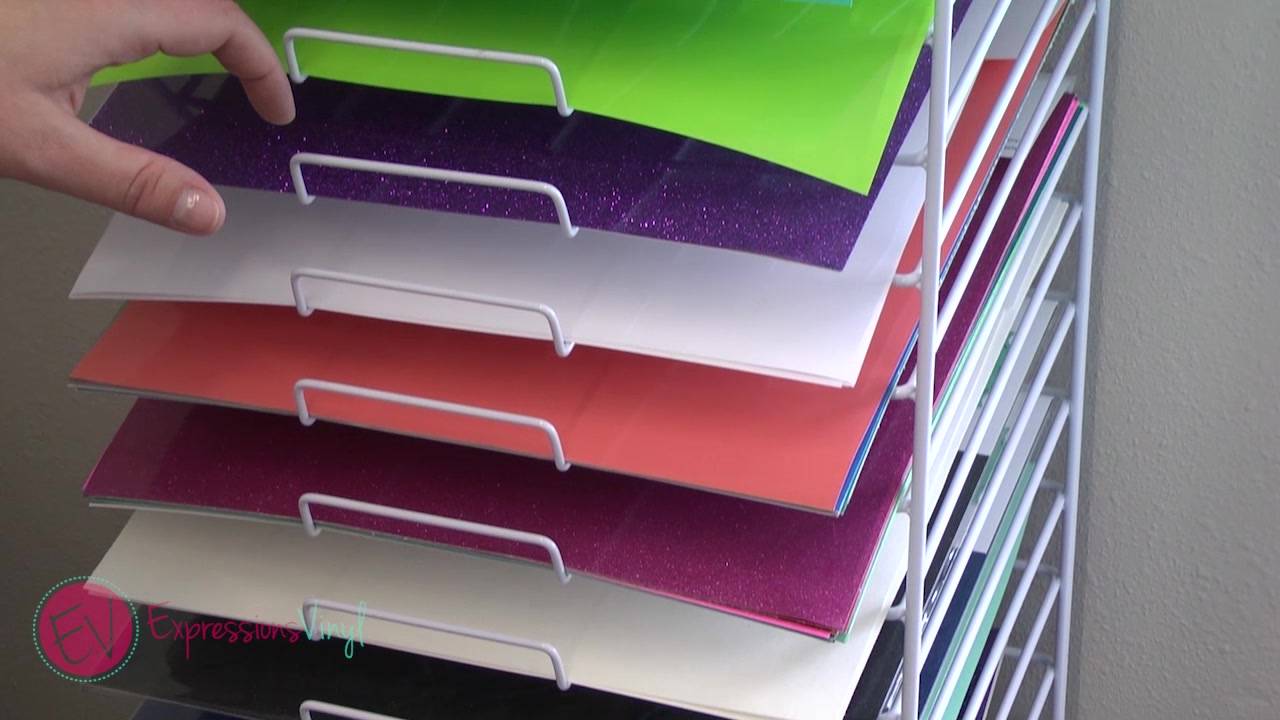 ---
We hope you found these tips useful, and we hope they were helpful in your spring cleaning! As always, tag us in your creations on our social channels! We're on Facebook, Instagram, Pinterest, and even TikTok! Happy crafting!
---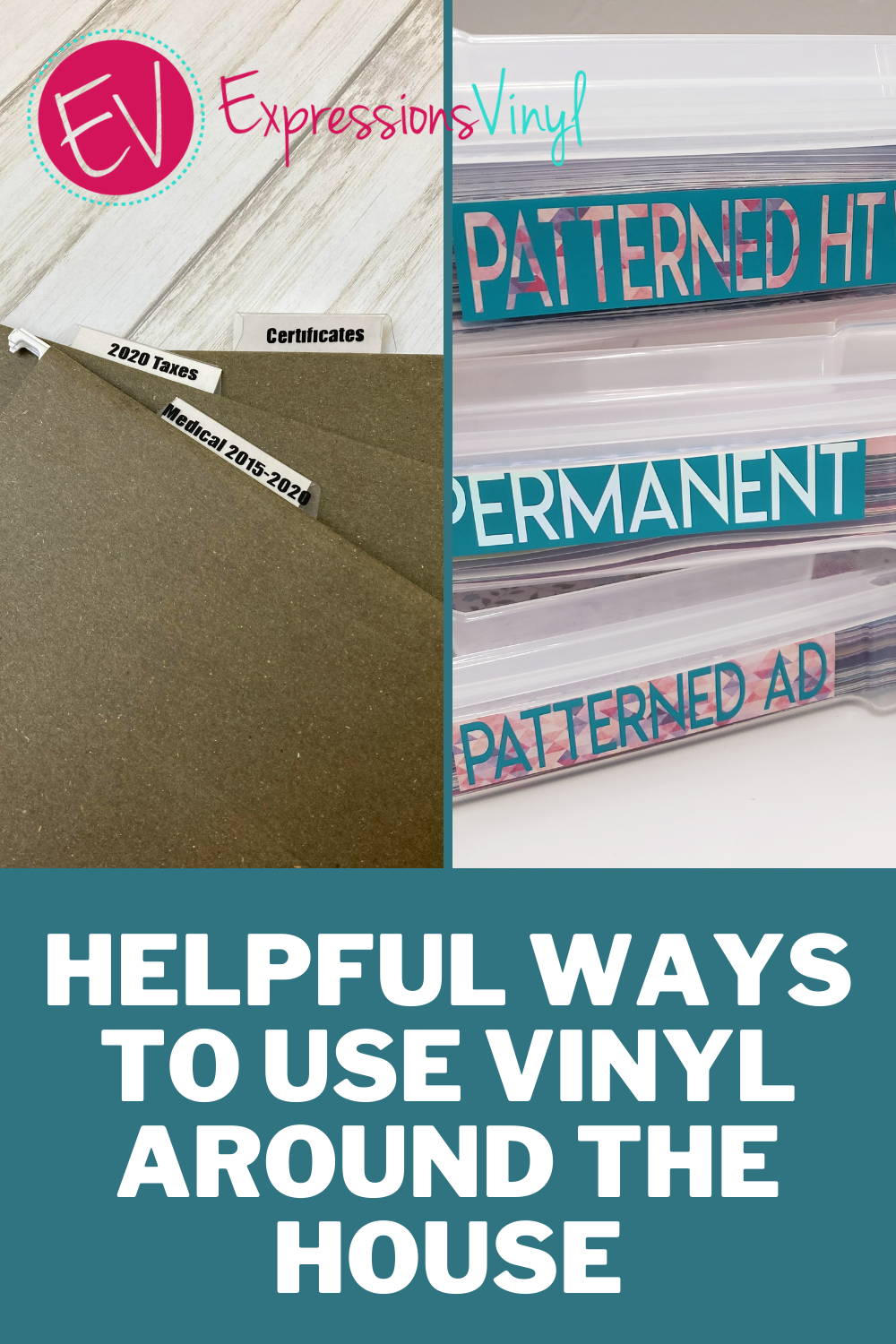 Recent Posts
'Tis the season of joy, and what better way to spread holiday cheer than by adding a personal touch …

Finally!!! The November 2023 Mystery Project Box is here and it is full of all sorts of fun vinyl …

It's that time again! The October 2023 Mystery Project Box is here. This box was designed by Jess …