DIY Merry Christmas Pillow
Decorating for Christmas is so fun, especially when you can create things of your own. So why not make your Christmas Season a little more warm and cozy with a throw pillow with your favorite vinyl and favorite cut files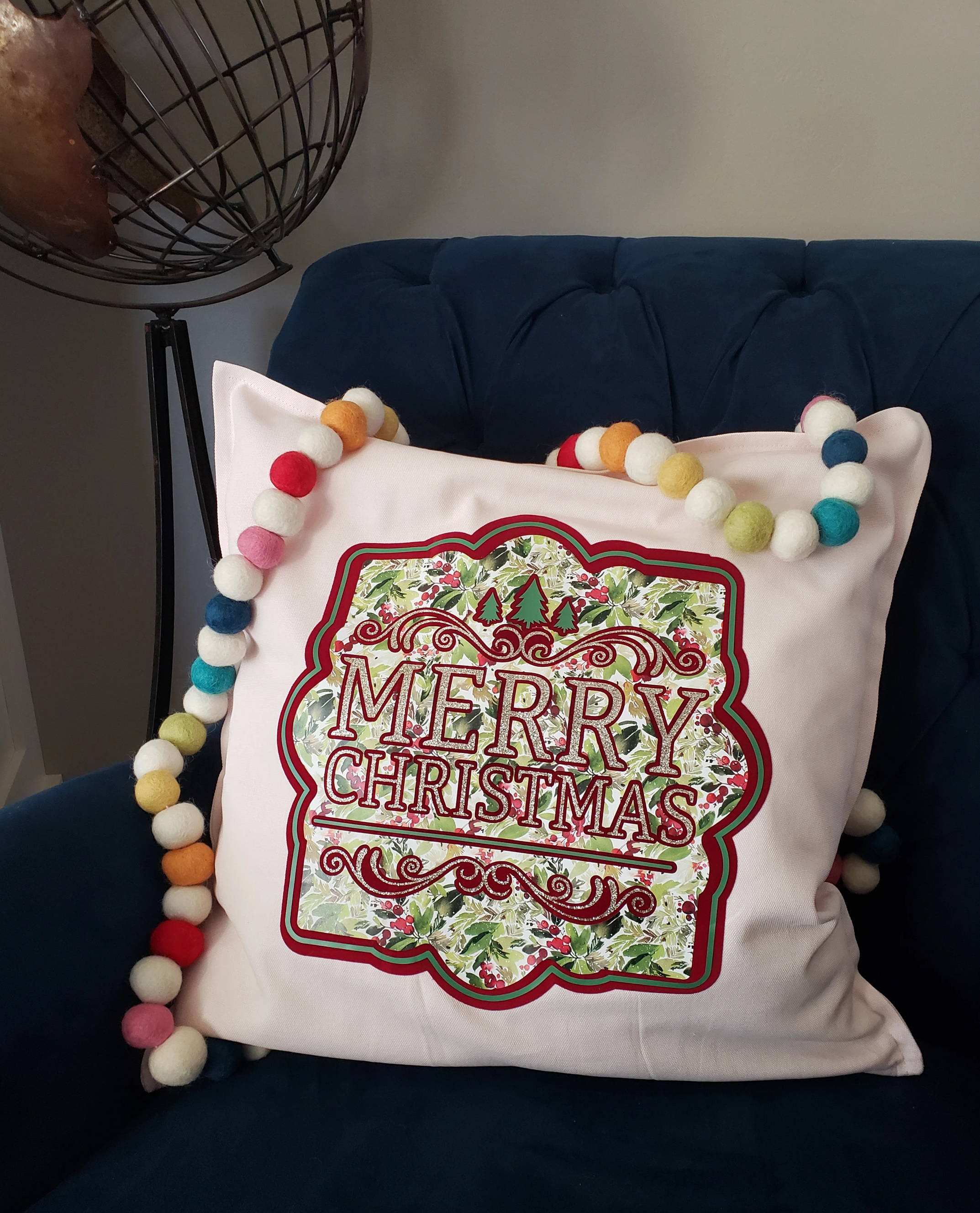 If you want to make this fun Pillow like we did, follow these instructions step by step and you will have this beauty apart of your home in no time.
So lets go going! The first thing you are going to want to do is of course find your favorite cut files. Here is the one that we used for this, don't let the name fool you, it may say tag, but you can create anything you want with it.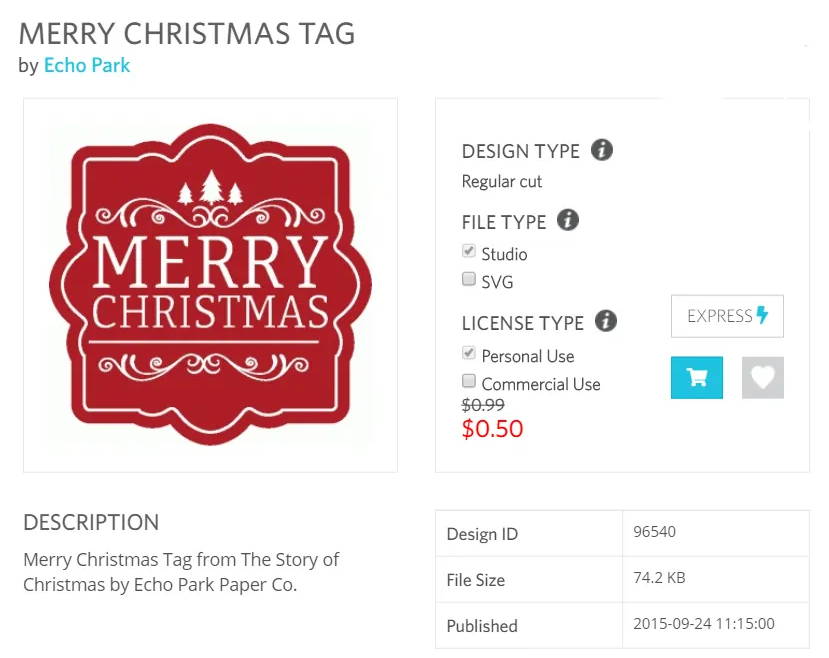 And its on sale! cha-ching, what a deal, now you just need your vinyl, if you want to use the same as we did here. Check the Dropdown button.
Shop Items Used In the Merry Christmas Pillow Project
Lets get down to the fun part, making your pillow. Start by feeding in your vinyl with the shiny carrier sheet face down, and the dull side face up so that this will come in contact with your cutting blade. And DO NOT forget to mirror.
You should be starting out like this, in this case we will start with the Siser Glitter HTV.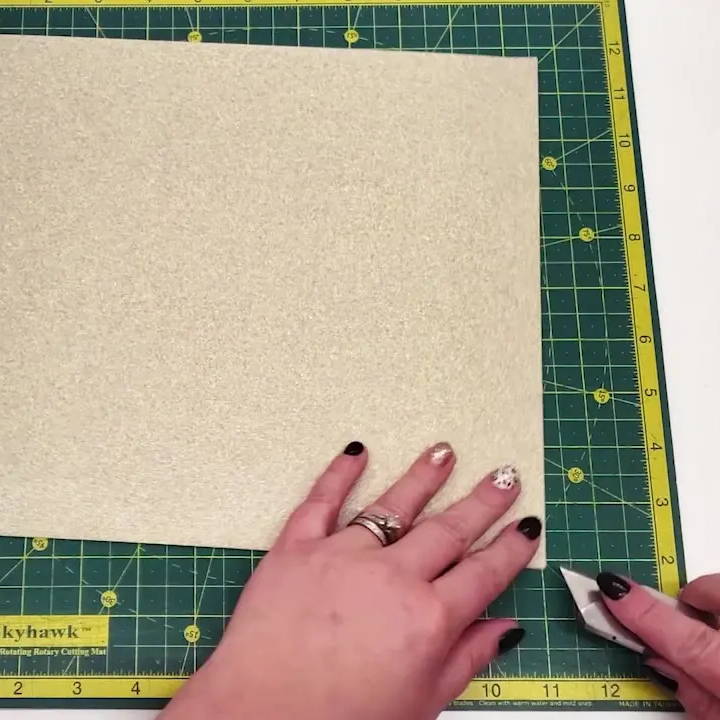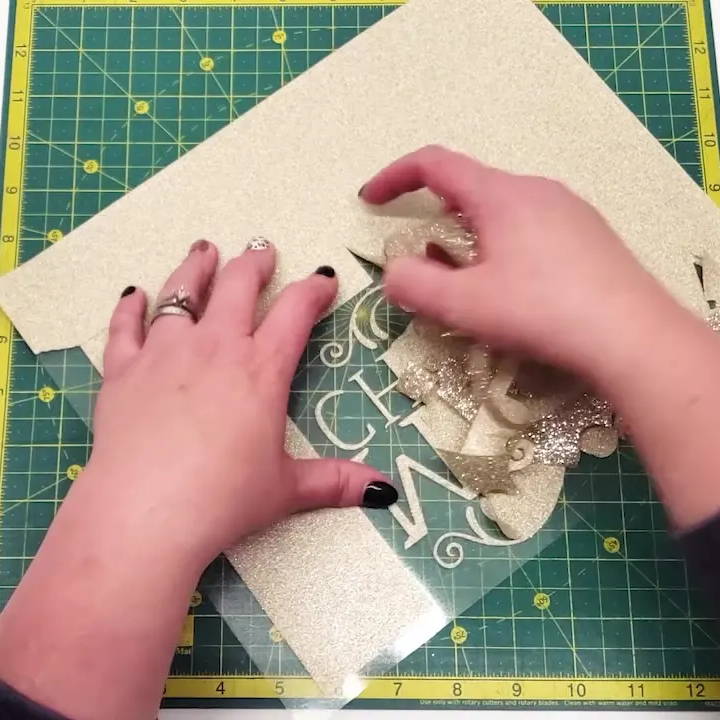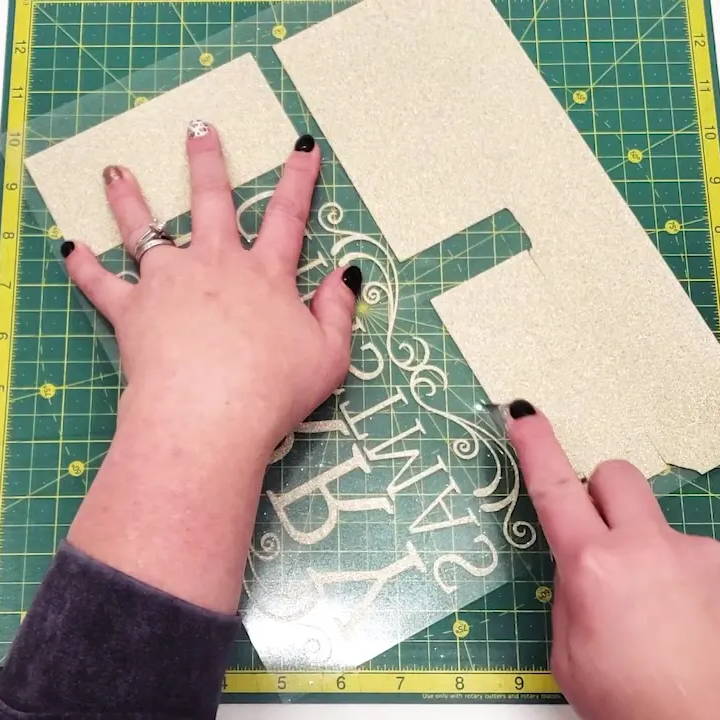 Simply start weeding away the negative space of what you do not need, then taking your favorite trimming tool and or Box Knife, trim out your images and repeat until you have all the colors and images weeded out and ready to go.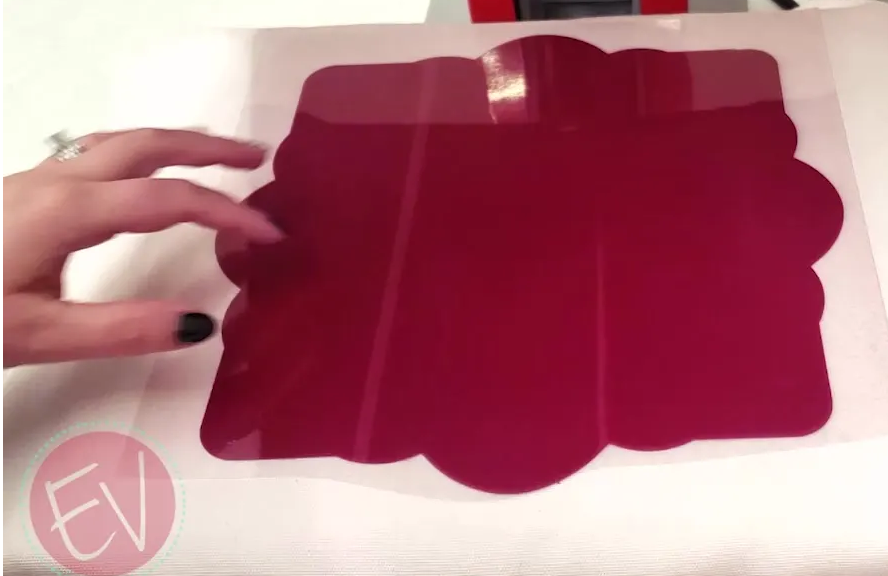 Start with your base layer the Siser Stripflock Pro Red.
Stripflock requires a temperature of 311 degrees for 10-15 seconds and let it cool for just a minute before pulling away the carrier sheet.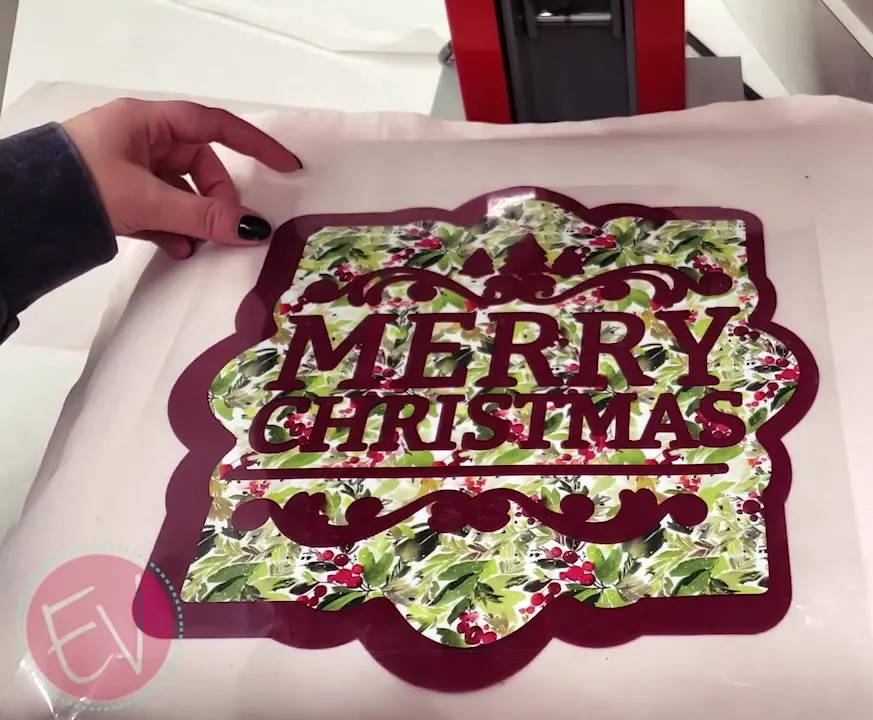 Then we continue on applying our Patterned Winter Floral Heat Transfer Vinyl. This has a lower temperature of 305, but since we are only going to press for 1-2 seconds, the 311 temperature will not harm it. Also, do you see how the winter floral's carrier sheet covers the Stripflock Pro?
There is no need for a cover sheet as this point because there are no exposed vinyls outside the carrier sheet box.
Press this for 1-2 seconds and remove its carrier sheet warm or hot.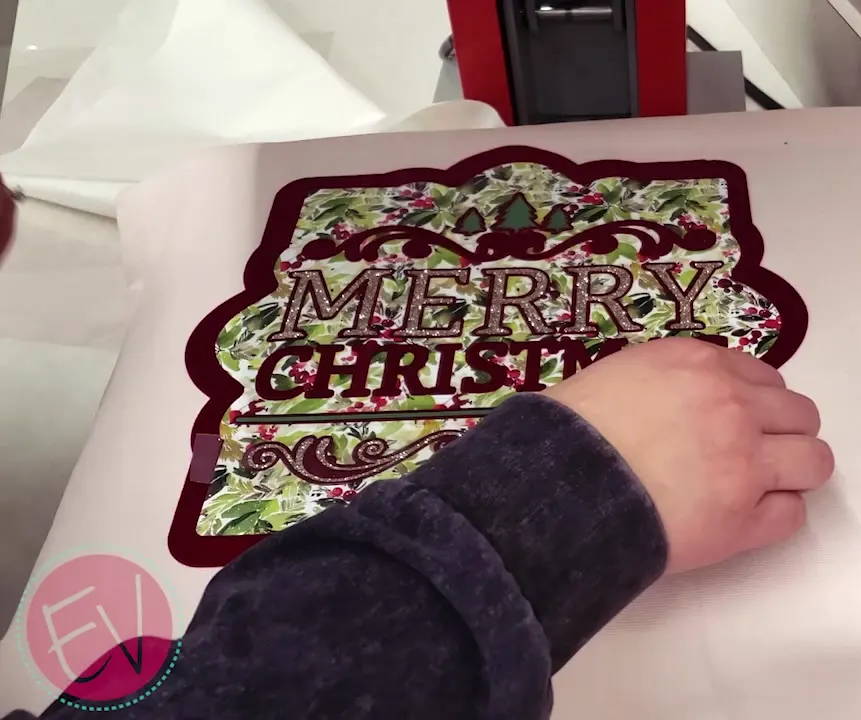 Repeat the same process with the Easyweed Cadette Green as you did with the Winter Floral Pattern. 1-2 seconds peel while still warm or hot.
If you notice in this step, the other vinyls are exposed outside of the clear carrier sheet, therefor you will need to grab some of these guys, since they are an absolute must: Multi Use Sheets and or our Heat Transfer Cover Sheets.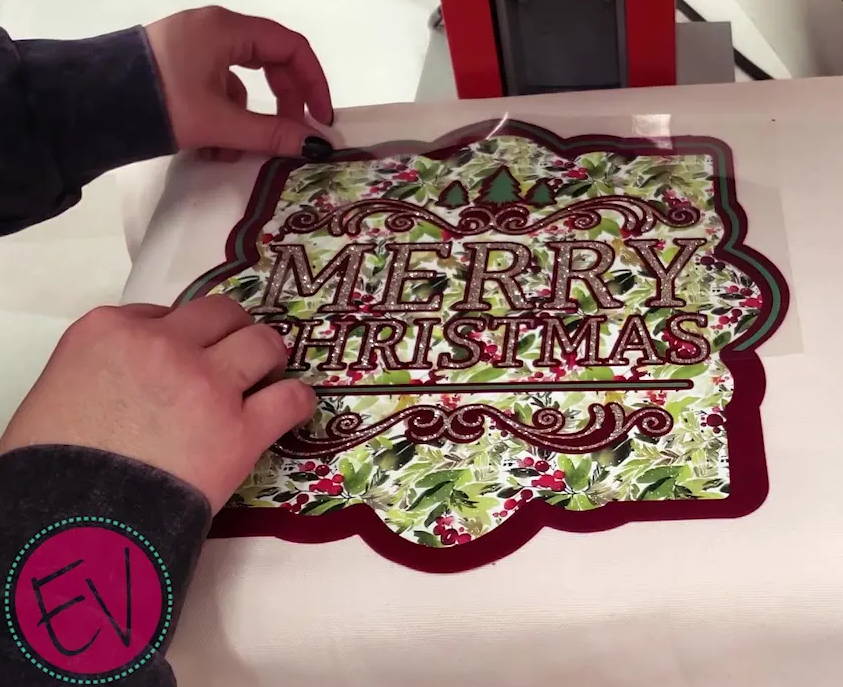 Okay, we are almost there, you only have this last step and you are set.
Since we are now working with glitter which calls for the temperature to be 320, and our press is set to 311, we are going to go a little bit longer on time, about 10 seconds for this last press, then we will take the carrier sheet off and press for around another 5 seconds.
Reason for this is that the other layers already have time time on them, and the bottom layer at this point has the longest length of time, so we need to keep that in mind while also allowing enough time for the Glitter.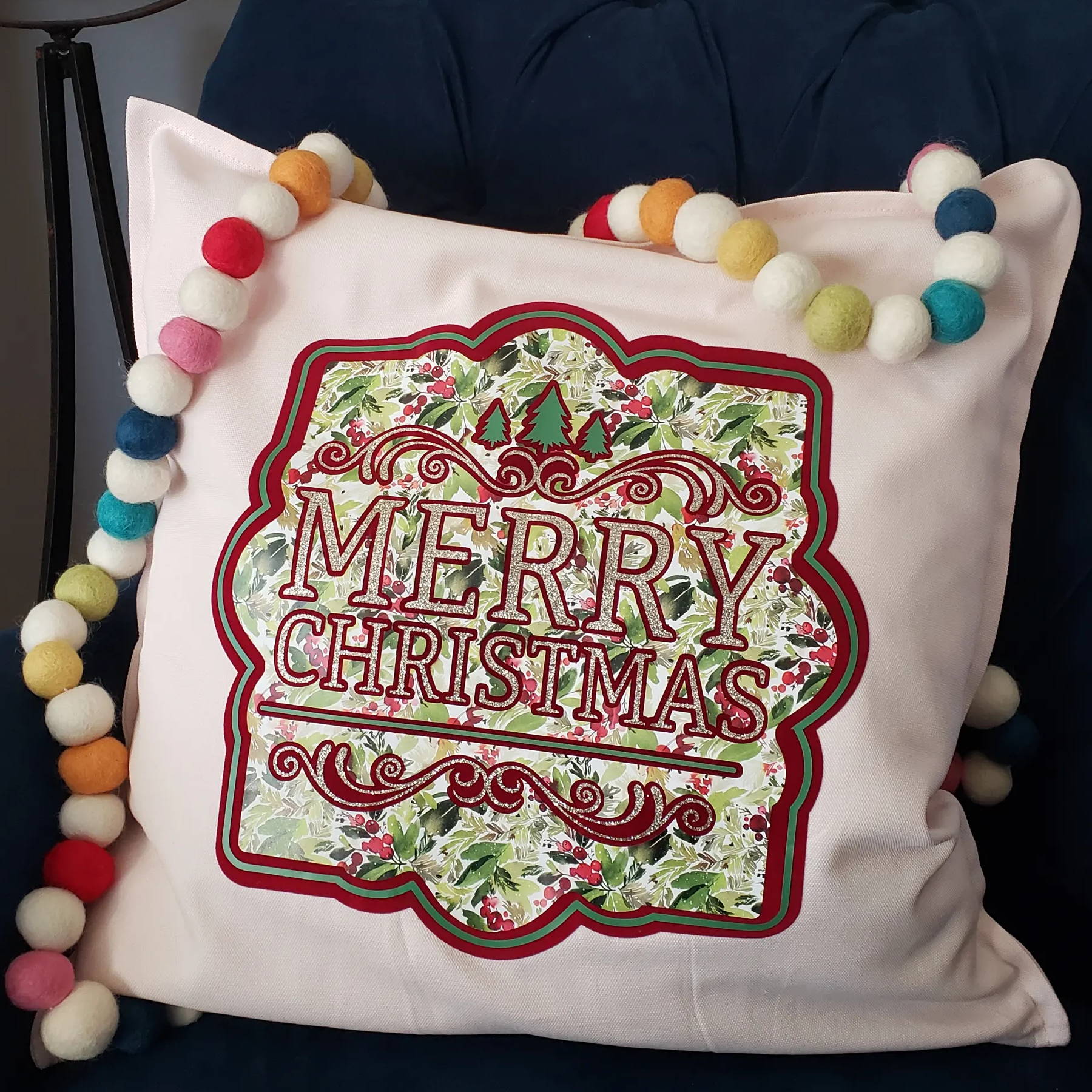 Ta Da! You are now ready to chill, sit back and watch your favorite Holiday Movies, grab some hot cocoa, and cuddle up with your new pillow.
Watch the whole video below to see the process in action.
Recent Posts
'Tis the season of joy, and what better way to spread holiday cheer than by adding a personal touch …

Finally!!! The November 2023 Mystery Project Box is here and it is full of all sorts of fun vinyl …

It's that time again! The October 2023 Mystery Project Box is here. This box was designed by Jess …