What are the Holiday's without crafts? Some say it is not a holiday at all! We just might be some... So we have put together a nice little collection of some of our favorite holiday crafts. This might be just to give you some ideas that can help you on your way to your next craft project, or maybe you will love one so much you will make it just as we have. Either way we hope you enjoy and find inspiration from our creations!
4 Spooky Glow-in-the-Dark Crafts for Halloween
It's spooky season! Halloween is great for trick-or-treating, pranking friends and family, and dressing up in interesting costumes! Follow along with this blog for unique Halloween crafts using our glow-in-the-dark adhesive and heat transfer vinyl!
---
"I Brighten Your Day" Firefly T-Shirt
Click here for the full t-shirt tutorial!
When it comes to Halloween, why confine your ~spooky~ attire to only one day? This fun shirt is great year-round. In light, it looks like a normal t-shirt, but turn out the lights, and this shirt lights up the night!
You can customize this shirt with any colors you like, as long as you remember the glow-in-the-dark vinyl!
Vinyl Type - Color
---
"Ain't Afraid of No Ghost" T-Shirt
Click here to learn more about specialty vinyl like our glow-in-the-dark vinyl!
Who you gonna call? This fun Halloween t-shirt uses only two materials and is perfect for any spooky enthusiast. The fun thing about glow-in-the-dark vinyl is that it appears white during the day. This shirt displays the message that "I ain't afraid of no ghosts," but secretly hosts many ghosts in the dark!
Vinyl Type - Color
Styles Used
This project uses any ghost images you'd like and a spooky font of your choice.
---
Spooky Autumn Tree Pillow
Click here to learn more about our specialty vinyl, like our glow-in-the-dark vinyl!
With autumn comes the most fun holiday: Halloween! However, you may not want to decorate your house with cobwebs and jack-o-lanterns the whole season. This adorable fall pillow is the perfect décor with a secret spooky touch. During the day, it looks like a normal tree with various fall-colored leaves. At night? It turns into a creepily-cute ghost scene!
This is the perfect craft for small scraps of your favorite HTV or to mix colors and patterns!
Vinyl Type - Color
---
A big tradition for a lot of people this time of year is pumpkin carving! While it can be fun, it can also be super messy. Plus, once you make the first cut, there's no going back. Adding vinyl to pumpkins is a fun, kid-friendly way to decorate our favorite fall gourds.
As you can see, we had a little fun decorating our own pumpkins! While we used a variety of vinyl, the spooky face in the back corner is the one we want to focus on. This was made with our glow-in-the-dark HTV, so come nighttime, this pumpkin is ready to scare some trick-or-treaters!
Vinyl Type - Color
Styles Used
These pumpkins weren't made using any specific template or format. Get creative and have fun!
---
If you make any of these projects, tag us in social media so that we can see all the spooky fun you're up to! Happy haunting!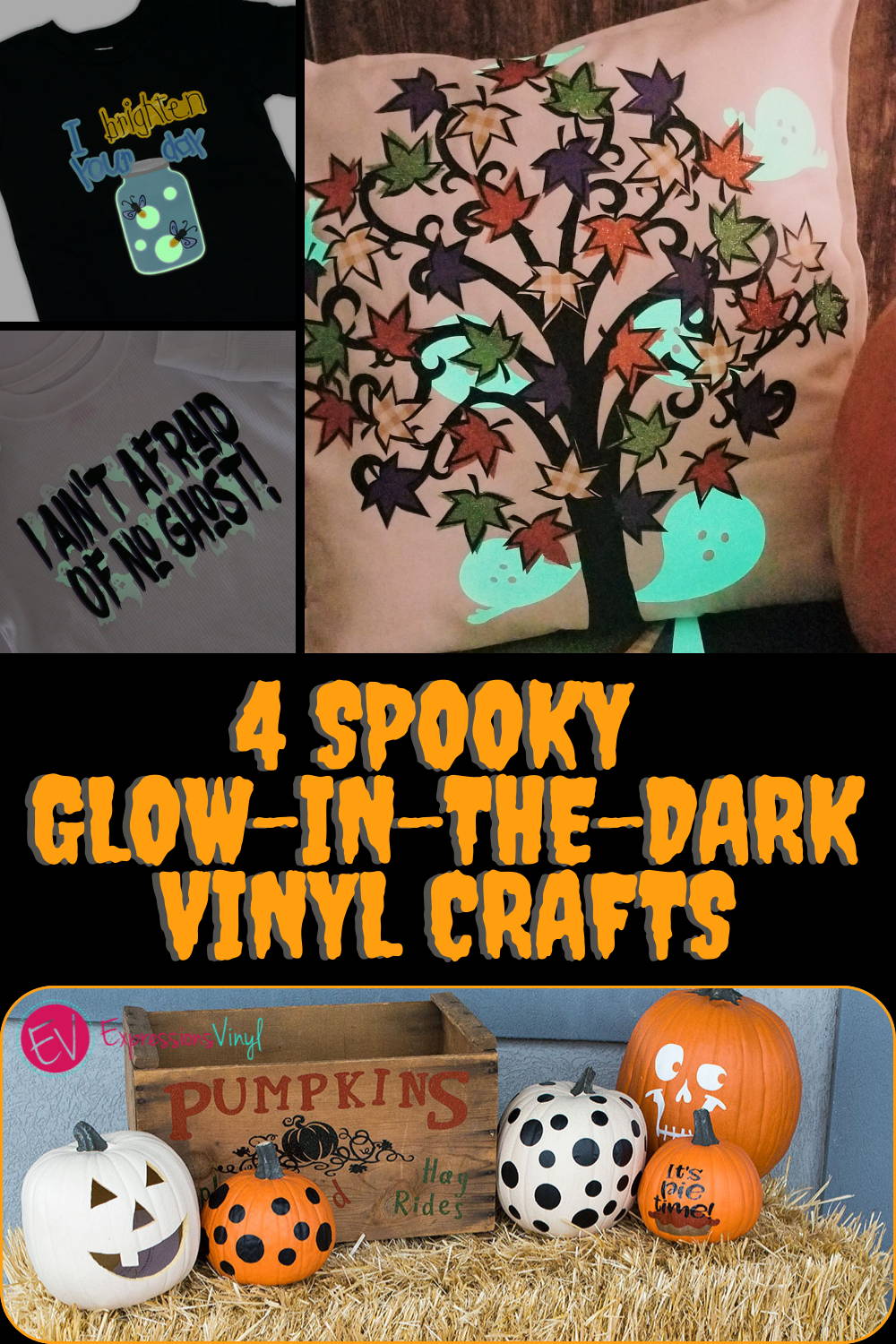 Recent Posts
The May 2023 Mystery Project Box is finally here and it is full of all sorts of fun things …

The April 2023 Mystery Project Box is finally here and it is full of all sorts of fun thin …

The March 2023 Mystery Project Box is finally here and it is a fun one. We …