Hey everyone, we all know that sometime we like to add a little "visual effect" to our projects, especially certain times of the year: Independence Day, Halloween, New Years, and any other fun events you may be wanting to make t-shirts or other things for..
Well, ExpressionsVinyl.com does have some awesome vinyl that will give you some neat effects like Glitter and Holographic. But today we are going to talk about a few of our favorites, which are:
~Siser Easyweed Glow in the Dark
These are fun types of vinyl to work with. We have done so many fun things with these from Halloween ghosts, Christmas Countdowns, Bike T-shirts and more. SOOOO many fun things. Let's let Jessica break them down for you first.
EasyWeed Glow in the Dark:
Unlike the Glow in the Dark Adhesive which is a lime Green, the Siser Glow in the Dark is a white HTV that when hit by light, will have a nice lime green glow to it. This effect makes "hiding" the images (in this case the ghosts") super easy and will look awesome for your next project.
Here are a few projects we've made with it: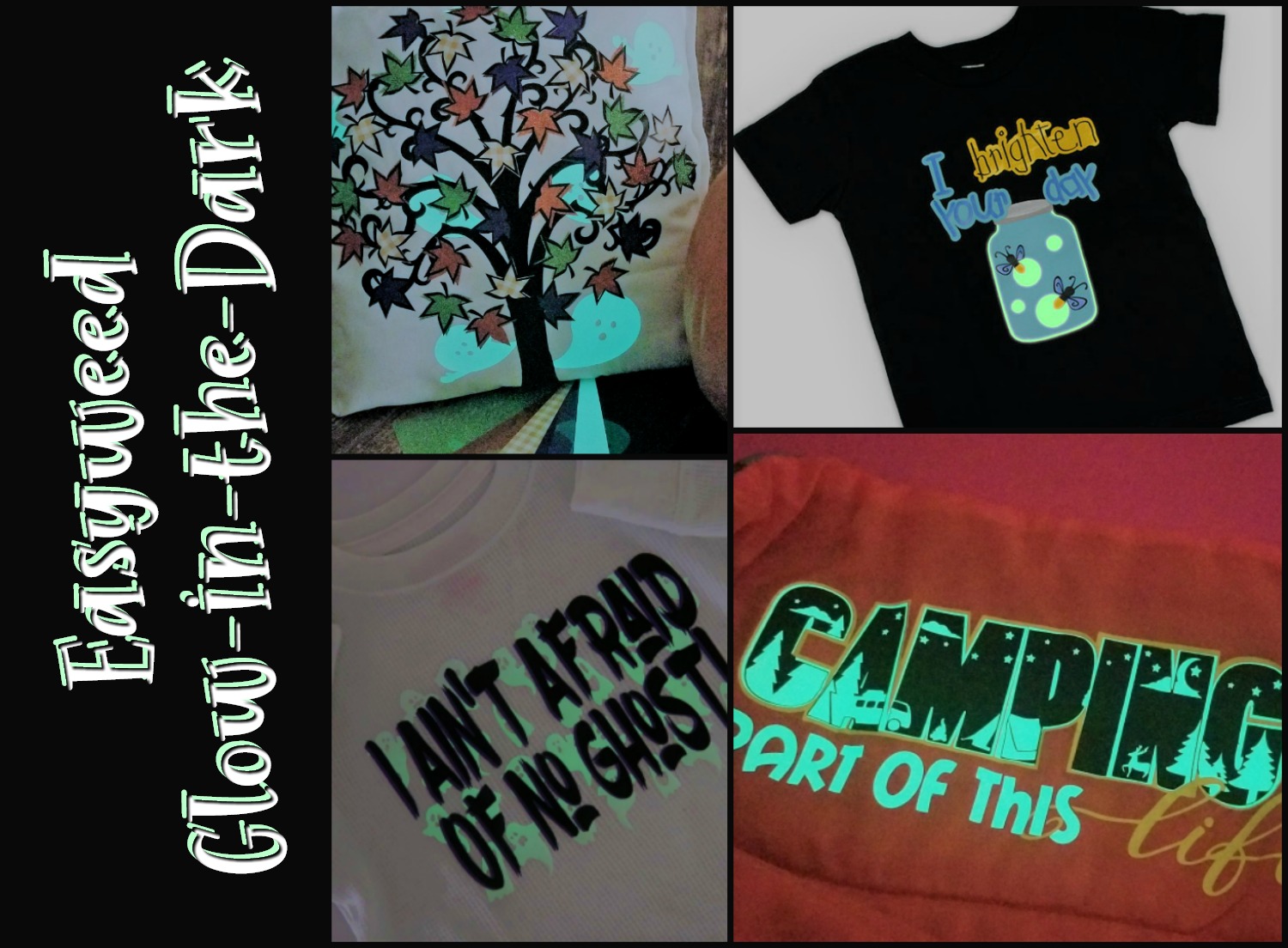 Siser Glow in the Dark, you cut just like you would regular EasyWeed:
Silhouette: Blade-2, Thickness- 6 to 8, and speed will vary on your design.
Cricut: Iron-on Vinyl setting
Siser Blackboard HTV:
The Blackboard HTV is a chalkboard vinyl but for materials like Pillows,Shirts, Napkins, Table runners, whatever you want to make.
It has a soft smooth textured finish, not rough like an actual chalkboard. It's textured enough to use Chalks, Chalk markers, and Chalk Crayons (These are my favorite, you can find them at Hobby Lobby) and they will not smudge.
When you are ready to change up your "Current Mood" or your Christmas Countdown, simply take a damp cloth and wipe it clean, let it dry and then you are ready to chalk it up again.
Check these fun ideas out.
Siser's Blackboard HTV, has similar cut setting to EasyWeed.
Silhouette: Blade-2, Thickness- 6 to 8, and speed will vary depending upon your design.
Cricut: Iron-on Vinyl Setting.
EasyWeed Adhesive HTV (use with ExpressionsVinyl's Deco Foils):
EasyWeed Adhesive is just like EasyWeed, the only difference is that it does not contain a color, it is basically a double sided glue. It can be hard to tell which side to cut on, but one side is smooth (Carrier sheet- No Cut) and the other is the adhesive which has a rougher surface.
This is designed to be used with our Deco Foil which are very similar to a foil leafing material, they do not have a glued on them so that is where the EasyWeed Adhesive comes into play.
Check out these ideas: Pillows, Cards, shirts, napkins, oh the possibilities.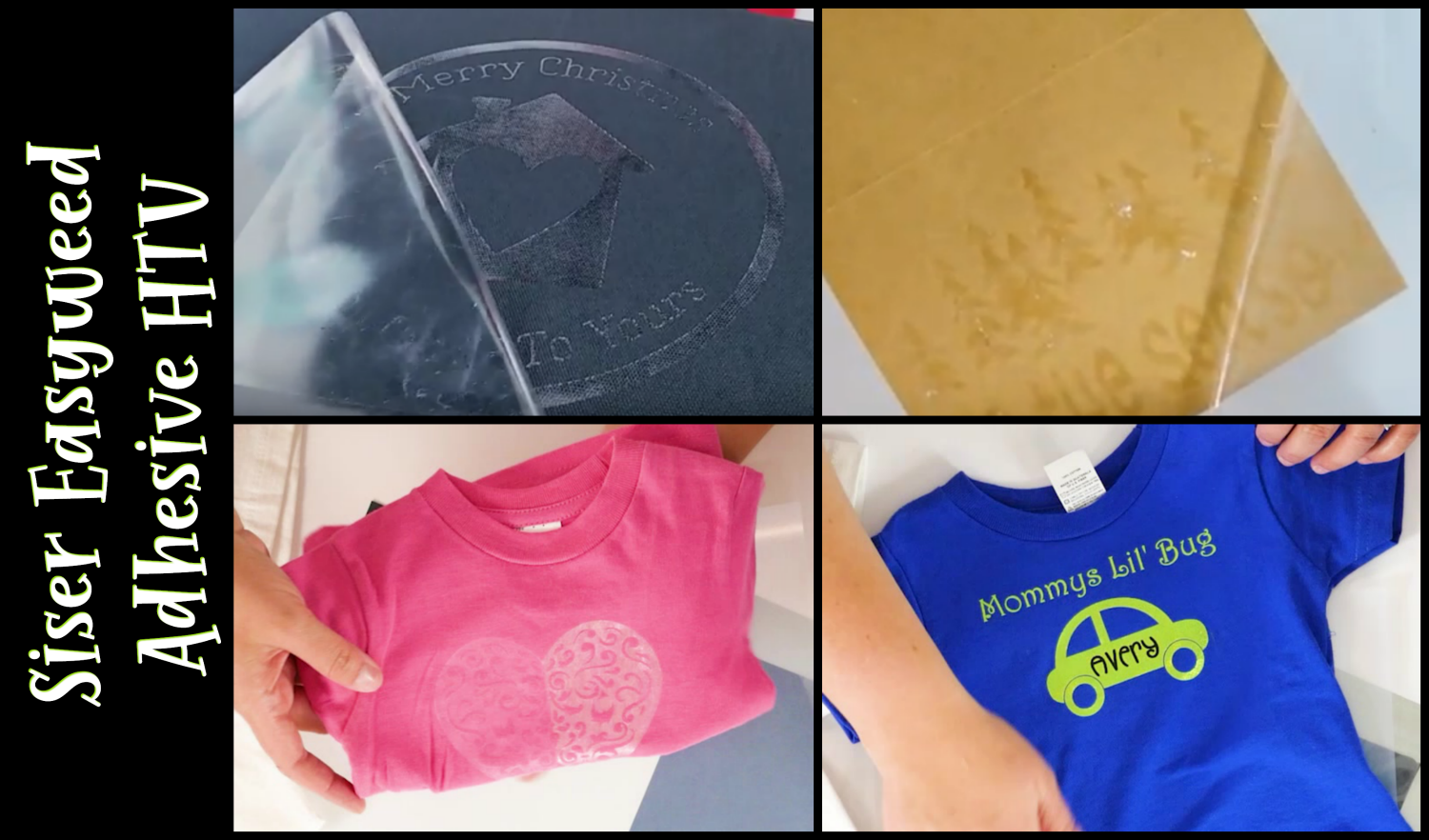 If you have not tried this, its a must try, it is so fun. The best part is that you CAN NOT mess it up. Deco foil, if you leave it on to completely cool, you get a solid foil look, want a more grunge distressed look, peel it up when its cold.
This EasyWeed can be temperamental when it comes to its press time and temperature. But just follow this chart and you will love it. Remember too, good pressure will give you best results.
We also recommend weeding the EasyWeed Adhesive on a dark surface so you can easily see it.
Go give it a try but you will need Deco Foils too!
Siser EasyReflective HTV:
The EasyWeed Reflective is probably my favorite of the Specialties. It's only available in Silver, but that's really all you need.
It's very soft and weeds like butter and will look like a grey Vinyl on your garment. When the light hits it, WOW!!!
This stuff reflects like crazy!!! It makes great shirts for races and bikers, trick or treat bags, whatever you want to add a little pop to.
Check out how it looks on these projects when it's activated.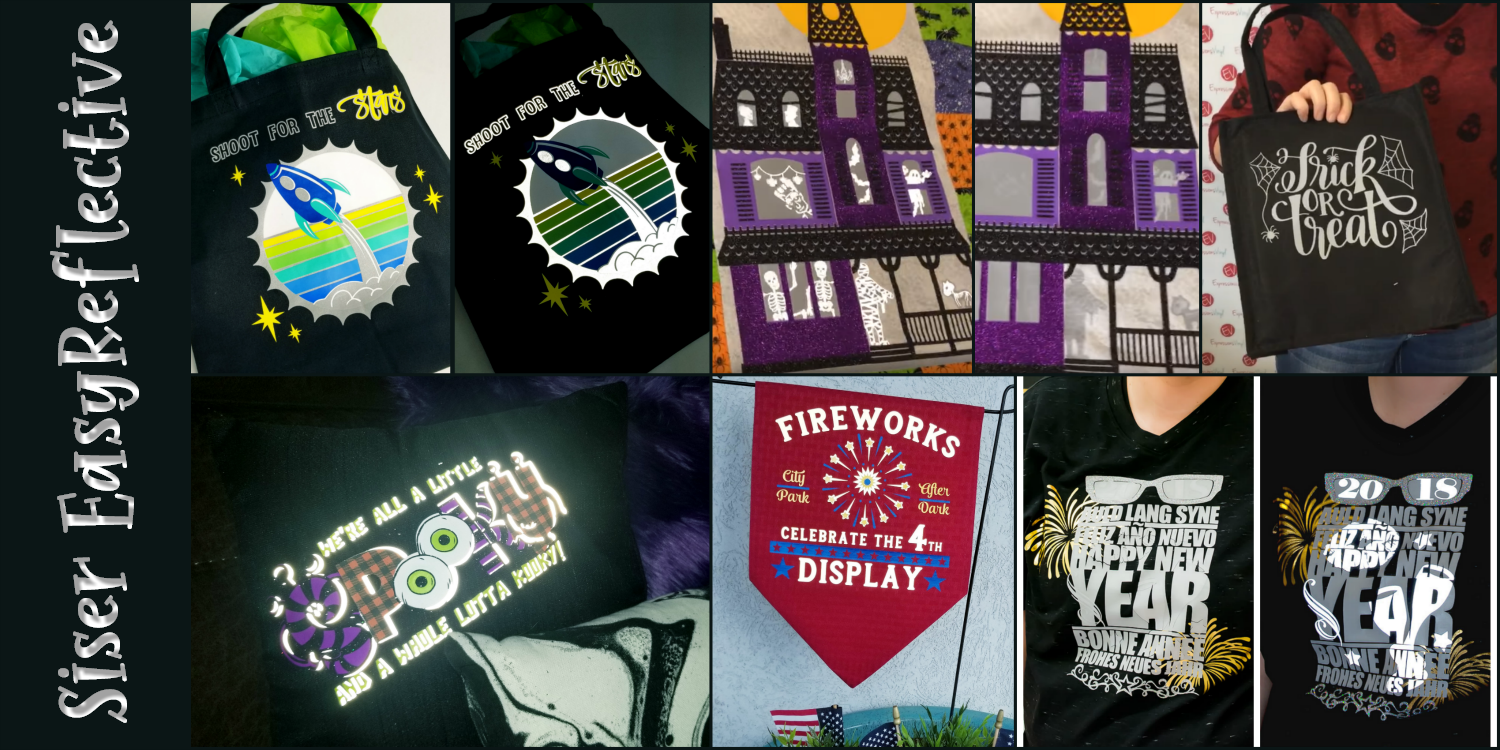 Such cool effects on all projects.
So what do you think of our fun Specialty Vinyl? Do you love them? Have you tried them? Well if you are not sure and have not tried them, go do it! They are so fun!!
Thanks for stopping by and let us know if you have any questions and we will be happy to help you out. Also be sure to follow us on Facebook, Instagram, Pinterest and YouTube.

Recent Posts
'Tis the season of joy, and what better way to spread holiday cheer than by adding a personal touch …

Finally!!! The November 2023 Mystery Project Box is here and it is full of all sorts of fun vinyl …

It's that time again! The October 2023 Mystery Project Box is here. This box was designed by Jess …