Show the people around you how you care by hand-crafting a gift using vinyl. While the possibilities are endless we have curated a few ideas on this page to guide you and get your own creative juices flowing. Some projects are very simple and inexpensive like "'Twizz' the Seaon", or "Cup of Cheer", to others that are more involved and perhaps more personal. Whatever your goal to create for your neighbor we have an idea just right for you that can be made just as we have or adapted to your own flare and creativity.
14 Homemade Neighbor Christmas Gifts

Wow your neighbors with a personal flair for this year's seasonal gifts. Whether it's for Thanksgiving, Christmas, or simply celebrating the wonders of winter, we have a homemade neighbor gift that you can make - no matter your level of craft vinyl experience. Read on to find the perfect way to show appreciation for your neighbors!
---
"Twizz" the Season Gift Set
Neighbor gifts are all the trend each year and people are always looking for fun, cute and simple ideas. So we would love to give you this fun idea to "Twizz" the Season and your neighbors will be jolly.
This free cut file was created using Inkjet Printable Vinyl and our Holographic Heat Transfer Vinyl to give it some glitz and flair. We also added a fun holiday kitchen towel for extra cuteness.
Inkjet Vinyl is waterproof so it is a great alternative to using sticker paper, which will not hold up if exposed to water or the elements.
Print it out, stick it on some cardstock, stock up on some Twizzlers, and you are ready to go!
VINYL TYPE - COLOR
CUT FILES USED
Free Cut file: "Twizz" the Season
---
Bought with Love Neighbor Gift Towel
Let's face the facts: Christmas time is so busy with decor, parties, shopping, cooking, baking and, of course, vinyl crafting. You don't always have time to bake everything! So, while you are shopping, pick up some treats and kitchen tea towels and craft with this fun Free cut file. It will save you time, money and your neighbors will get a laugh out of it. After all, it's the thought that counts!
Using the Siser StripFlock Pro and applying it to some faux Cricut leather gave this towel a soft snowy touch and the leather makes it stand out. The best part is no sewing is required when you apply the leather using our EasyWeed Adhesive Heat Transfer Vinyl on the back.
VINYL TYPE - COLOR
CUT FILES USE
Free Cut File: Bought with Love
---
Thanksgiving Neighbor Gift Cookies
Neighbor gifts do not have to be just for Christmas time! With all the cooking and baking going on for Thanksgiving, why not share with neighbors? After all, it does have 'giving' in the name! Check out these simple cookie boxes that with the vinyl added really make a fun gift. Vinyl can be used on cardstock and paper products just like this.
This project showcases our Opal line. There are several different colors but they all offer a bit of a shadow play when it comes to the finish: twist and turn the gift and the colors will change. This may just be more exciting than the cookies themselves!
Finish off with our ExpressionsVinyl Permanent line Series 51 Black for a fun phrase.
VINYL TYPE - COLOR
CUT FILES USED
Images from Cricut Design Space #M8AE9013
Font: Maggie Mae
---
Everyone loves a nice warm cup of cocoa, and it definitely will bring your neighbor some cheer! This is an easy and inexpensive gift that can contain your favorite cocoa and/or treats. Simply add a fun cut file, like our Free Cup of Cheer cut file, a cute pattern to the cup, throw in some glitter adhesive and you have a a neighbor gift ready to go!
Our Pattern and Glitter Adhesives have a permanent adhesive so they will hold up wash after wash, but we do recommend hand-washing for the best results.
VINYL TYPE - COLOR
CUT FILES USED
Free Cut File: Cocoa cup
---
Have Your Selfie A Merry Little Christmas Sign
Selfies are always fun, especially during holiday parties. So this year why not put out this fun sign and show off all your fun and silly photos with your favorite little elves.
Simply use some of our Patterns and Christmas-colored Adhesives, find a frame already finished or ready to paint, and you can add the fun touch of photo holders from any craft store or online retailer.
This neighbor gift will be loved year after year!
VINYL TYPE - COLOR
CUT FILES USED
Free Cut File: Have Your Selfie a Merry Little Christmas
---
Hot cocoa is fun for everyone, especially when you add fun extras like chocolate chips, marshmallows or peppermint. These fun little DIY kits are so easy: just add water!
To add a more personal touch, these gift tags, made from blank wooden or ceramic ornaments with a Merry Christmas From Ours to Yours decal, finish off the look. They also have a fun ornament they can keep or pass along to the next neighbor.
Use our Paper or clear Transfer Tape for easy and accurate application.
VINYL TYPE - COLOR
CUT FILES USED
Free Cut File: Merry Christmas from Ours to Yours
---
One of the traditions that brings much joy to people during the holidays is sugar cookie decorating. This glass kit from IKEA (Saxborga) is a perfect fit for sugar cookies, frosting, and sprinkles: all you need in a sugar cookie kit!
Look at how the Buffalo Plaid just pops from the glass! If you look closely, there is a sparkle to the red over top the Buffalo Plaid. You could use Adhesive Glitter which will stick just fine, but did you know you can apply Glitter HTV onto Adhesive Vinyl? That's the technique we used here!
This is the perfect gift for your neighbors and their kiddos to spend family time and get dessert:
a 2-for-1 deal!
VINYL TYPE - COLOR
CUT FILES USED
Free Cut File: JOY
---
Neighbor Pass-Along Plate
This fun plate is the gift that keeps on giving! Take a simple white plate and add some Oracal 651 or Series 51 Black, Dark Green and Red for a fun holiday platter to pass around.
This is also fun way to spread holiday cheer to your neighbors with a friendly game of treat tag! Simply bake some treats for a neighbor with a note saying to keep it going around the neighborhood. Who knows? Maybe you'll get treats delivered back to you!
These plates are so easy to put together that you can make several and pass them along to friends and family, too.
VINYL TYPE - COLOR
CUT FILES USED
This can be created with Cricut designs #M8B37046 and #M8B36FCE.
Font: Balloon Pops
---
Seasonal hot pads make a great gift for your neighbors. Since pumpkin spice is so popular, why not add it some some inexpensive hot pads and gift them with some fresh baked goods! They can use them or hang up as a fun kitchen decoration.
The EasyWeed Electric Orange pairs well with our Gold Metal EasyWeed, giving it a nice shimmer against the brown material.
Not much of a baker? These also pair well with baking mixes!
VINYL TYPE - COLOR
CUT FILES USED
This fun cut file can be found on lovesvg.com: Happy Pumpkin Spice Season
---
Sometimes the best neighbor gifts don't need any fancy or silly phrases. Sometimes, just a fun, simple and inexpensive gift is enough.
These Santa treat pails are quick and easy, and they don't require any type of cutting machine, just some basic shapes cut by hand.
Using the Oracal 651 Matte Black really makes Santa's belt stand out against the glossy red finish of the pail. Adding some gold or silver for the buckle makes the idea complete.
VINYL TYPE - COLOR
CUT FILES USED
Simple squares and rectangles were used to create this fun gift.
---
Santa's Cookie Mix/Milk Bottle
A cookie mix is ready to make: just add the wet ingredients and you're good to go! This is a fairly old tradition for neighbor gifts, but we added some fun new twists.
By placing all the ingredients into a milk bottle (find them at the craft store!), once the cookies are made for Santa, you now have a bottle for his milk.
For this free cut file, we used Inkjet Printable Vinyl for Santa's cookie recipe, all you have to do is type your favorite recipe in, print it off and stick it on. We also added a glittery picture of Santa on the tag to add a nice touch to the product. Once again, this doubles as an ornament, as well! This is a very multi-functional gift, perfect for your neighbors.
For a more finished look on your inkjet, try our laminate vinyl for a glossy or matte finish.
VINYL TYPE - COLOR
CUT FILES USED
Free Cut File: Santa's Cookies Printable
Santa Face: SIL ID#237757
---
Here we have another take on the Tis the Season phrase. Instead of licorice, give the gift of your own seasonings.
These particular seasonings are easy to create, one called Weeknight Hero Spice and the other House Seasoning, which you can easily find online. You can also improvise with a family favorite blend. (Make sure you include the recipe, too!)
Get some simple and cute glass seasoning jars at any craft store and add some permanent vinyl, like our Siser EasyPSV Black, and you are ready to deliver your gifts.
VINYL TYPE - COLOR
CUT FILES USED
Use these fun fonts to replicate this look
Font: Ricca Script
---
Wish your neighbors a "souper" Christmas with this fun gift! Soup is just the ticket to keep them warm as the weather turns colder.
Make your own or buy a pre-made mix, placed into a fun glass container like this one from IKEA, and use our Inkjet Printable Vinyl and print out the recipe to put on the side of the container. It can also be hand-washed so they can have the recipe forever.
A nice addition to this gift is a cute ornament adorned in our Oracal 651 and Siser Glitter Heat Transfer vinyls.
VINYL TYPE - COLOR
CUT FILES USED
Snowflake cut file from Cricut Design Space: #M8EEEB11
Font: Bernard MT Condensed
---
The Bell Still Rings Plaque
Do you still hear the Christmas Bell? An all time favorite Christmas movie is The Polar Express, where a young boy learns to believe in Christmas again. So, share the magic of Christmas with your friends and neighbors in this adorable wall hanging.
By painting a simple board, distressing it, and adding permanent Series 51 White and Chrome Metalized vinyl, it's an easy and fun Christmas saying to remind your neighbors to believe again.
Don't forget to add the bell with some fun ribbon!
VINYL TYPE - COLOR
CUT FILES USED
Chose your favorite fonts or use the ones we chose:
Fonts: Times New Roman, Beradon Script
---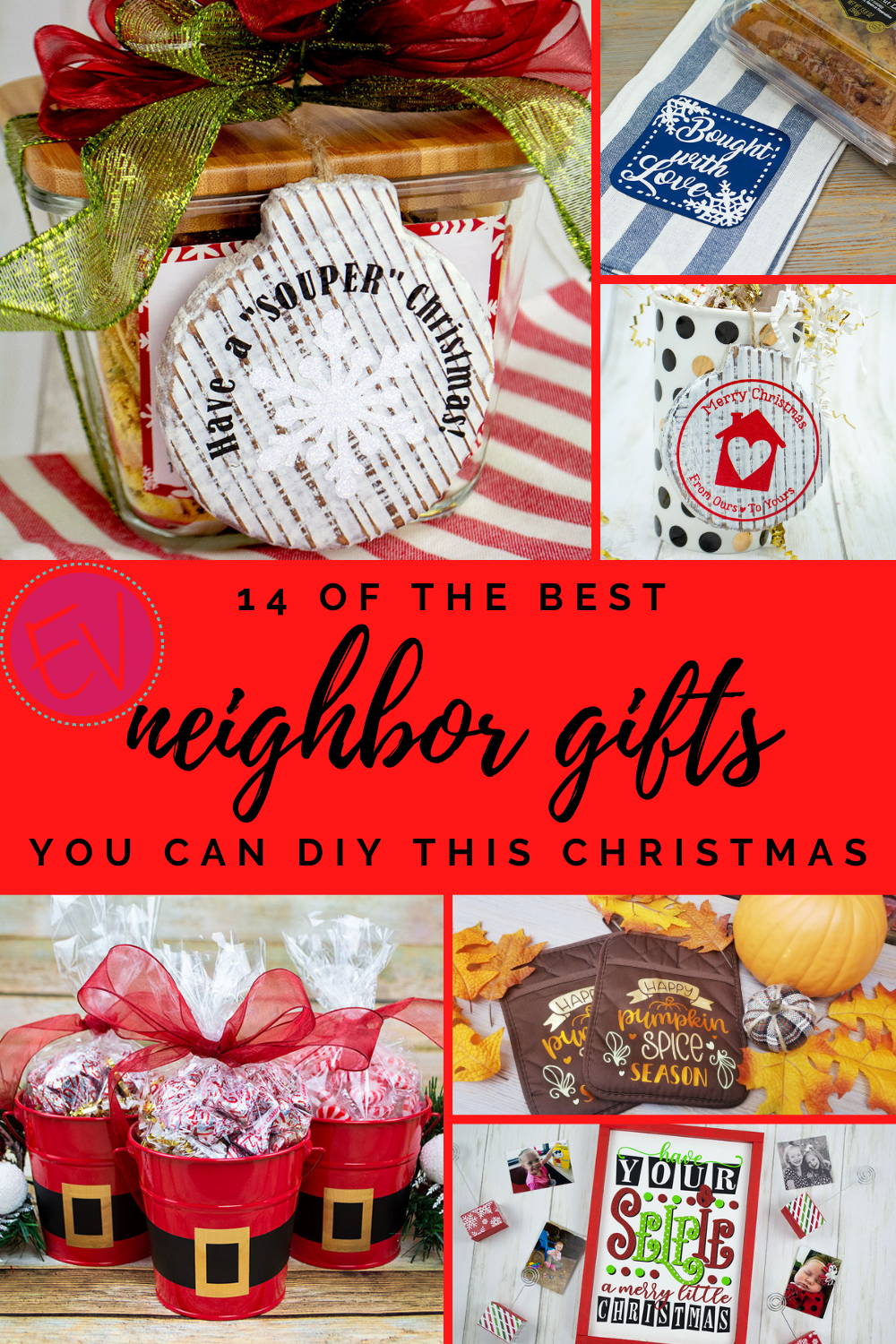 Recent Posts
'Tis the season of joy, and what better way to spread holiday cheer than by adding a personal touch …

Finally!!! The November 2023 Mystery Project Box is here and it is full of all sorts of fun vinyl …

It's that time again! The October 2023 Mystery Project Box is here. This box was designed by Jess …