Christmas Tree Canvas with Lights
If you want a fun interactive project, we recommend these fun light up canvas', you can really create your own expression of art work. After all we are ExpressionsVinyl.com and we want you express your own creativity. So let get to putting this fun and easy Christmas Tree Light-up Canvas together.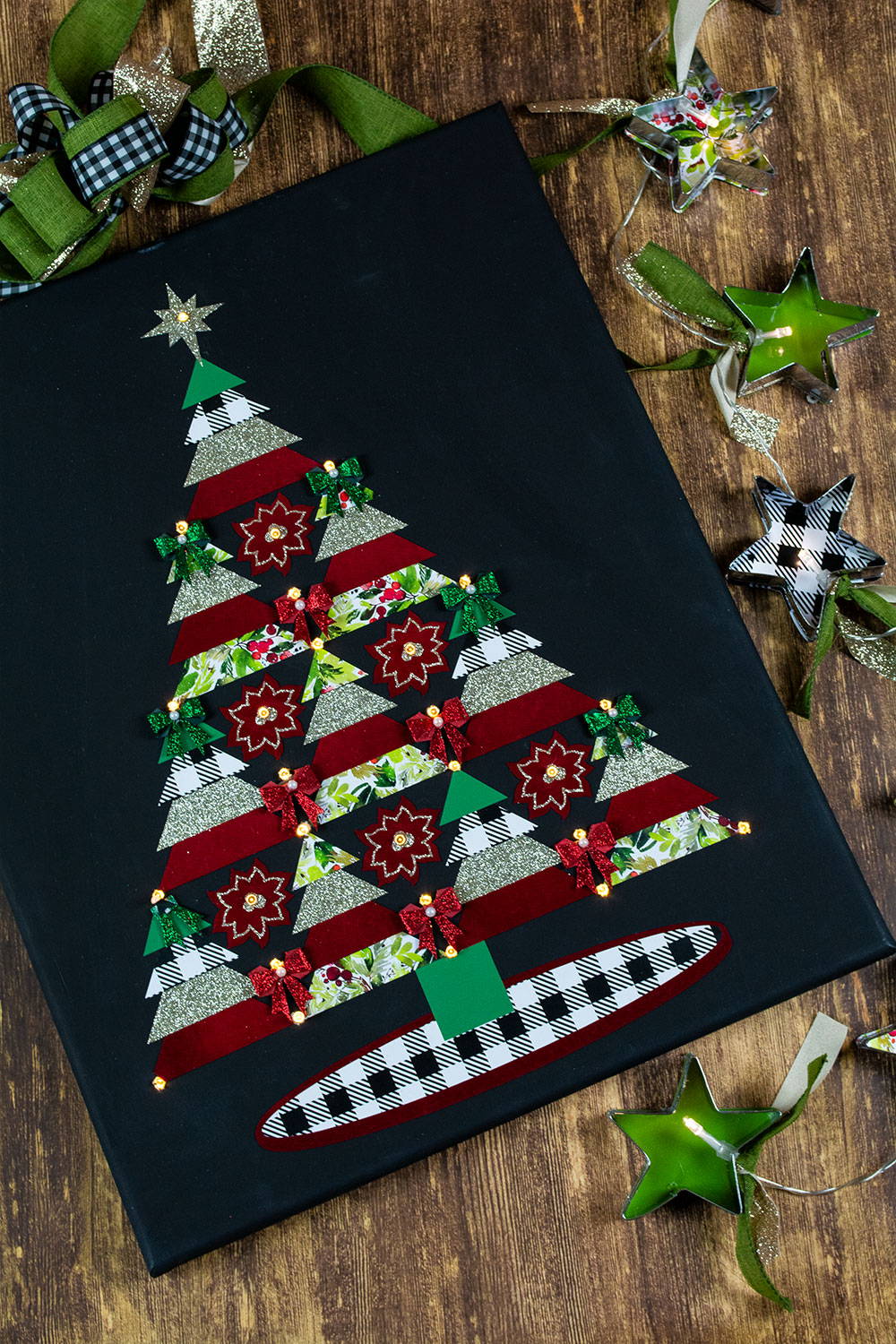 Okay, so you will need a few things other than vinyl, you can both the pre-painted 16x20 canvas and the Star-shaped Cookie Cutter lights, ribbons and cute little paper bows from Hobby Lobby, if you dont have one near you, you can still order online. Or that get friend that owes you a favor to swing by and get ya some stuff.
Here is all the HTV vinyl you will need as shown in the following pictures and videos below for this project in the list below.
---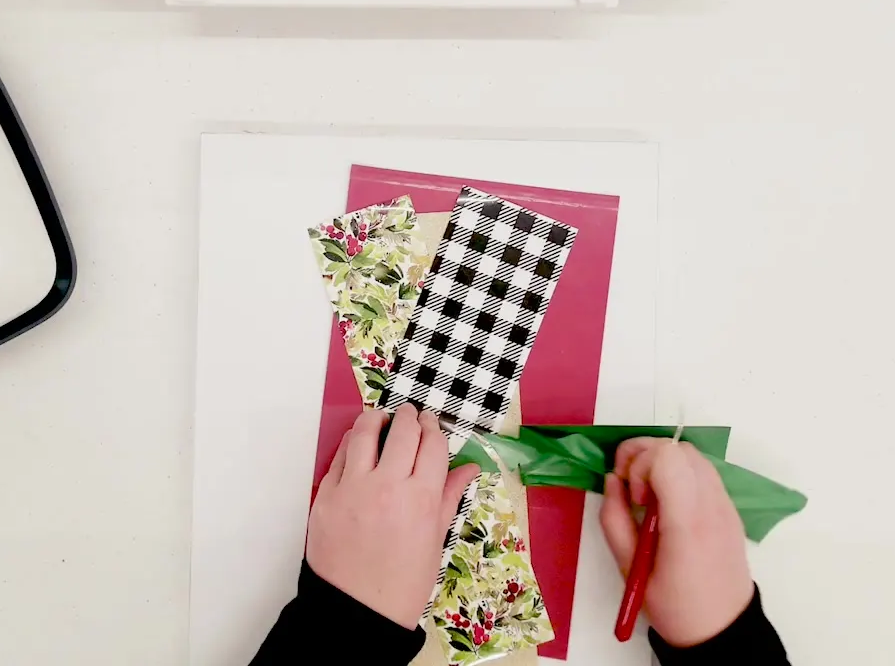 So once we have all the vinyl colors and shapes cut out, time to weed out all the excess we do not need. Weeding boxes are not a neccessity at this point since we are just to be pieceing this Christmas Tree together like building blocks or piecing a quilt.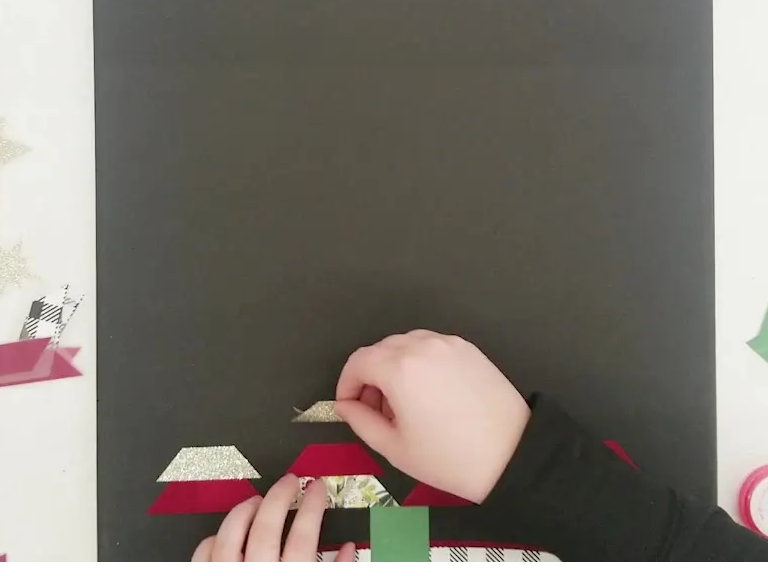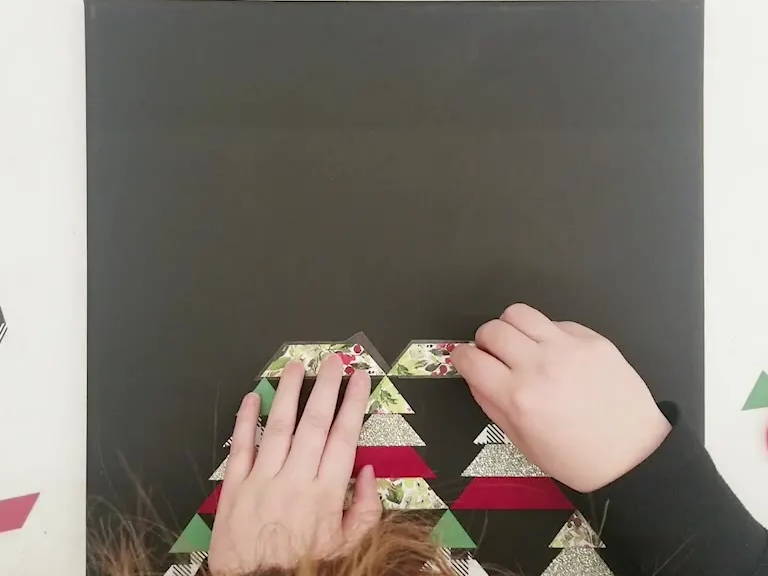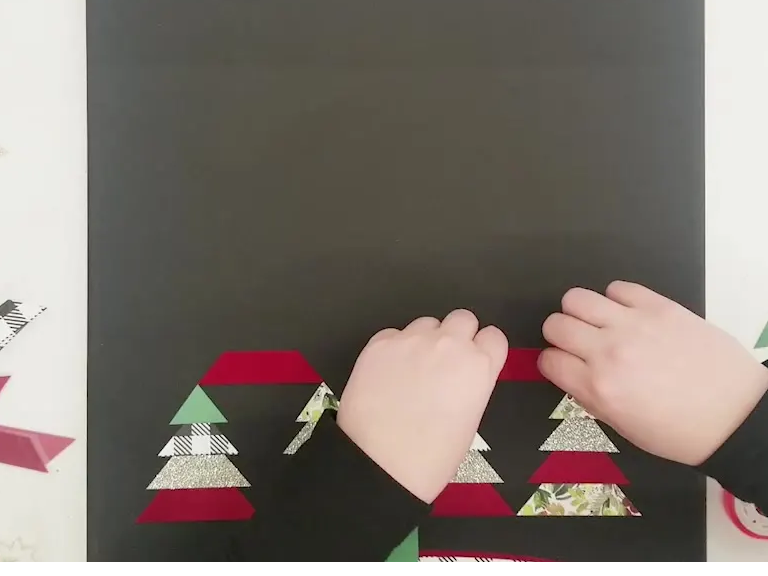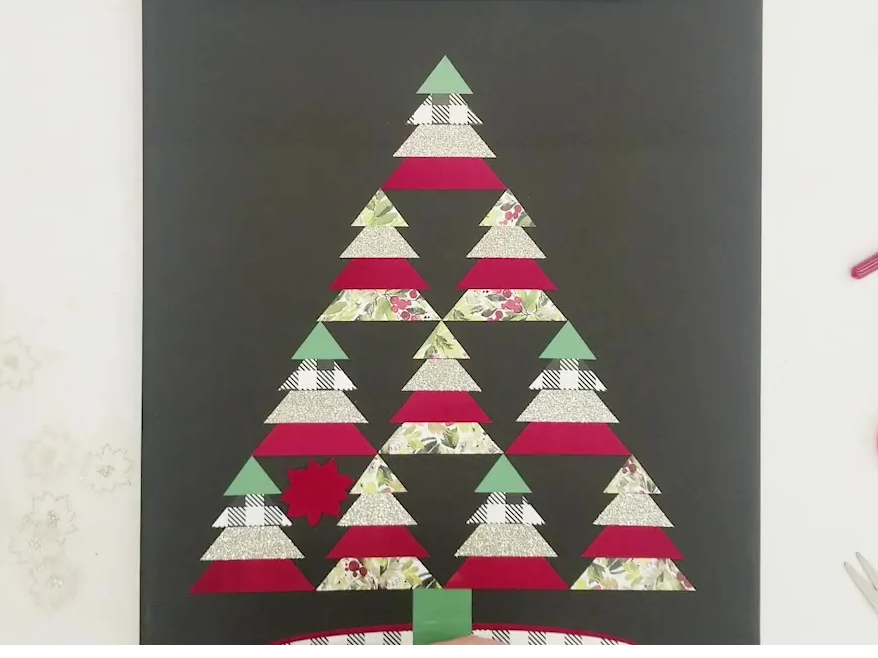 Keep a picture of the design up, or go off of ours and you just start placing your cute little christmas tree Buffalo Plaid Skirt and then move onto placing the trapazoids on top of each other.
Since you will be working with a canvas and they are not supported in the main section, place a pieces of flat wood, a book, some magazines, whatever you might have laying around to give it some support, and just press your way one row and a time for only a second or two.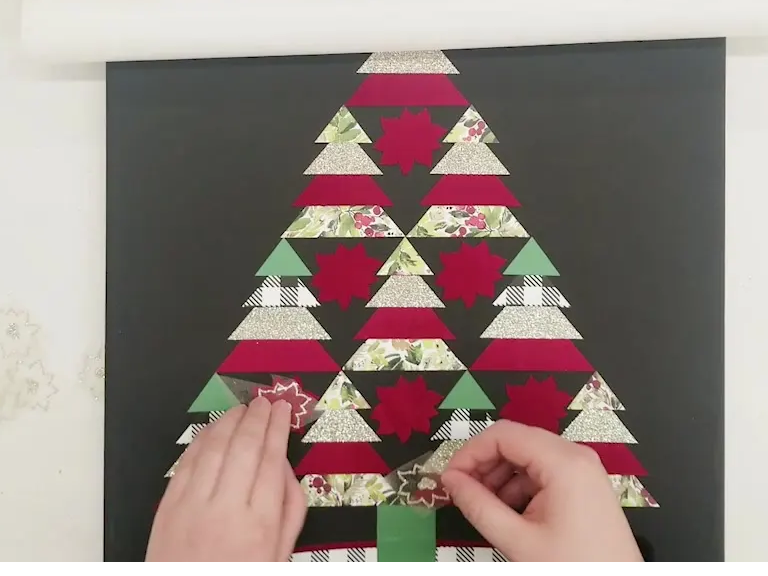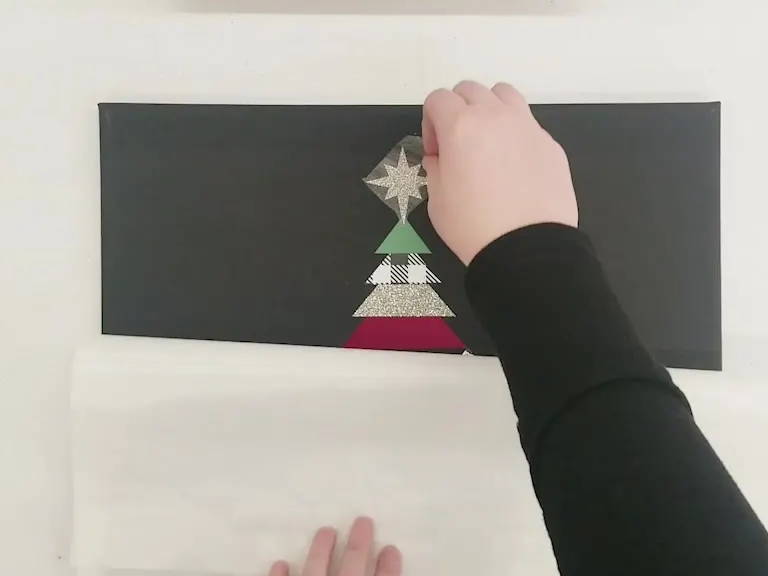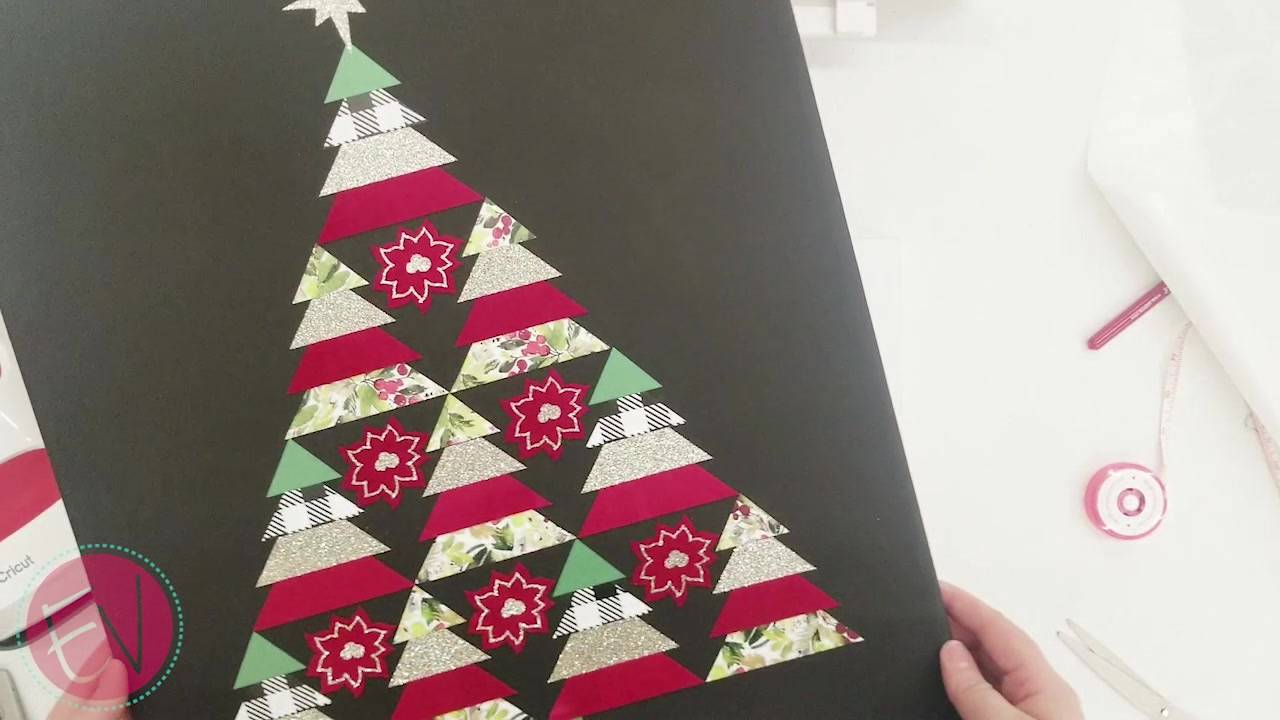 Add the final touch be poking holes where you want your lights to shine through. We used a Soft White 30 ct LED battery-operated light set, but your can do any kind you would like. Colored! Ricelights! Blinking!. Whatever you want, thats the fun of it all.
Then simply secure the lights with some hotglue, and the battery pack hotglued to the back against the frame. And add a touch of cuteness with some scrapbooking paper glitter bows, or whatever you would dress your Christmas Tree with.
This is also great for small living areas as a fun little Christmas Tree, and stack those gifts below. Much easier to take down and put up too.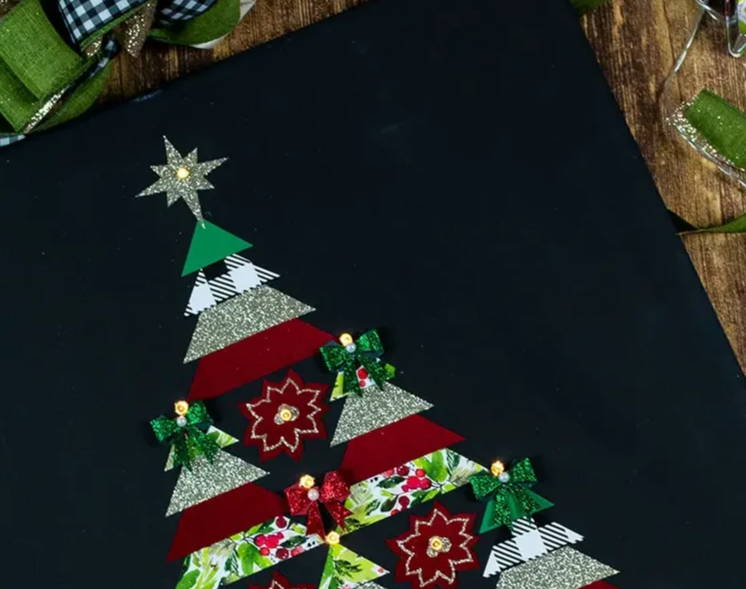 Shop Items Used In sTAR-SHAPED cOOKIE CUTTER LIGHTS Project
Star-shaped Cookiecutter Lights with Vinyl
While we are on the subjects of lights, this fun and super easy idea, is quick and requires no machine at all, just some siccors, chipboard, and a pencil or pen. This light garland would be super cute on a tree, fireplace mantel, or what we think of is Country Christmas in the Kitchen.
Add the vinyls you will need for this project to your cart simply by selecing the dropdown below.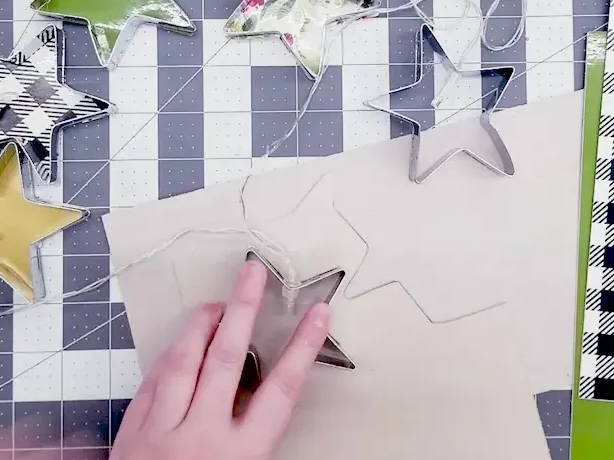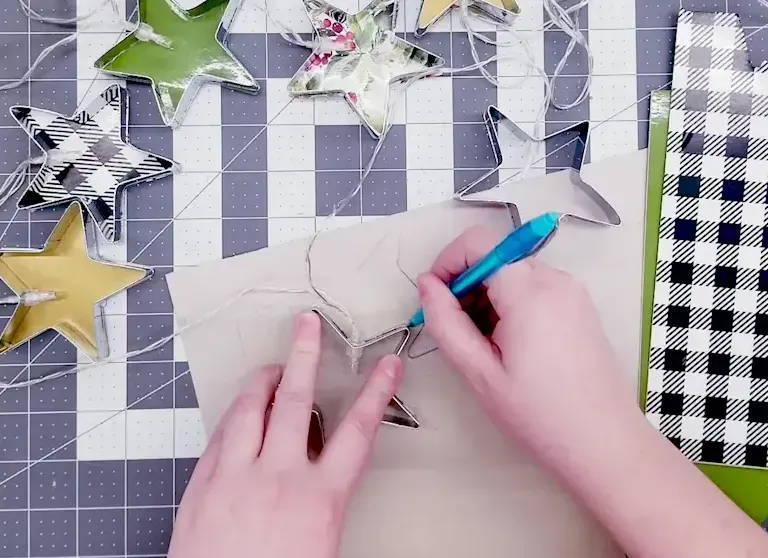 Apply some of your favorite patterns and vinyl to some chipboard, this is for stability. Flip over and trace around the stars, and cut out by hand with some scissors
They can all be very different shaped stars due to them being cookie cutters, its a softer metal, so you will want to do this for each star, but it goes fast. Also make a small mark above the light so you know which way the star needs to be placed when ready to glue onto the sides.
We tried any different gluing techniques, from super glue, to taping them onto the stars, but found out that small dots of hot glue on each corner, pressing down as you go, worked the best.
You are all set to bring them to life. Add some ribbon to extra appeal or anything else to go with these.
For the whole video on both these fun light up projects, check out the YouTube video below.
Recent Posts
'Tis the season of joy, and what better way to spread holiday cheer than by adding a personal touch …

Finally!!! The November 2023 Mystery Project Box is here and it is full of all sorts of fun vinyl …

It's that time again! The October 2023 Mystery Project Box is here. This box was designed by Jess …