- Hi guys! It's Jessica, from expressionsvinyl.com,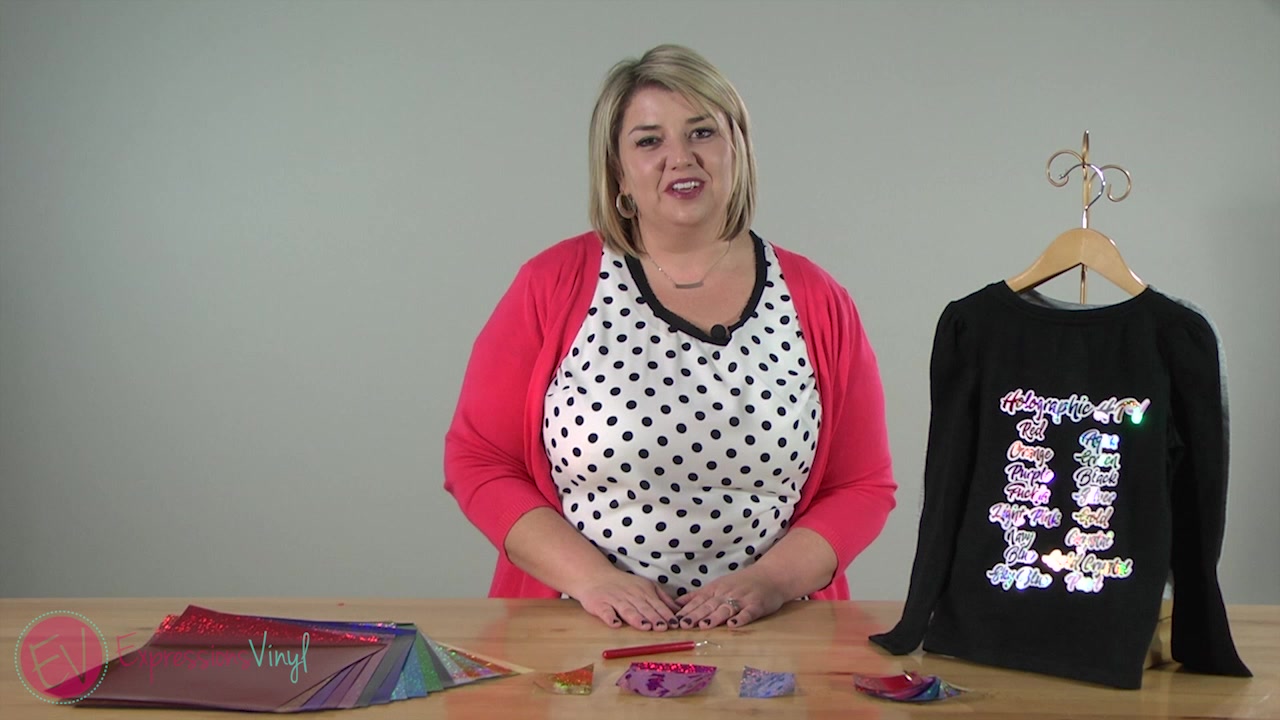 Today, I want go into the mysterious world of holographic heat-transfer vinyl with you. We get a lot of comments saying that it's hard to work with, it's hard to weed, it's hard to cut. So, we're gonna solve all those today, because holographic is so fun. It's blingy and sparkly, and it's really a dream to weed once you get your cut settings right.
Let's get into it! We're gonna talk about cut settings and what makes it difficult to cut. You've got your piece of heat-transfer vinyl here, and it's actually made up of three different layers.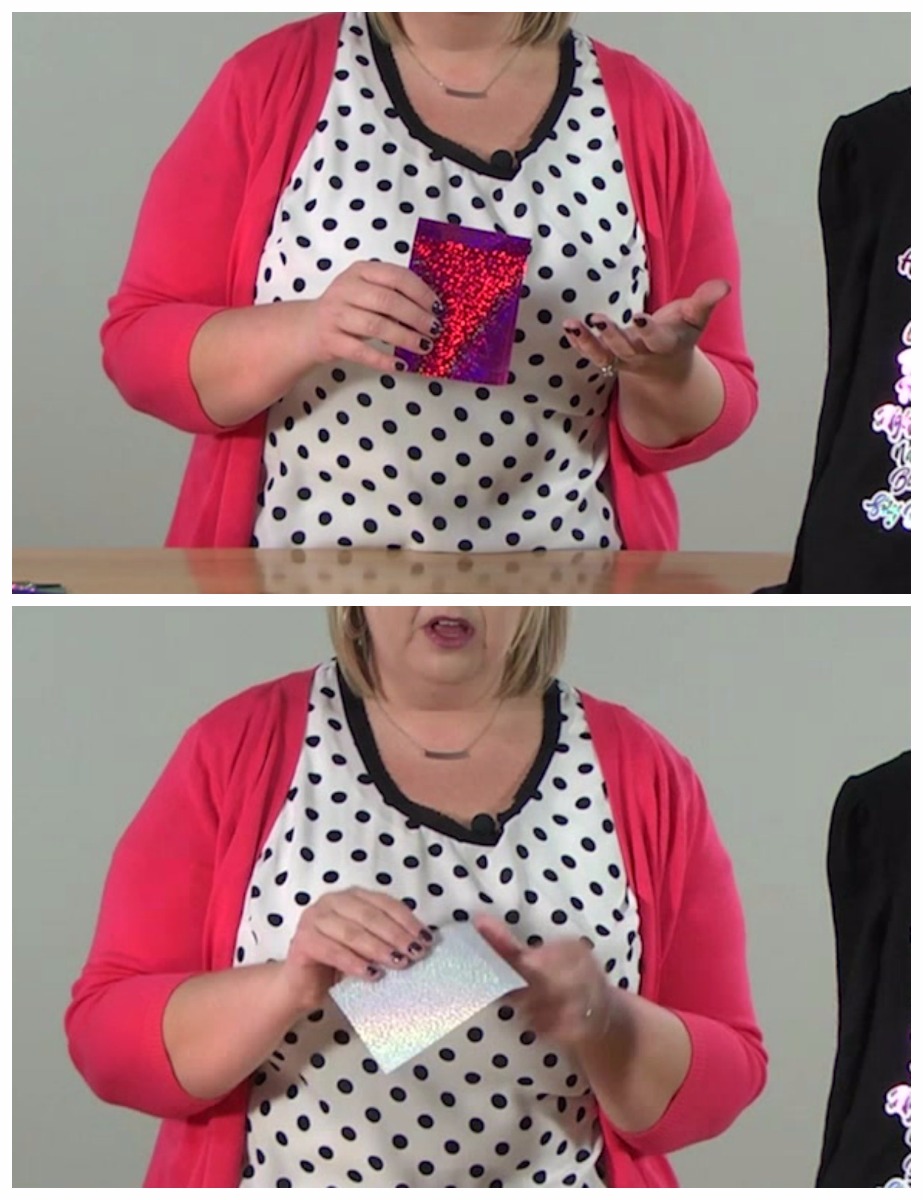 The backside is the adhesive, and then in the middle is your actual holographic vinyl, and then the front has a clear carrier sheet that acts like a built-in transfer tape. You've got to cut through the adhesive layer, and you also got to cut through the holographic vinyl, and it's a little difficult. It doesn't feel as thick as glitter, but you need to cut through it like it is glitter.
With the Cricut, you want to use the fabric setting, and on the Silhouette, You will want to set your blade to 5, Thickness(Force) 20, and Speed around 5, so it can get through those two layers that you need it to get through.
Here is the breakdown of the Cut Settings, you can find them on the home page under Machine Settings.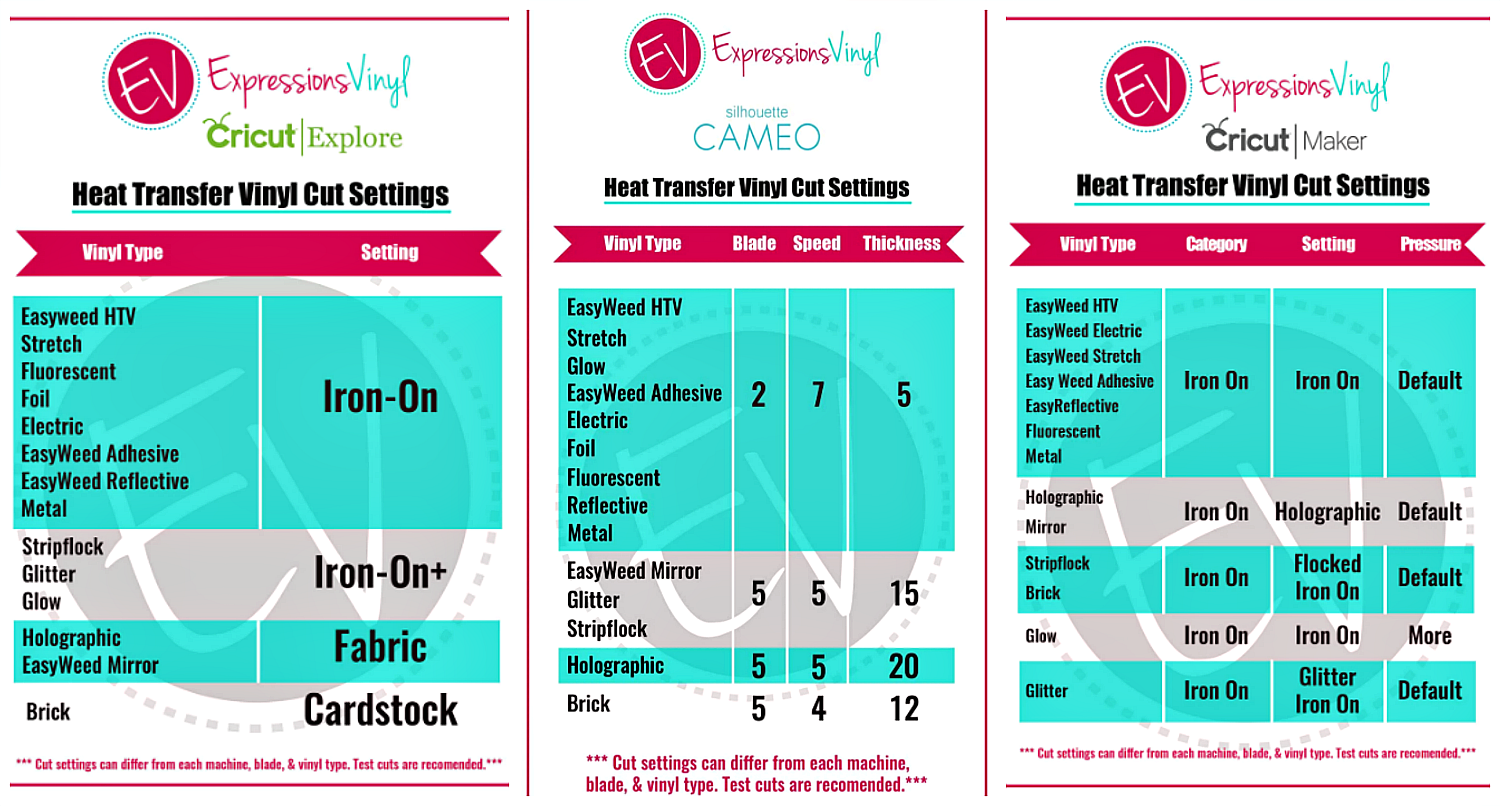 I have a little example here of when you didn't cut too deep.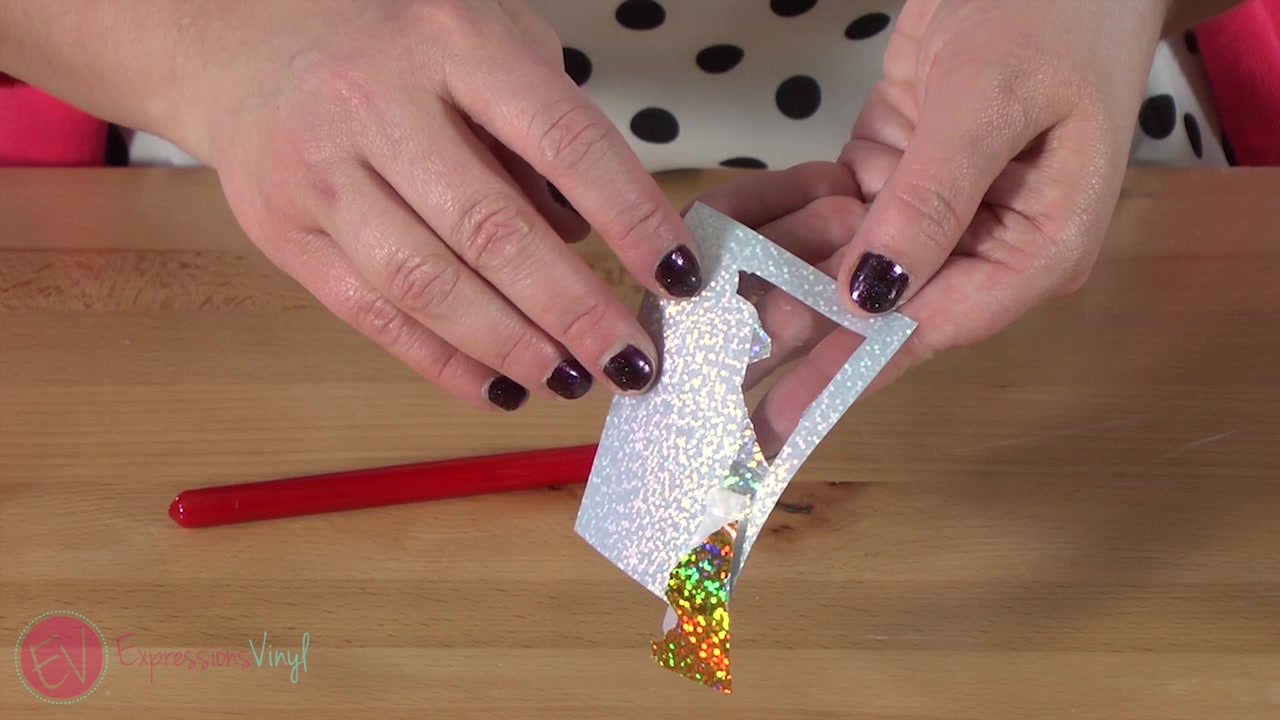 So, if we get into this, you can see that, in places, it didn't cut through the holographic all the way. You can see where the adhesive has come off, and so, it's hard to weed.
I'm going to show you how a good cut weeds out.
To cut the Holographic HTV, you will want to load the vinyl into your machine with the shiny side (color side) down and the adhesive side up. And dont forget to mirror your image.
After you've cut it, it's kind of hard to see where your cut lines are. So, if you just take your little piece of vinyl and kind of roll it around and pop those seams, you can see where your cut lines are, and that breaks them apart, and it's much easier to weed.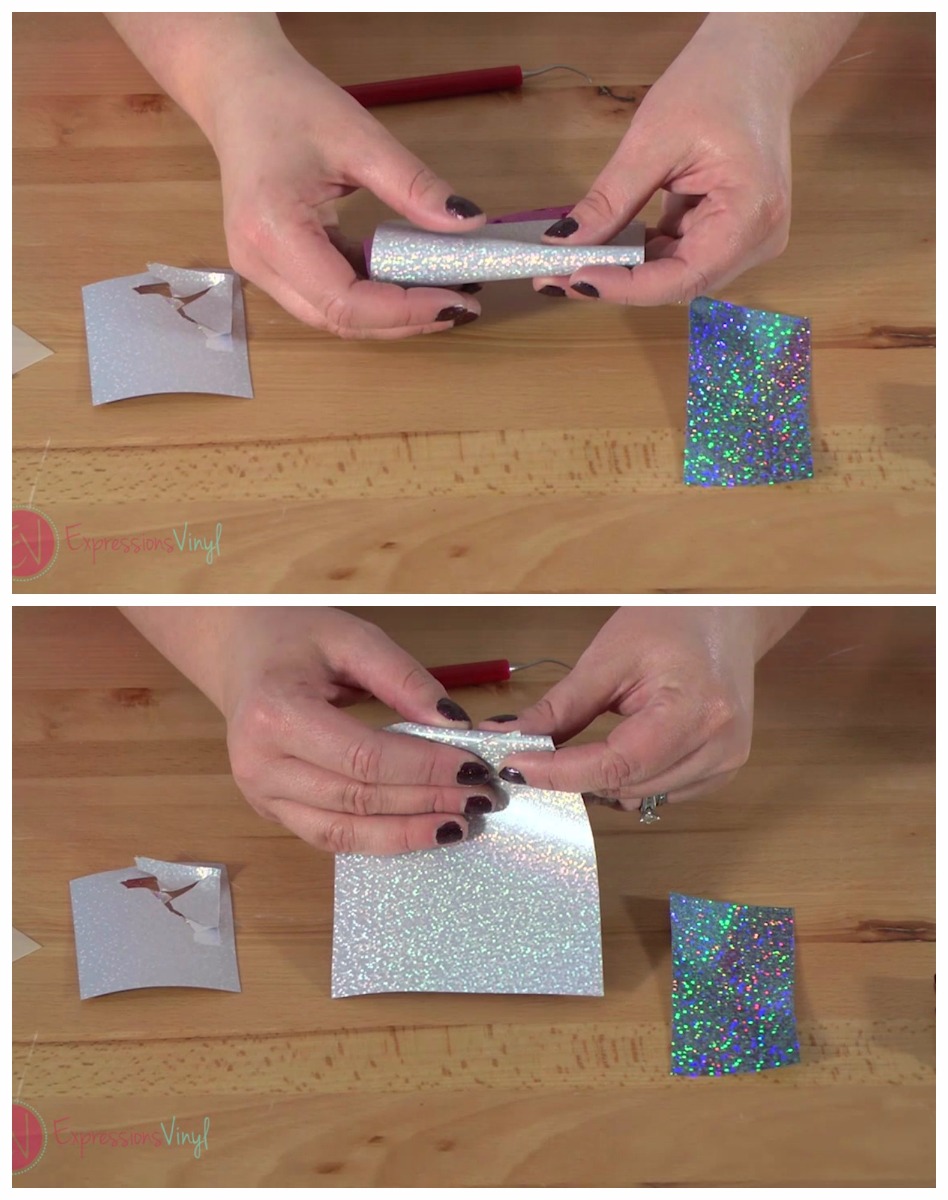 I've cut this on my Silhouette Cameo. Once you get that started, you can see how awesome it weeds.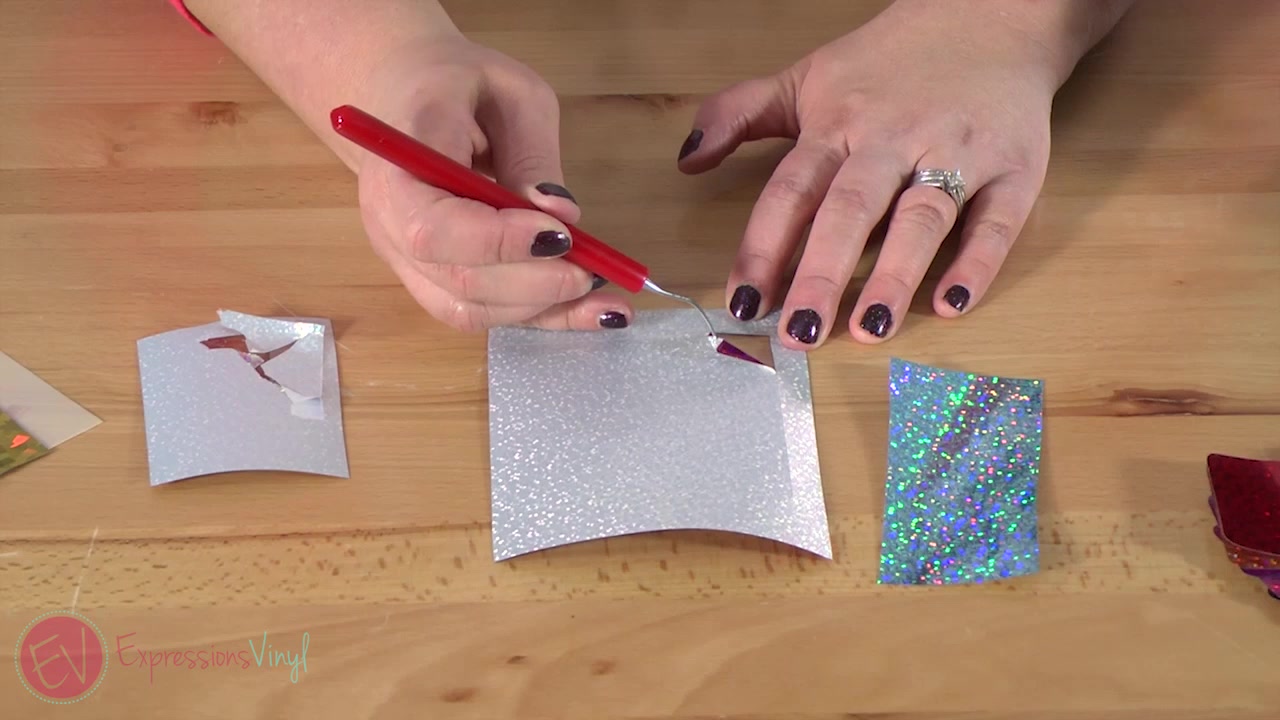 I like it because it's a little stiffer, and so, it just comes right off in nice pieces.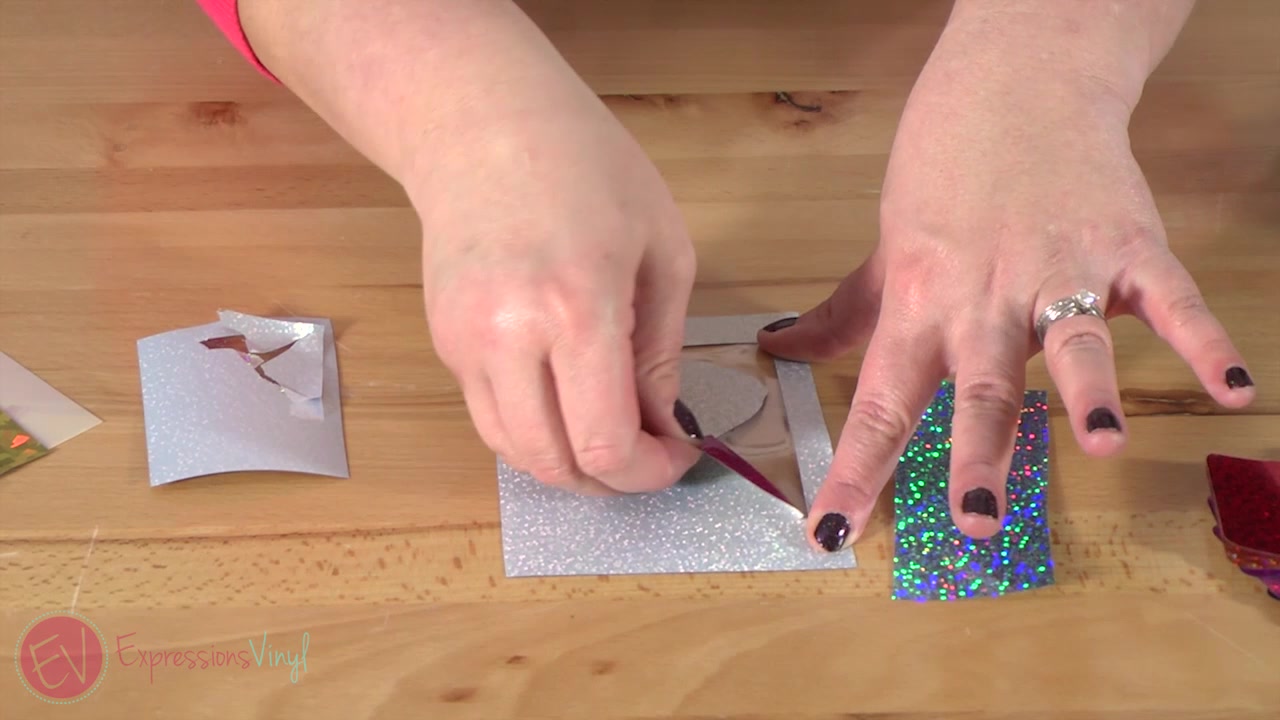 The next thing you need to know about is pressing it. So, if you're using an iron or a heat press, it doesn't matter; this works with both, but you want to make sure you have your temperature right. So, the holographic likes a little hotter temperature, around 320, so a little hotter than easyweed vinyl.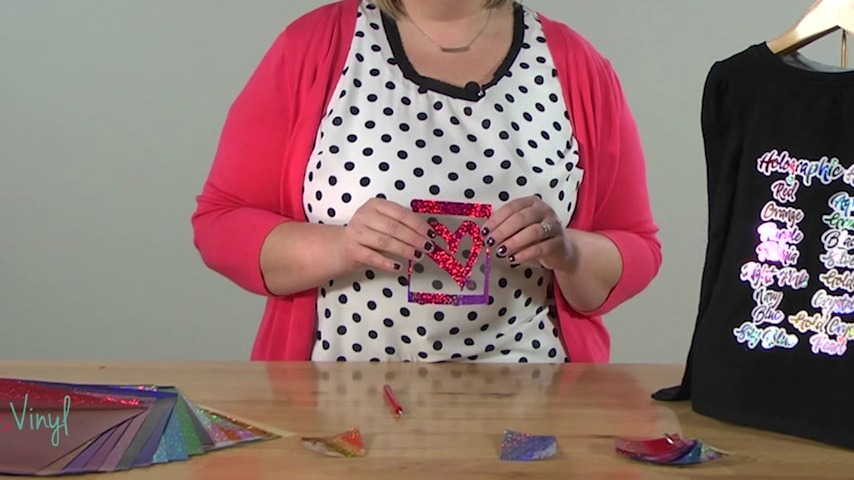 You also want to press it for a little bit longer, around 15 to 20 seconds. It also has a cold peel, so after you've pressed it onto your garment, you are going to want to wait until that it completely cooled off before you peel off that clear carrier sheet.

A fun thing to do with the holographic is you can make it into little rhinestones.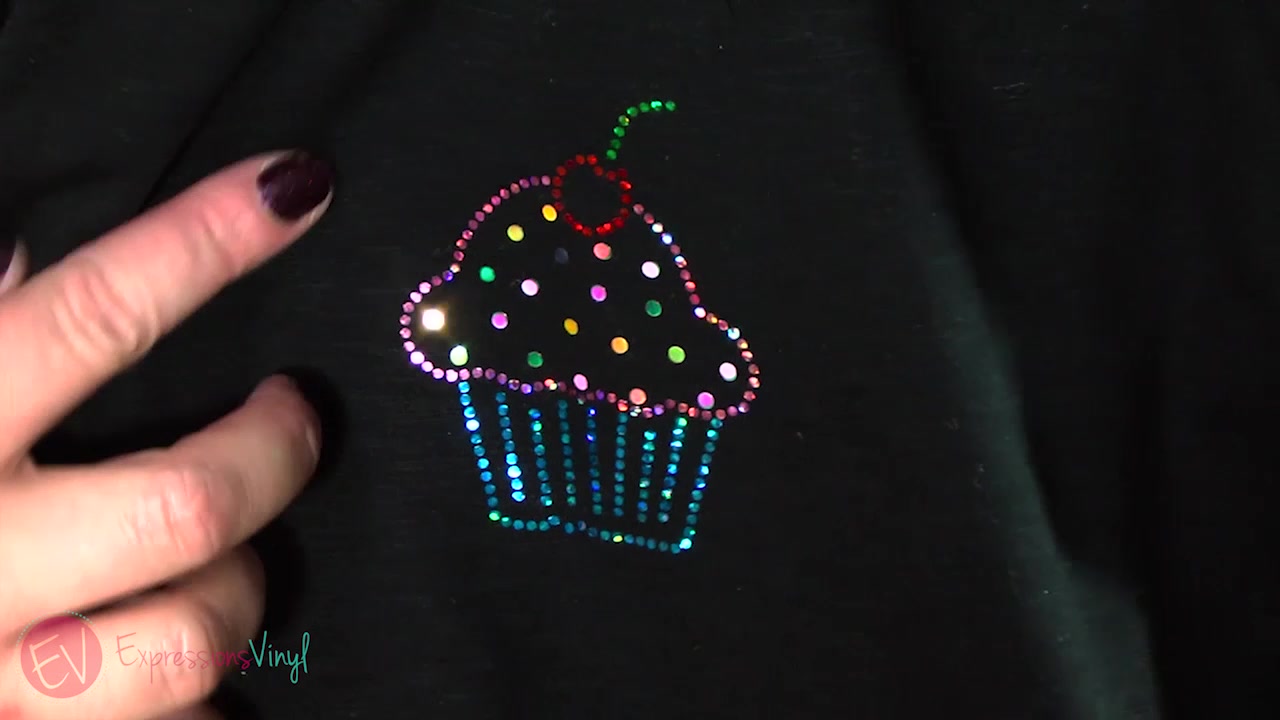 Rhinestone Cherry Cupcake #61856
You don't have the bulk, and you don't have to worry about the rhinestones coming off and being a chocking hazard! And it may look time consuming...but it is super easy to weed. I've got my little piece here, and I'm gonna roll my seam so I can see what they are (just like above). This is a design that I got off of the Silhouette store, and it was already set up as a rhinestone pattern. We're just gonna peel that out, and you can see all those little dots stay there, and if they don't, you can just pop them back down.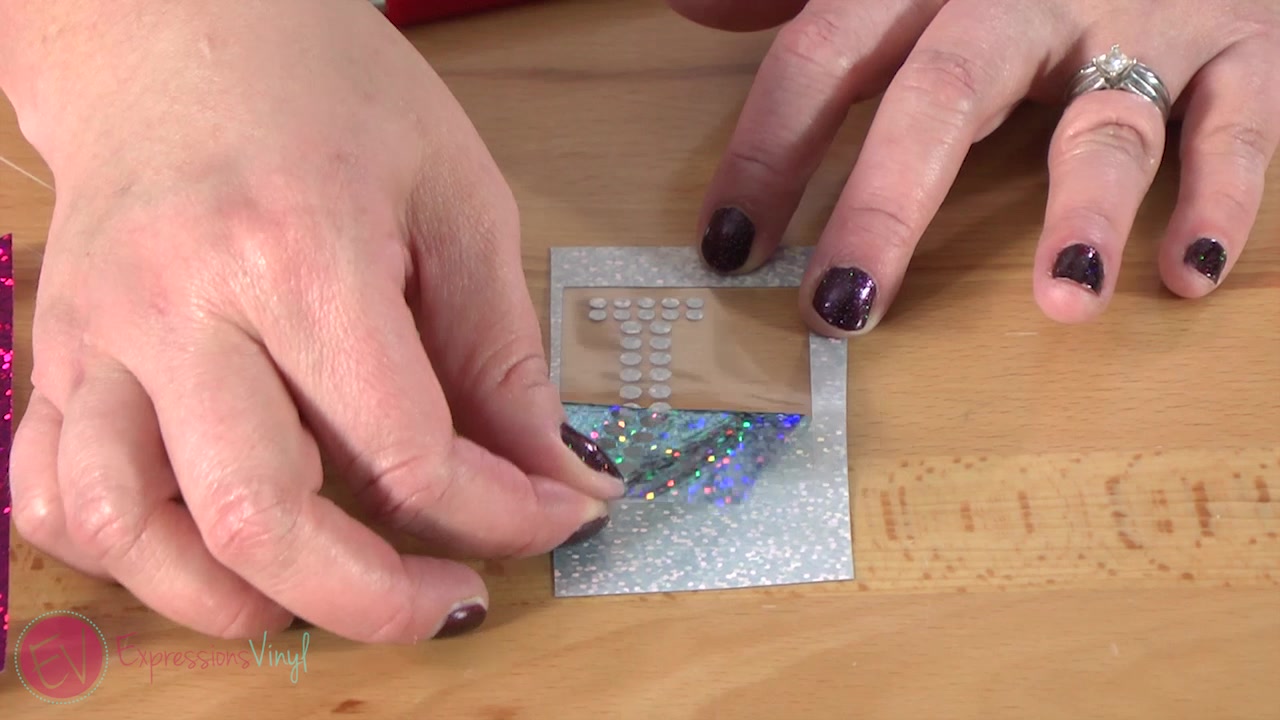 And I love that this clear carrier sheet is sticky, so it holds on to your design for you. Just go nice and slow. And you've got a little holographic J that looks like it's rhinestones, and you've dealt with one thing instead of all the little tiny pieces.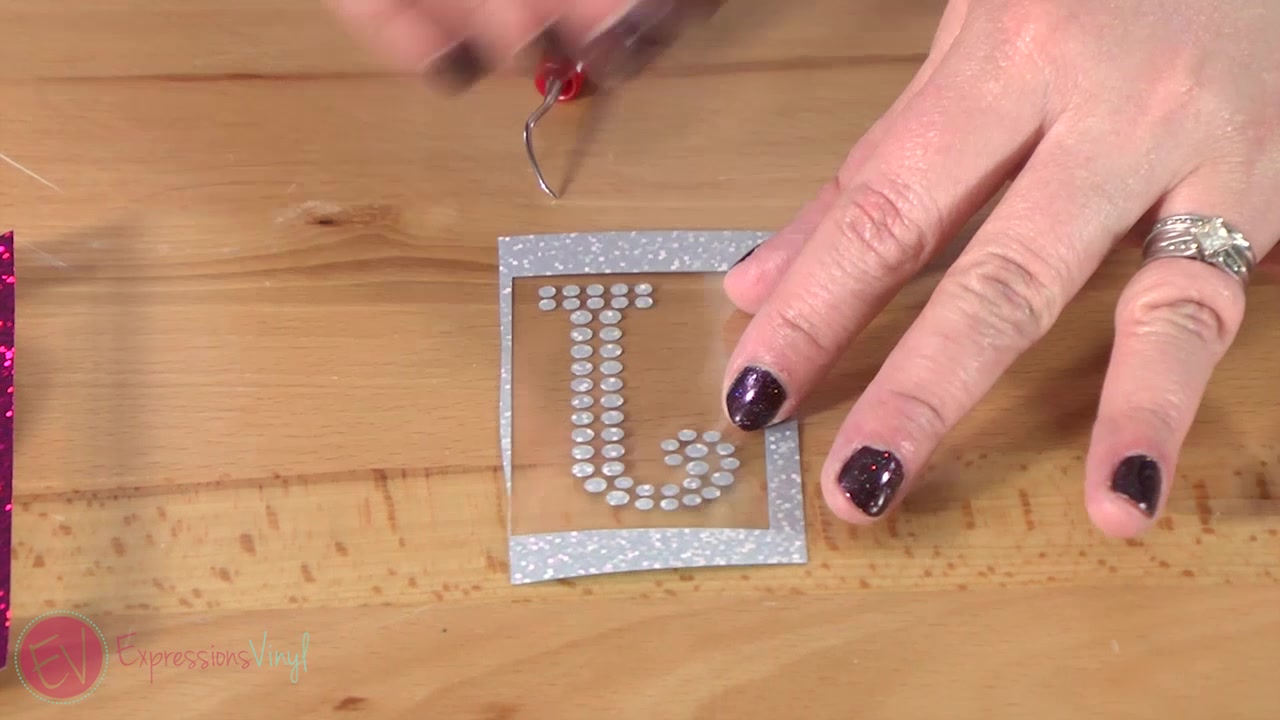 Holographic heat transfer comes in lots of different fun colors.
You can also layer with it. The biggest thing you want to remember with the holographic is you want it to be on top.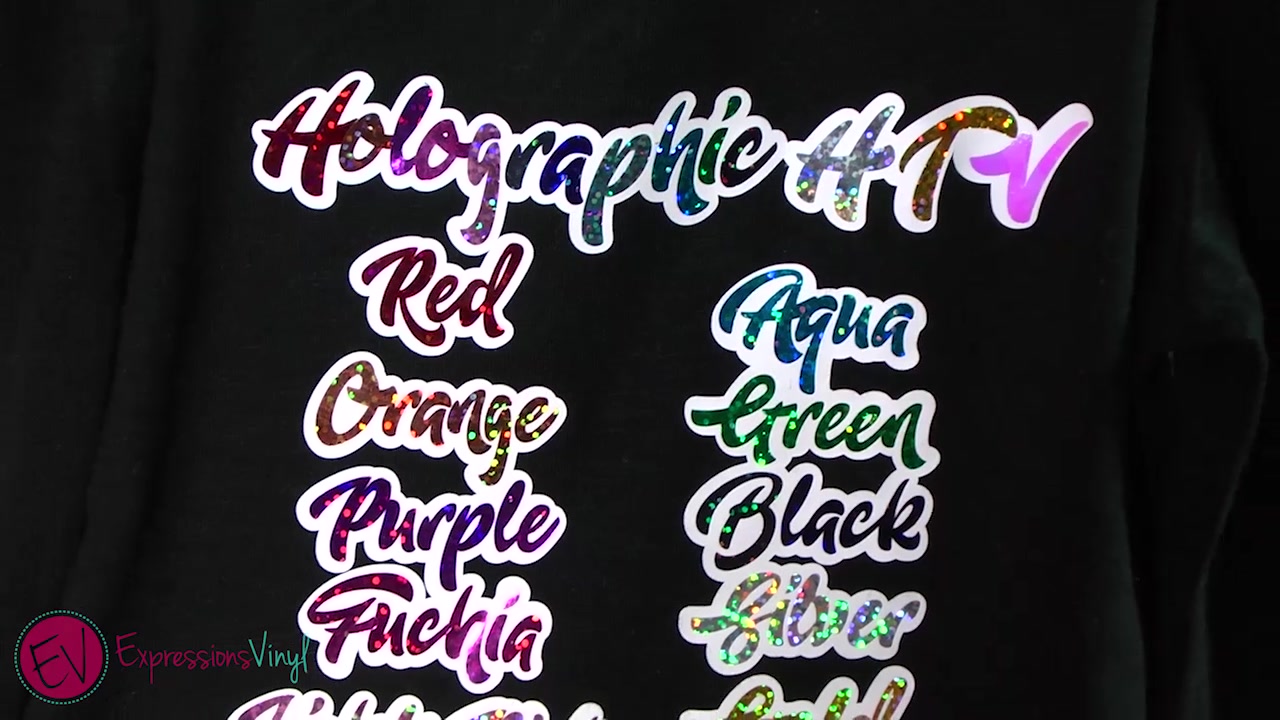 You don't wanna put anything else on top of that. the white in this shirt is easy weed heat transfer pieces, and then we put the Holographic on top.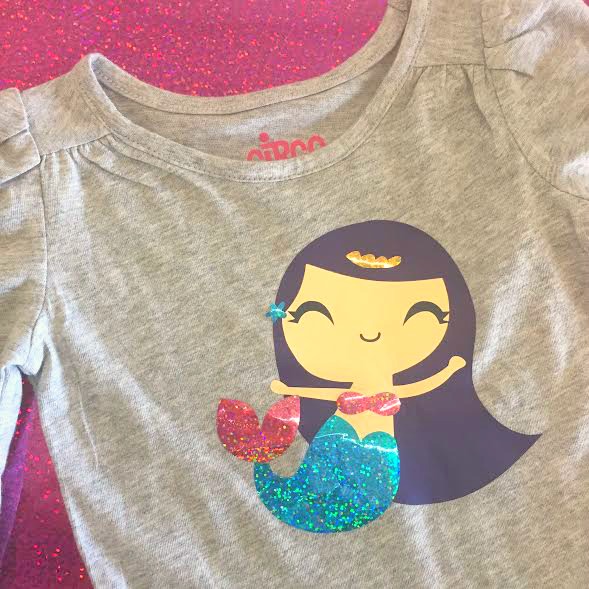 It really makes it pop! If you guys have any questions or comments, let us know down below, and we will try our best to answer them for you.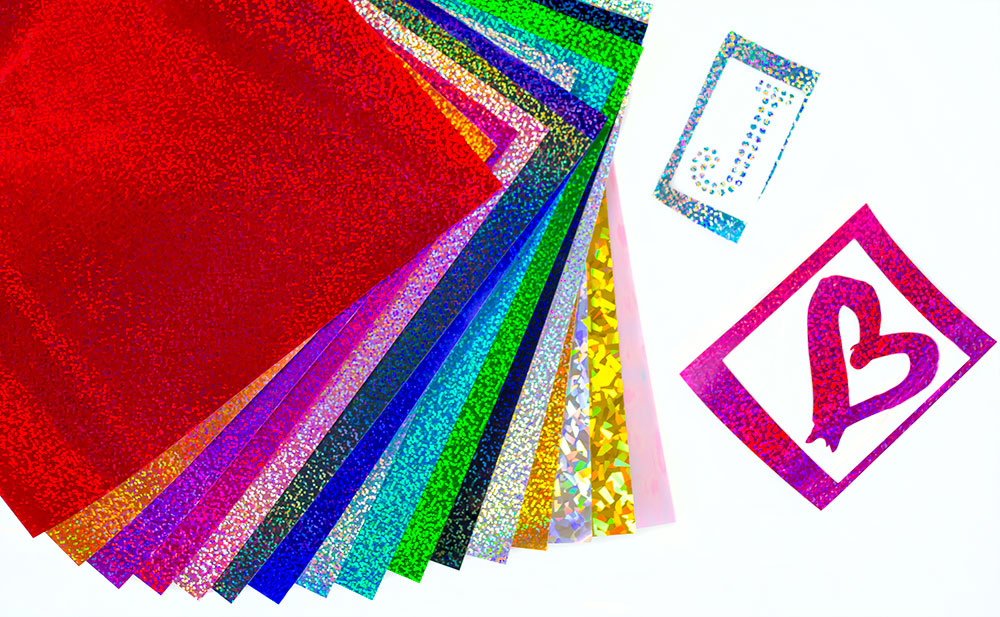 Recent Posts
'Tis the season of joy, and what better way to spread holiday cheer than by adding a personal touch …

Finally!!! The November 2023 Mystery Project Box is here and it is full of all sorts of fun vinyl …

It's that time again! The October 2023 Mystery Project Box is here. This box was designed by Jess …