Hey Everyone, its Starla with ExpressionsVinyl.com. Todays blog is all about upgrades that Silhouette offers. Not to be mistaken with the Free Software Updates.
I am going to show you the fun features that you will get when you decided to upgrade from the Silhouettes Basic free program to the Designer Edition or Designer Edition Plus.
This turned out to be a very large blog, so we will break it down into 3 parts. This is Part 1.
Lets Start off with Installing the Upgrades, its very simple.
After you have purchased your desired upgrade all you will need to do is open up your current Silhouette Program and in the upper left-hand corner under the Help category and you will select the Upgrade Silhouette Studio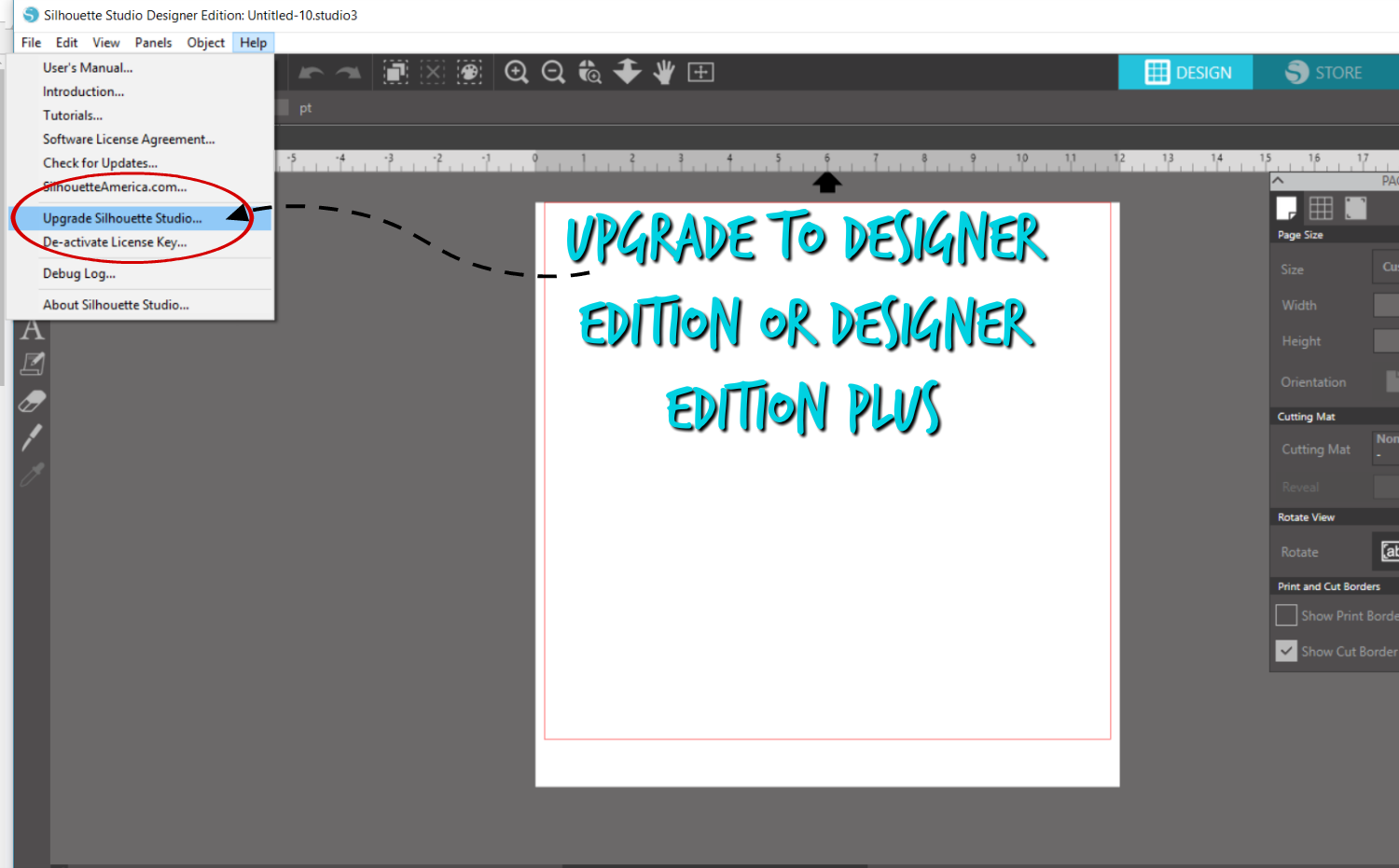 Next you will enter in the 16 digit code that you received via email or card into the boxes shown.
TIP~ Your code for the Designer Edition should start with a SSDE( Silhouette Studio Designer Edtion)
The upgrade will rightaway be applied.
NOTE: If you have had to wipe your computer or completely start over with your program and you have had this edition before, the code will always be under your account info under the STORE option.
The upgrade should show at the top of the screen. Welcome to Designer Edition!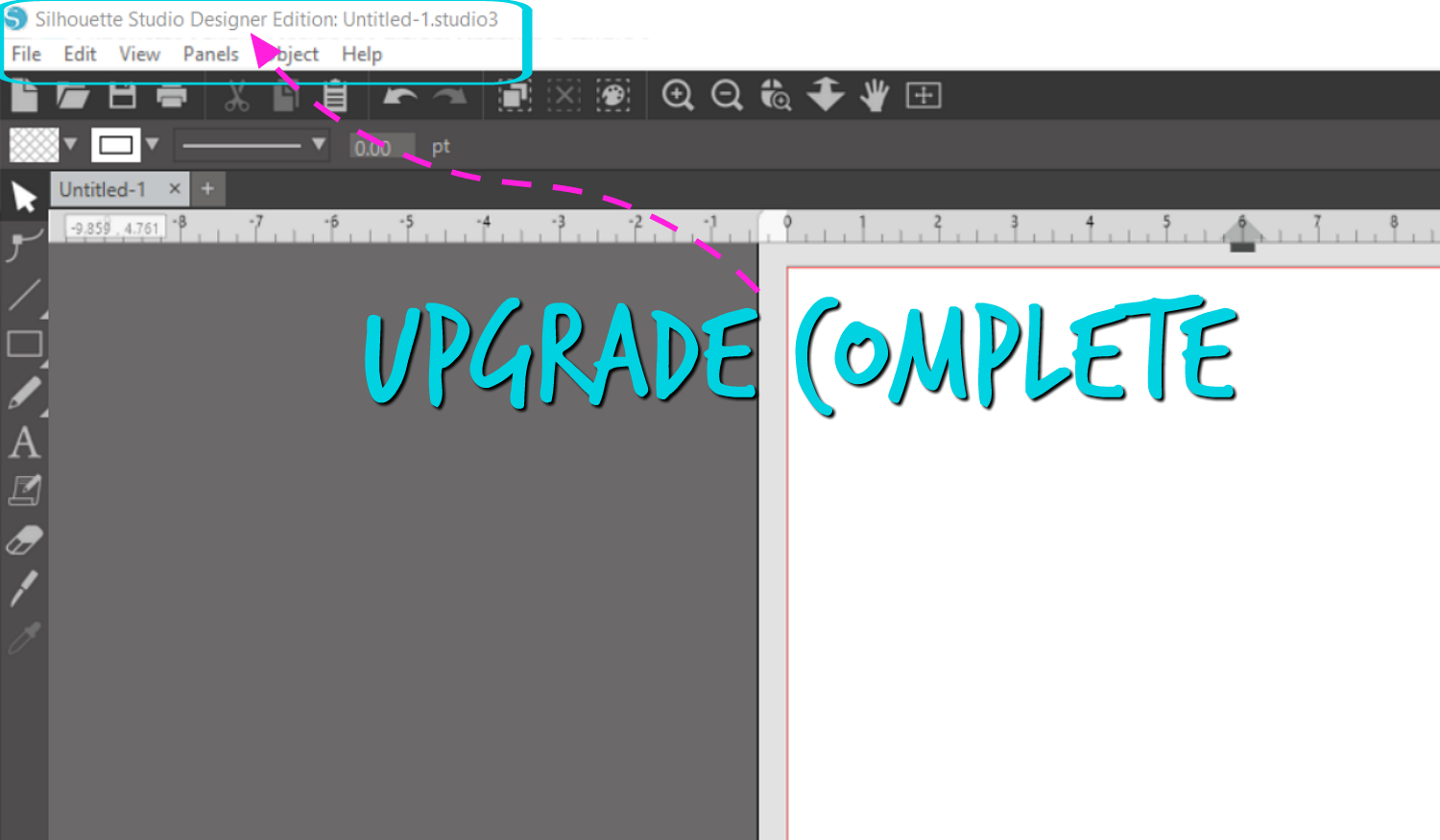 There are quite a few new features in this upgrade from the Basic to the Designer Edition. Such as,
PART1:
PART 2:
PART 3:
I am going to pin point each of these and why they are so neat to have in your program, we will break it into parts, lets start with the first Part 1:
~ Importing SVG and PDF Files:
This one is huge, it makes purchasing images so easy. I do not have to anything to the image except perhaps turn the cut lines on in the SEND icon if they are not already active.
Simply download the SVG in to a folder of your choice ( some files may need extracted, I just create a seperate on for all SVG), in Silhouette Stuidio, under File select open and locate the correct file, then drag it onto your work space.
You can even drag it into your library if you wish.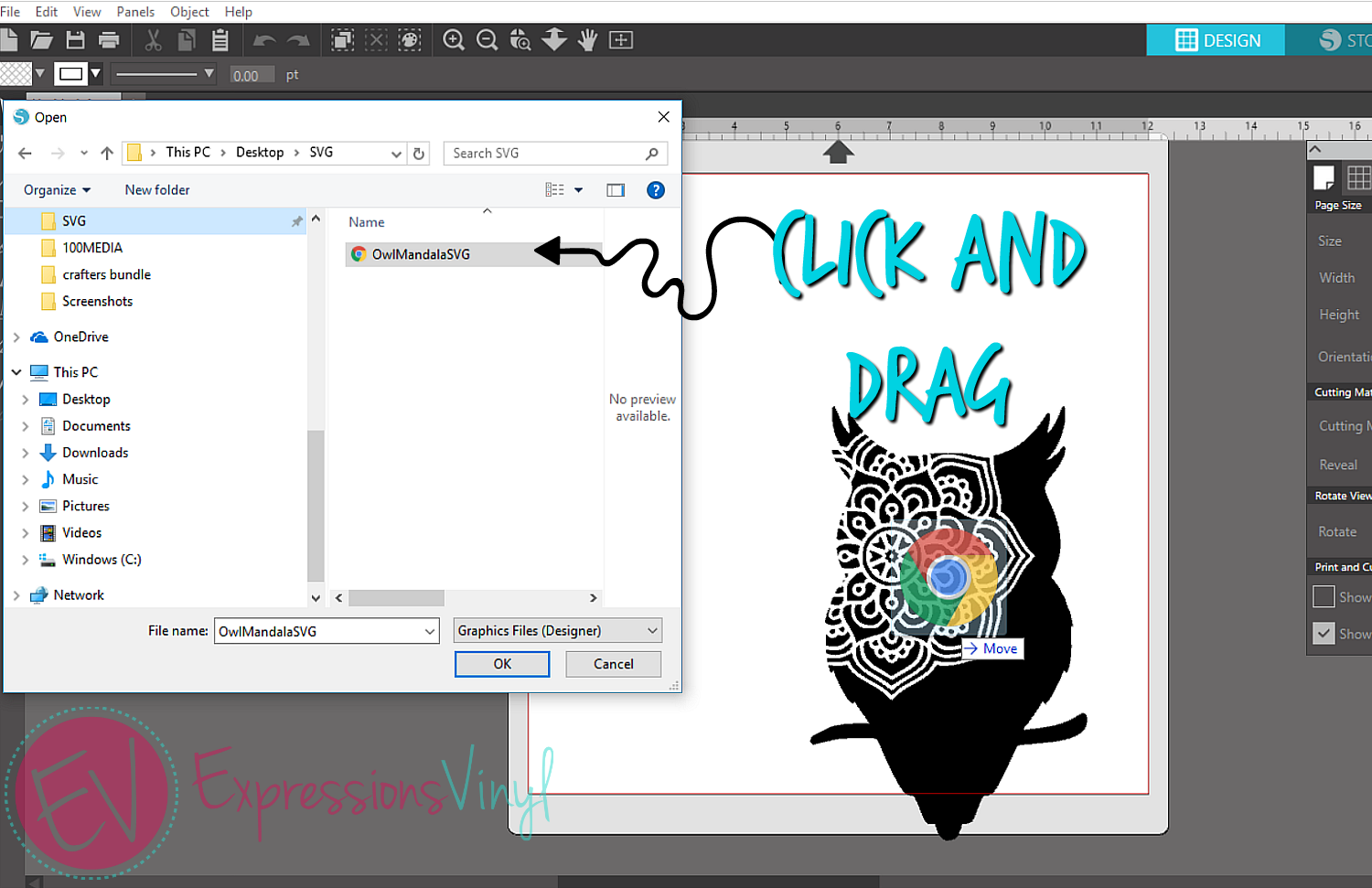 (Image: OWL Mandala) By WispyWillowDesignsCo
Your line thickness may be higher than normal, you dont need to to be higher than 0.00 to cut the file.
Edit your image however it needs to be sized or stretched and then once it is ready to be cut you are all set to go, just make sure those cut lines are on. If they are you are set to SEND.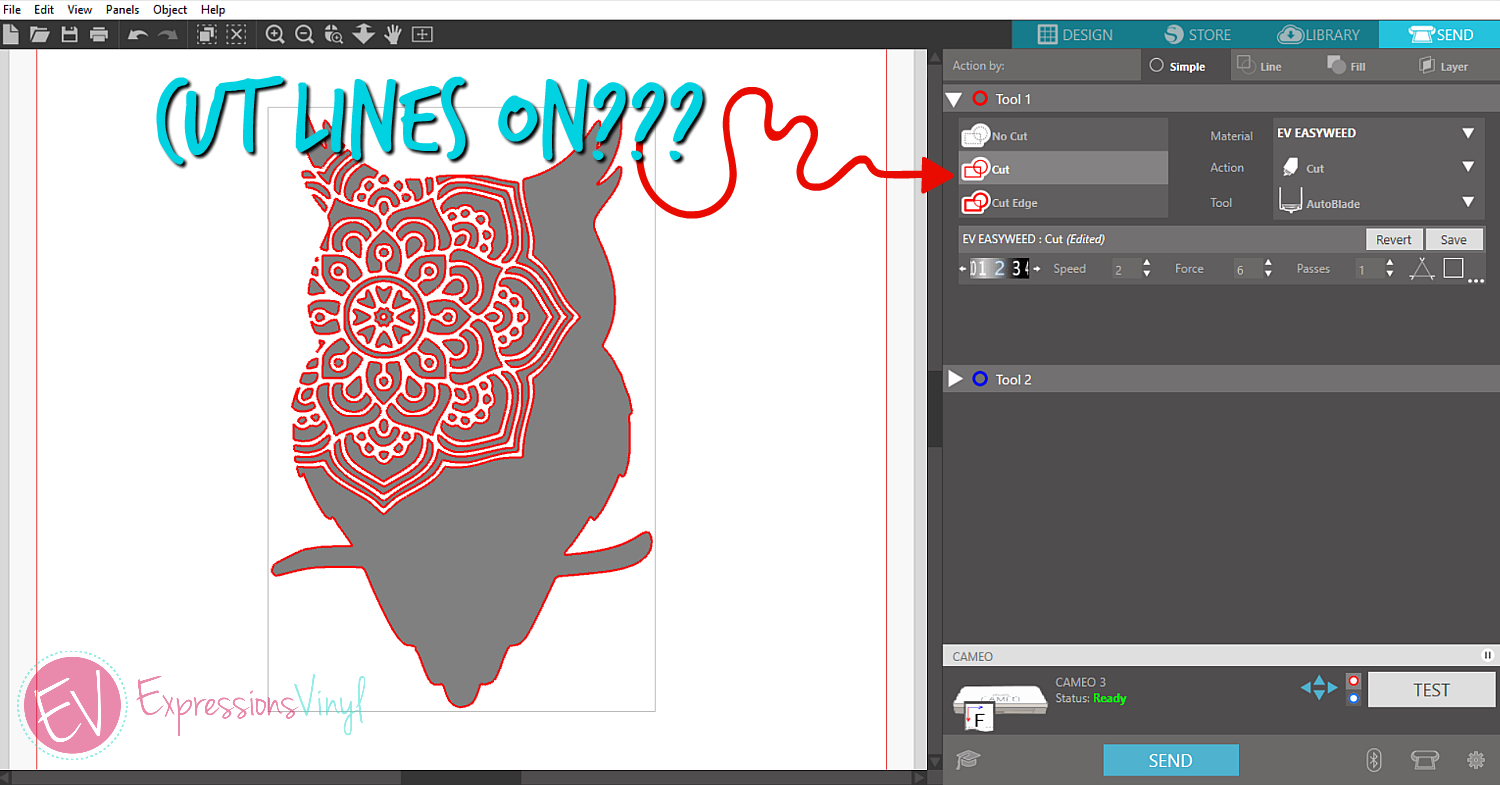 let try a pdf, you can import them as Vectors or images. Vector will be useful for cutlines whereas an Image is great for Print N Cuts. If the file has multiple pages select the page you wish to import.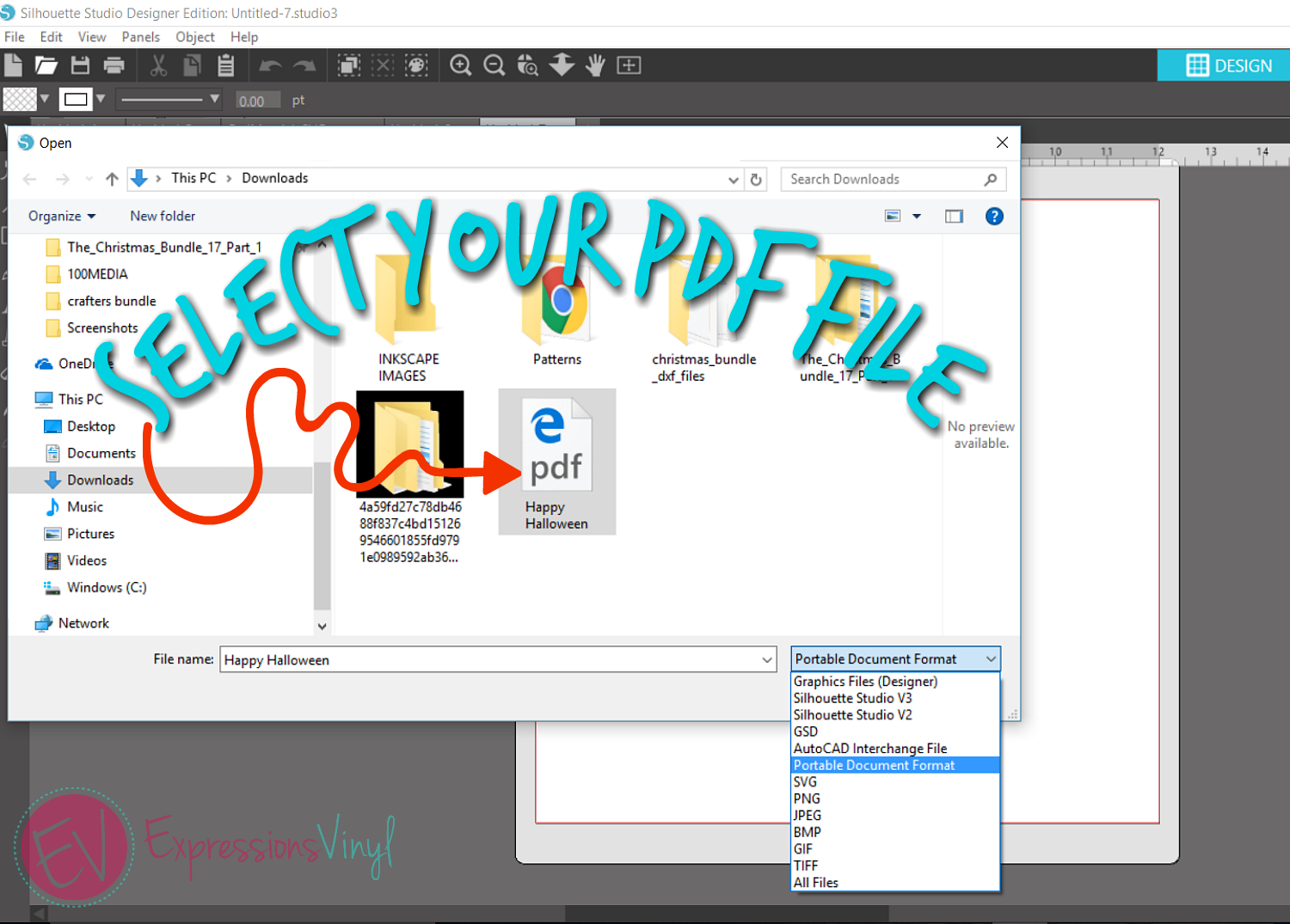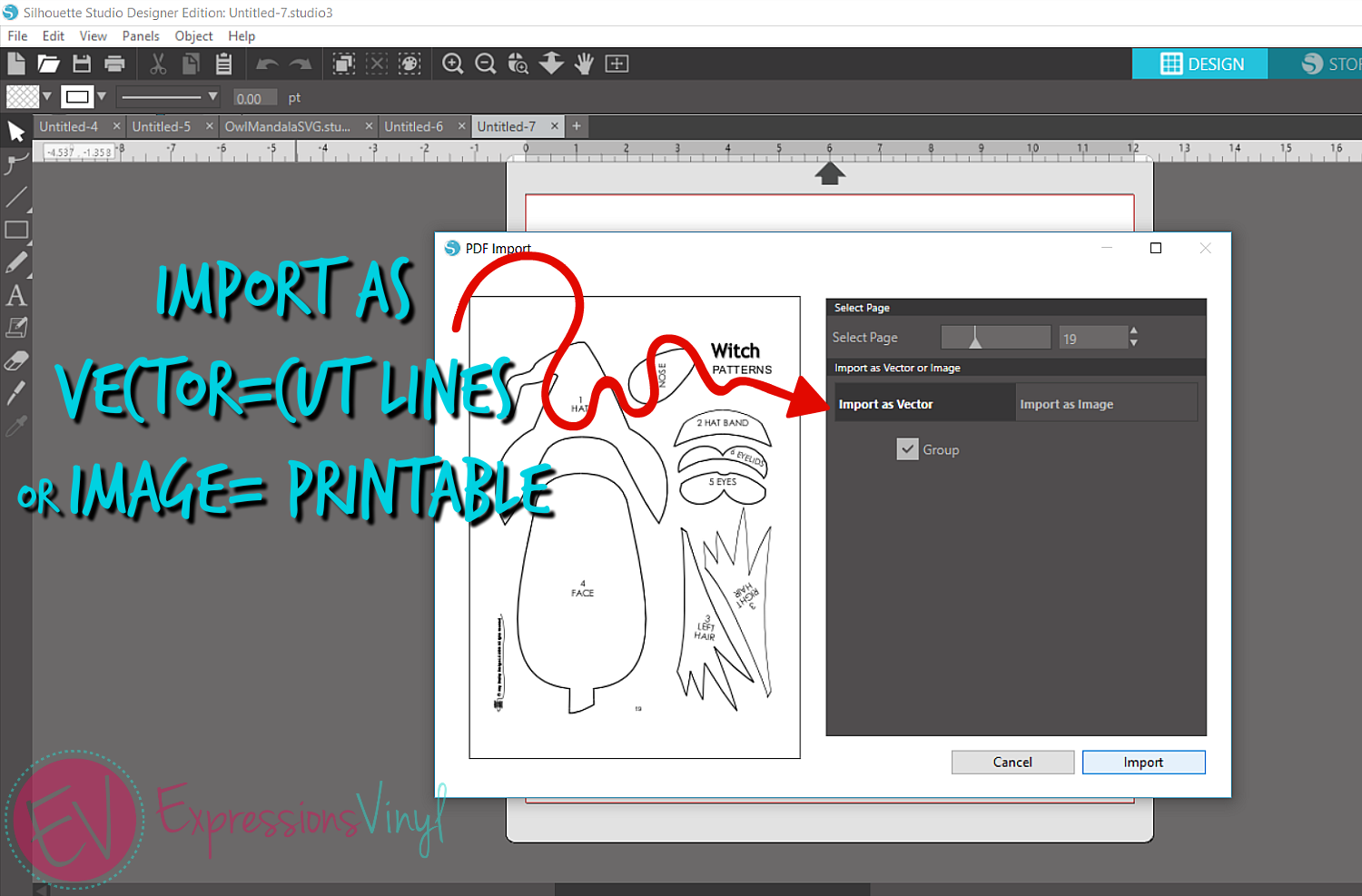 (PDF File: Happy Halloween Quilt File)~ By Amy Bradley
Then same thing as the SVG format, send to cut and check to make sure cut lines are active, if doing a print and cut, check the cut edge setting.
~Layers(Including cut by layer)
Cutting by layers makes it easy to name and categorize you colors prior to cutting, here I have categorized each color in its own category and listed those images in that color. It also is nice to have for a reminder of the color material name.
This come in handy so you do not have to move or adjust on the work place after everything is in place.
You can hide or lock each color so they do not move once set up.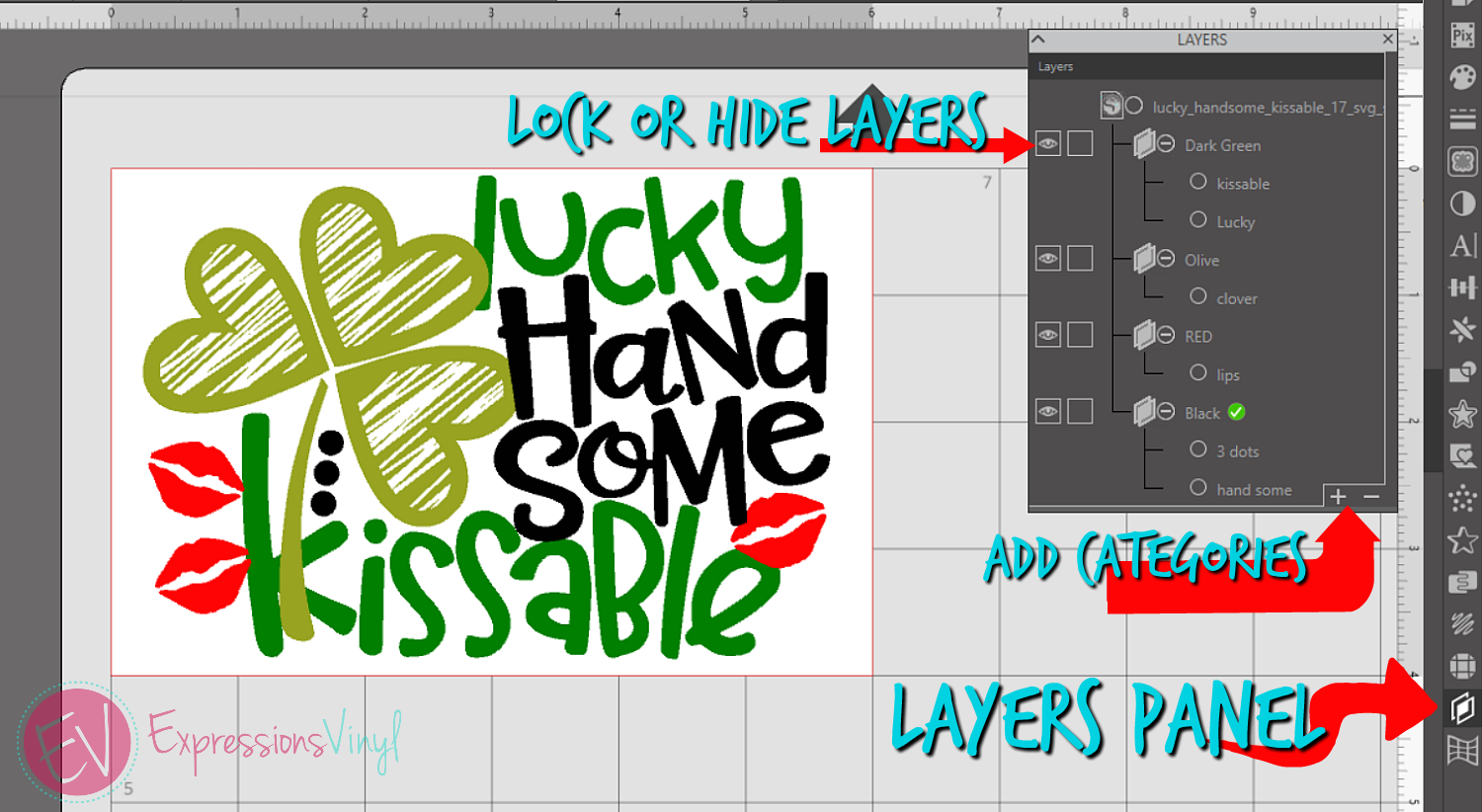 (Image: Lucky Handsome Kissable)~ By SoCuteAppliques
When it comes to cutting your layers, make sure that the Layers action is selected, this will show the designated colors you previously set up.
There are two options for cutting, you can either select the color to cut one at a time...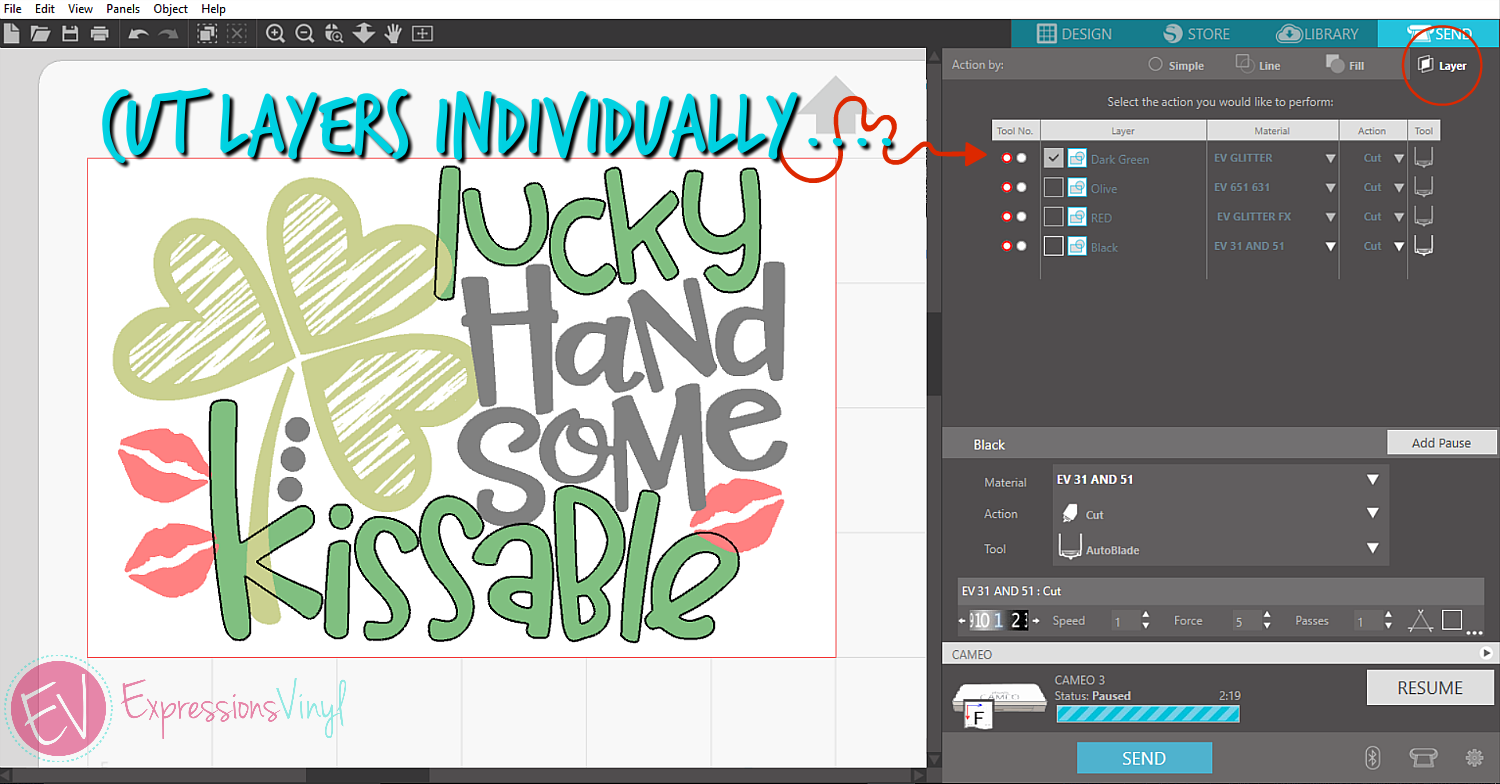 ....or you can check them all and have the cut pause in between for you to unload and change out the color. Add pauses by selecting the color and Add pause.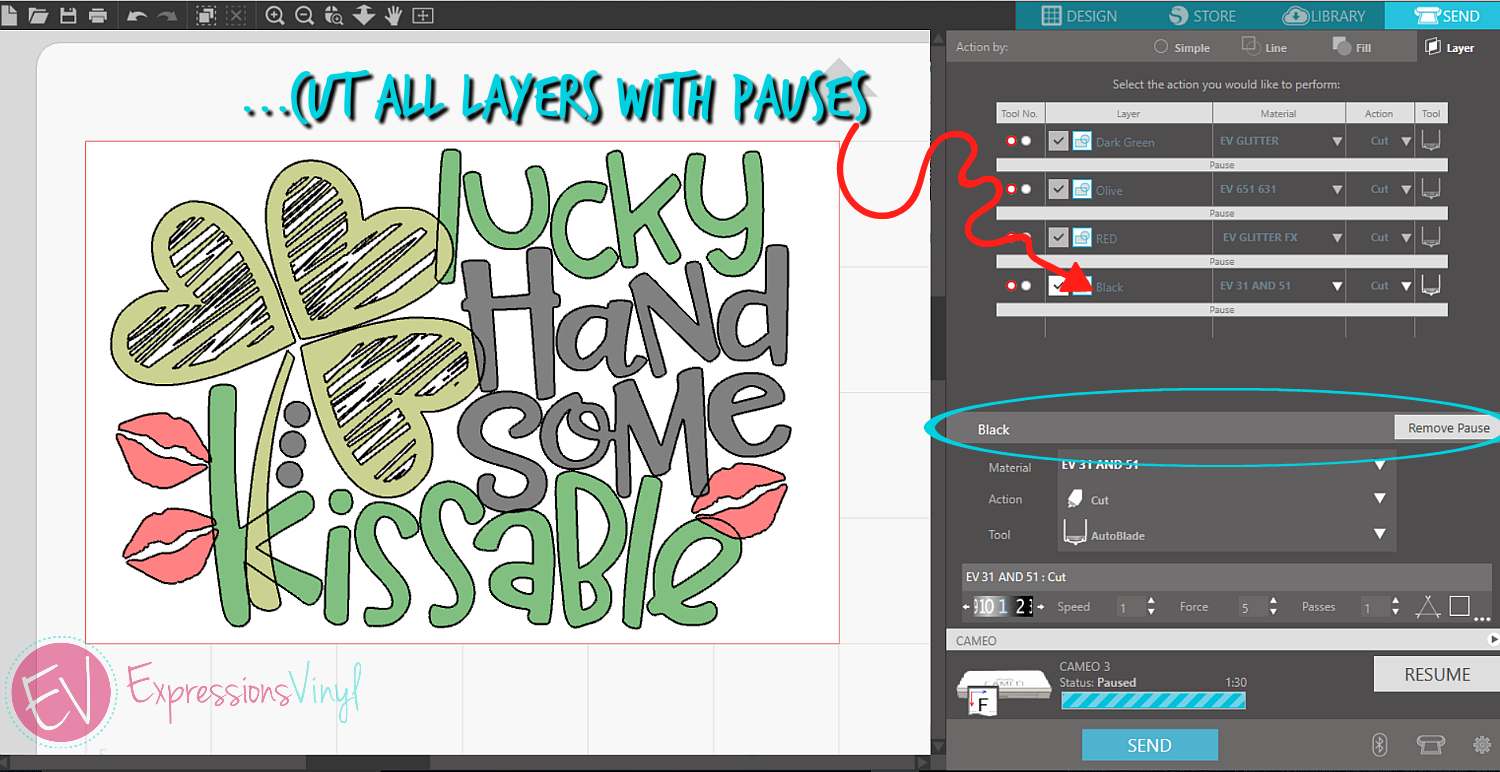 You will have to RESUME the cut, in between layers, this makes for quick material change.
NOTE: You can adust all the different types of material and blades in here as well before the cuts are a go.
~Rulers and Guides
Once you try these Rules and Guides you will be lost without them if you ever are on another program that does not include these. These work for precision measuring and placement.
Page Set Up Icon will show all these settings adjustments, you will still have your Grids and Snap to Grid, but now you show Guides and Snap to Guides.
The guides are bull down lines from your Rulese that images can snap onto making things very easy to line up.
While the crosshairs make squaring things off very simple like creating a weeding box.
~Nesting:
This feature comes in handy if you are wanting to get as much out of your cut surface for as many images as you can.
You can nest images either to the cut area or any shapes for you boundaries.

(Image:Clouds, Hearts and Stars) ~ By Echo Park

Only images on your mat will next if the box for the setting is checked. If it is not checked any other items outside the mat will also be toss onto the cutting area.
To cut images into a shape, simply select the Use Selected while the shape has been set as the boundary.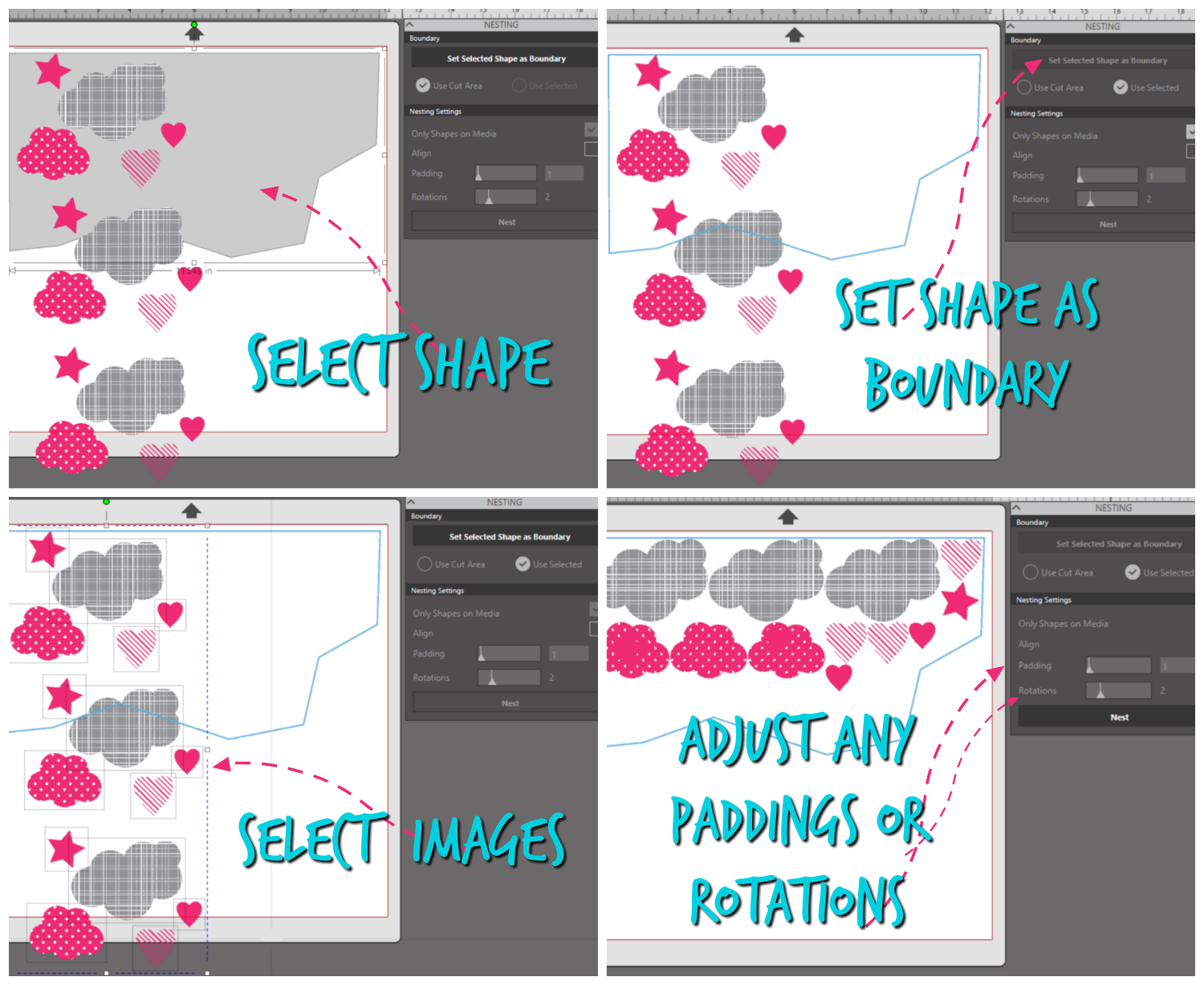 Padding is the space between your images while rotation is how many time the image will rotate to find the best position, sometimese it takes more rotations and sometimes less.
NOTE: The shape option will come in very handy when used with the PixScan Mat for any funny shapped materials.
~Shadow Feature:
The Shadow Feature will add a dropshadow to any Image or Text, it will be found under the image effects Icon.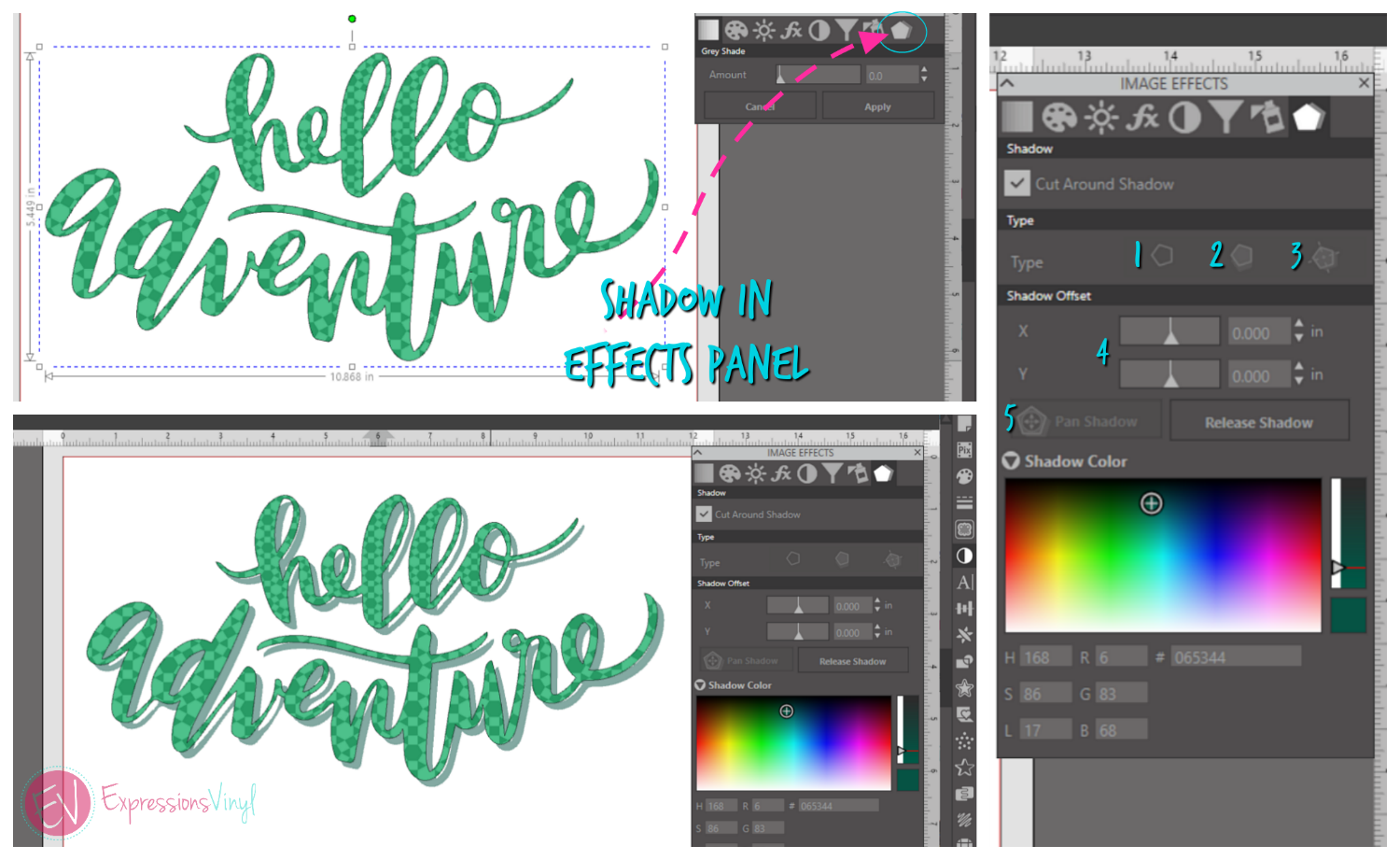 (Image: Hello Adventure) By: Jenny Highsmith
After you have applied the shadow to your image, you can do some adjustments to the shadow.
1: Plain image or undo if you do not like the outcome of the shadow
2: Dynamic, this means you can rotate you image with the shadow and it will keep in line with am imaginary light source so no matter which way you turn it they will allshow the same shadow.
3:Fixed Shadow will keep the shadow in its original place if rotated.
4:The X and Y asis will allow you do move the shadow up and down or from left to right.
5: Pan: Panning the image will allow you do move the shadow around freely.
You can also adjust the shadow color tint from a bright color to a grey scale color.
Note: You can also check the 'Cut Around Shadow" to make some fun images with a Print N Cut'
~Eraser Set Tools:
The Eraser Set Tool is still pretty basic, the only upgraded part is that you can now adjust teh size and shape of your eraser.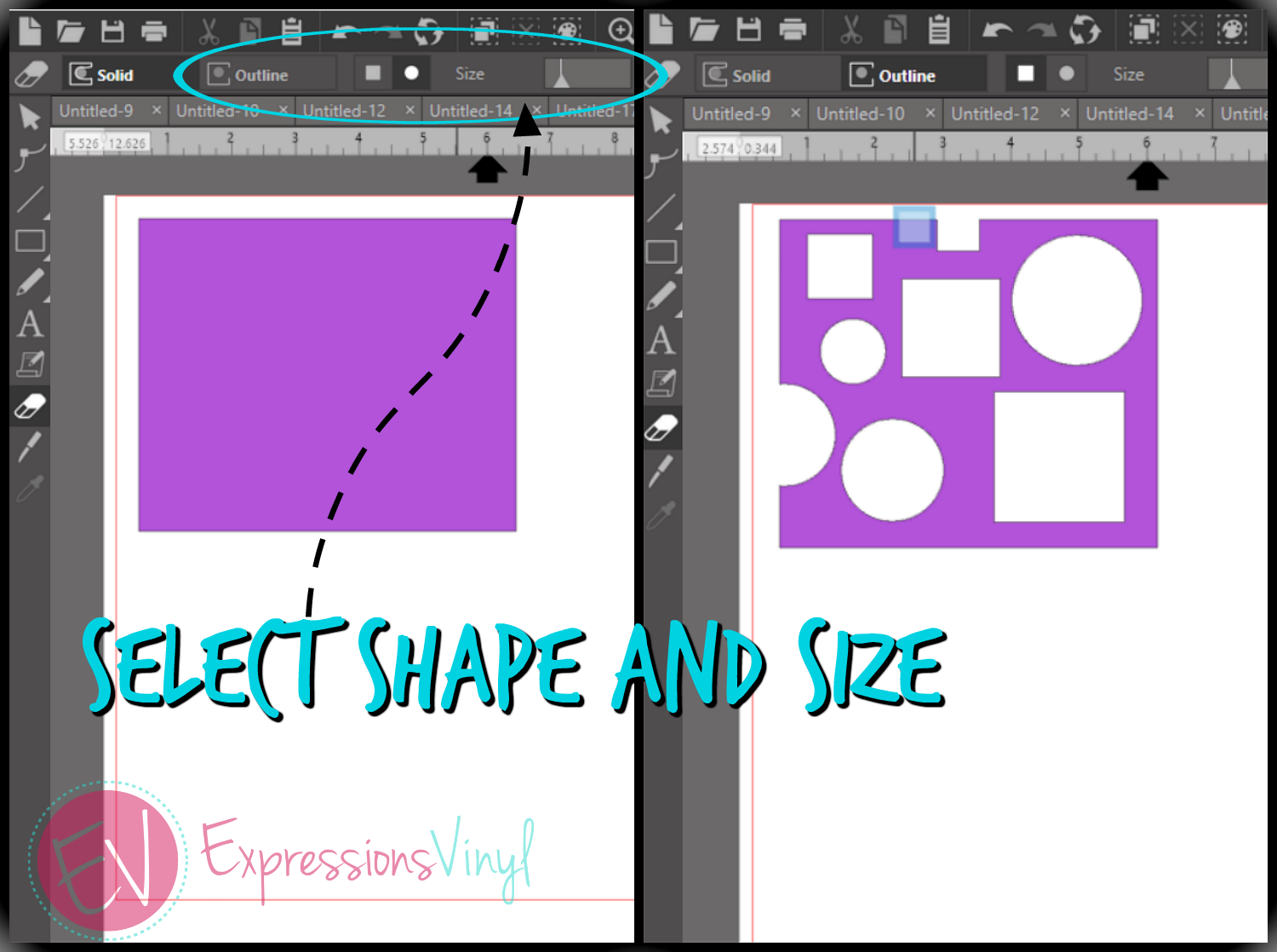 ~Knife Set Tools:
In the Basic Edition of Silhouette Studio,you already have some options for the Knife Tool, but when you upgrade to Designer Edition, they add in a few more accessories.
There are more Knife options. These can be adjusted with the middle toggle to go back and forth, or the red side dot to adjust them up and down to make some fun decorative cuts.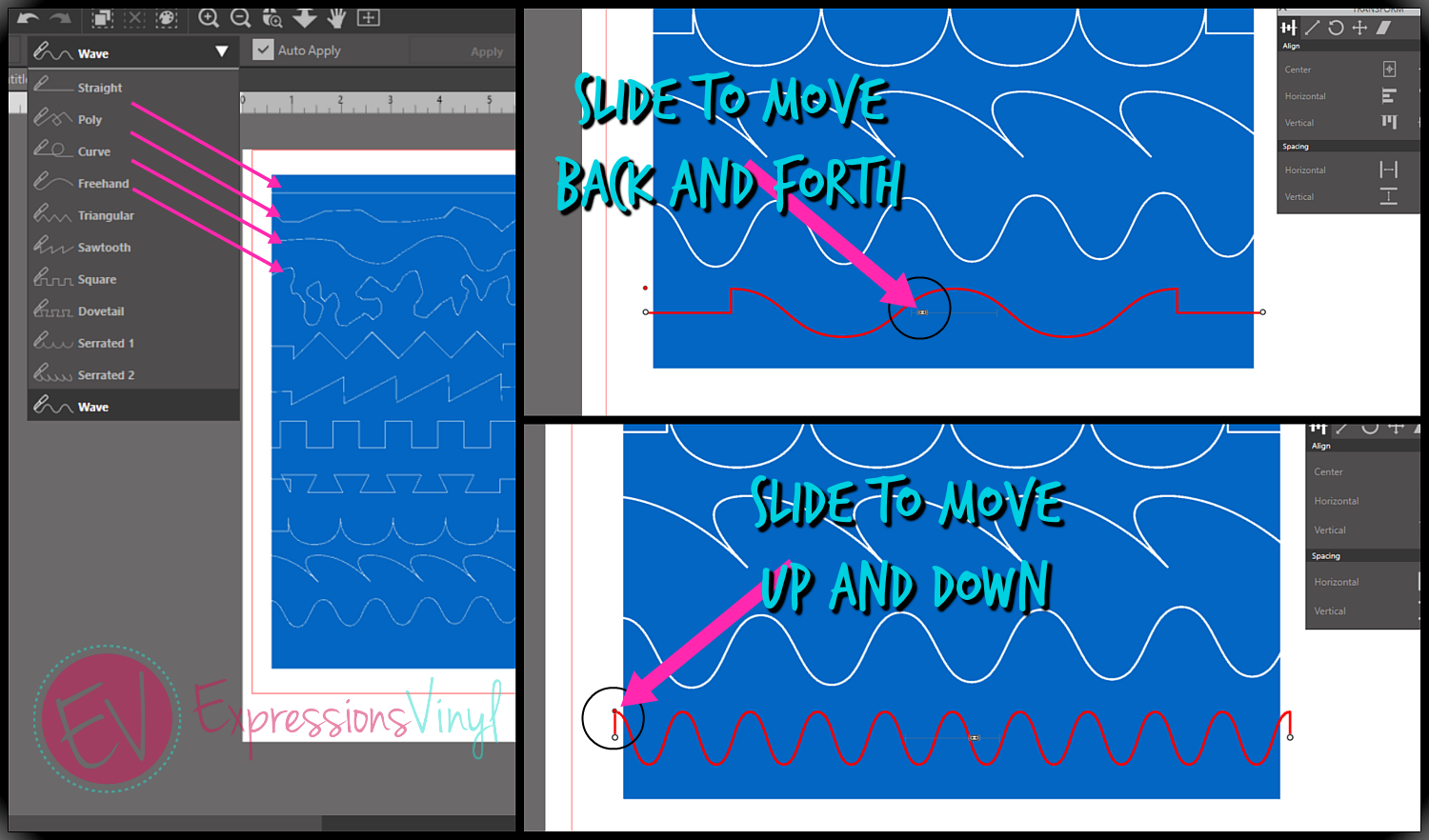 ~EyeDropper Tool:
The Eye Dropper Tool, is a neat feature if you are needing to transfer attributes such as patterns, colors, or gradients from one iamge to the next. You can even Transfer Fonts with the eye dropper Tool.
To do this, simply select the image you with to tranfer TO and then select the Eye Dropper on the left-hand side column, last Icon, and click on the icon that has the attribues you wish to transfer, so simple and it save a lot of time when working with Print N Cuts.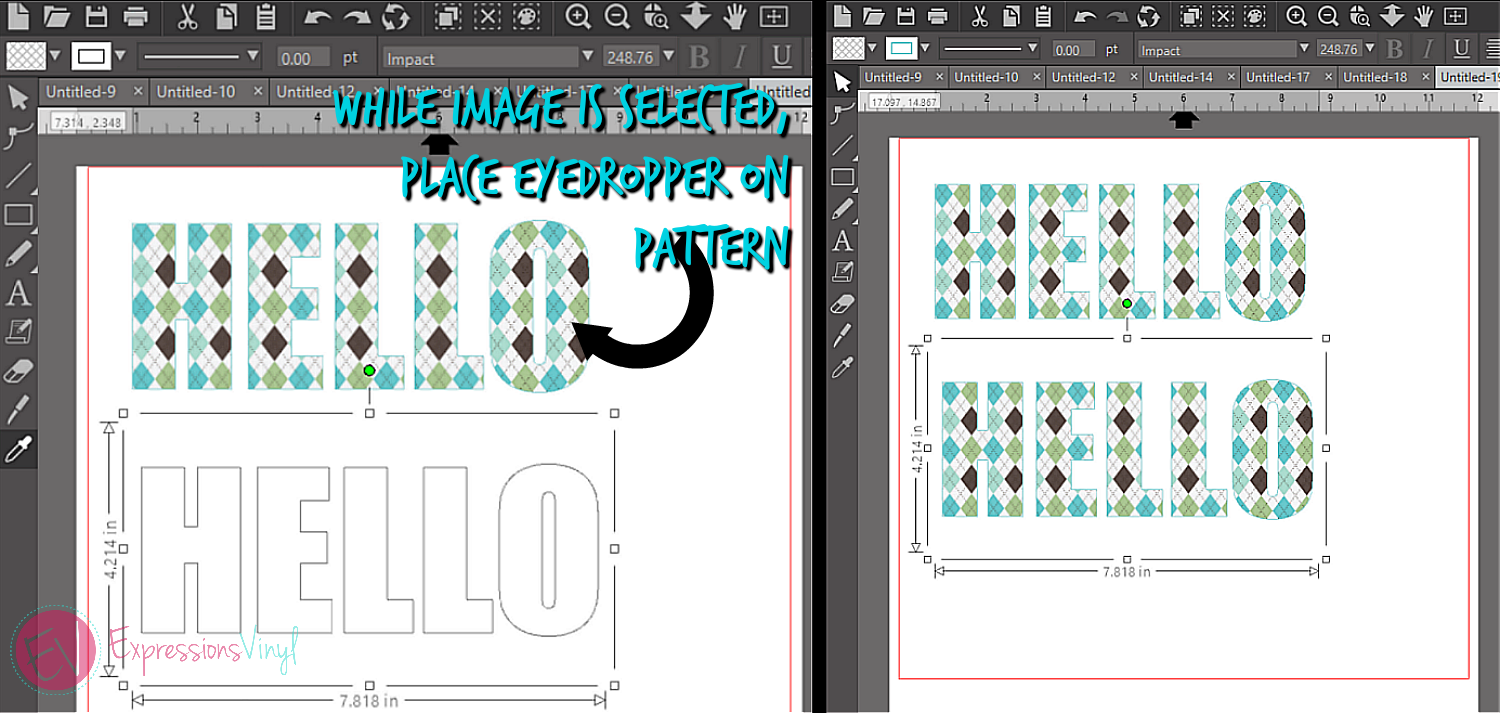 (Font: Impact, System Font)
~Shear:
With the Shear Tool, you can easily create your own shapes by manipulating the angles and even make regular fonts into Italisized Fonts.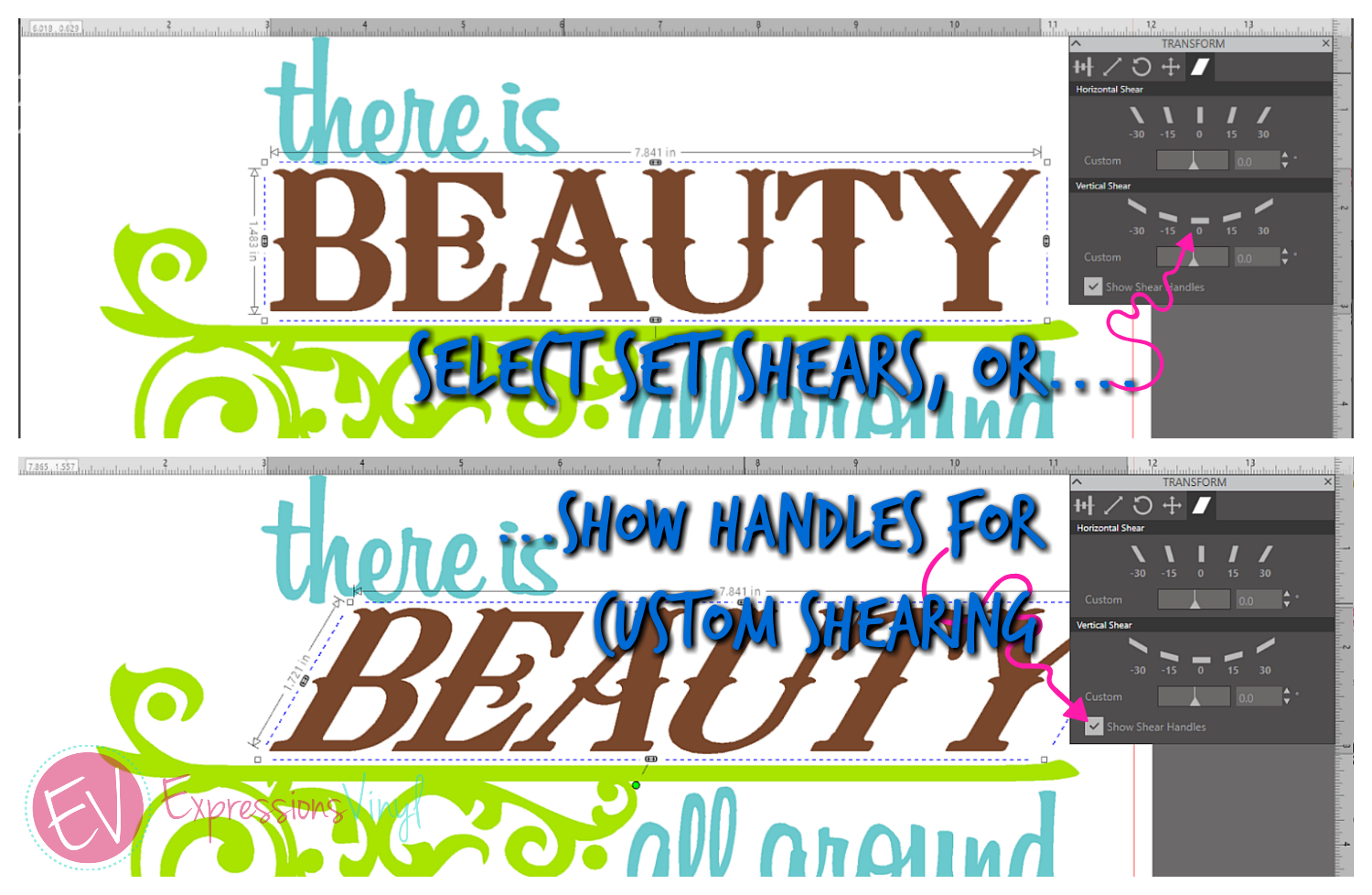 (Image:Phrase: Beauty All Around) By Silhouette
~Sketch Effects:
The Sketch Effects allows you do use your Sketch Pens or Pen Holder with any writing material to fill in and create neat looks and textures.
In Designer Edition you will find an added feature, the Adanced Sketch Option. This will allow you to more thoroughly edit the sketch lines and fills with different components.
NOTE: lines come out more crisp if used on a smooth writing material verses a textured material.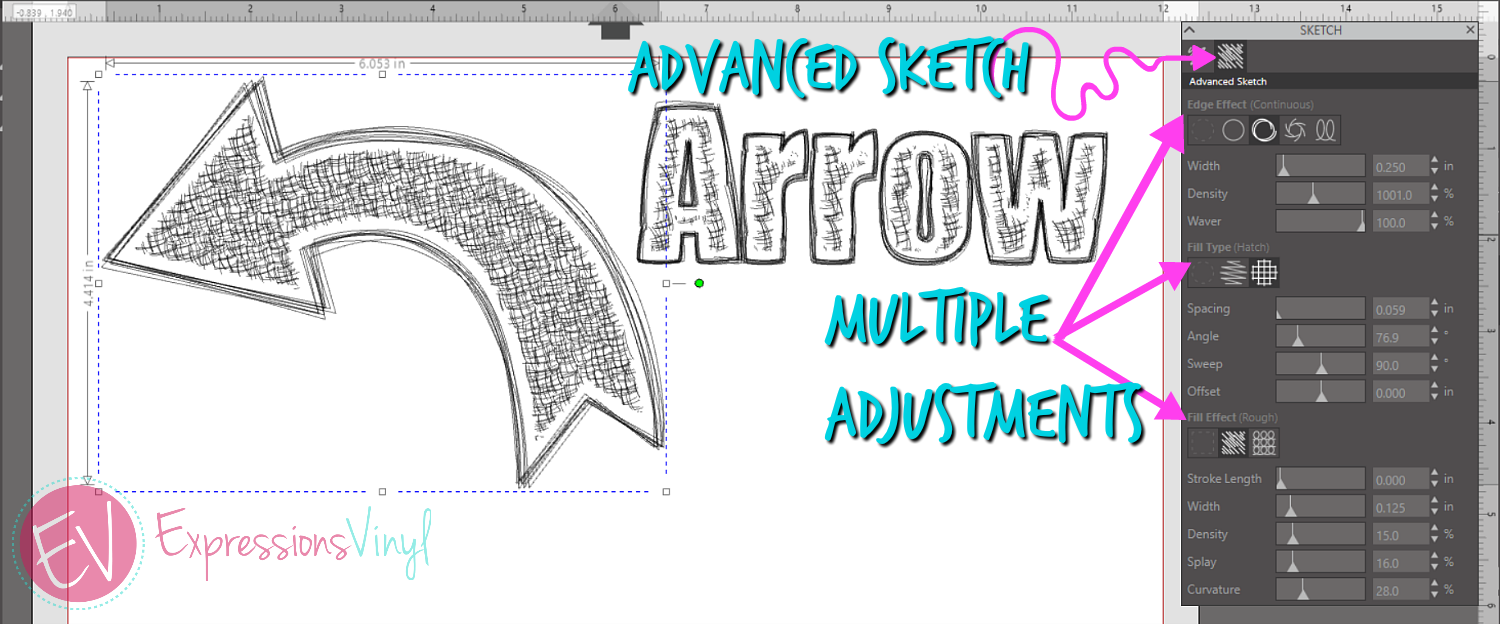 (Image: Patterned Arrows) By: PPbN Designs
~Trace By Color/Trace by Magnet:
The Trace by Color and Trace by Magnet, makes it much easier to import and turn printable images into cut files. Now with the Trace by Color you can get more detail out of the image, and Trace by Magnet makes it easy to trace any details that would not have been able to be read by the color or regular trace option.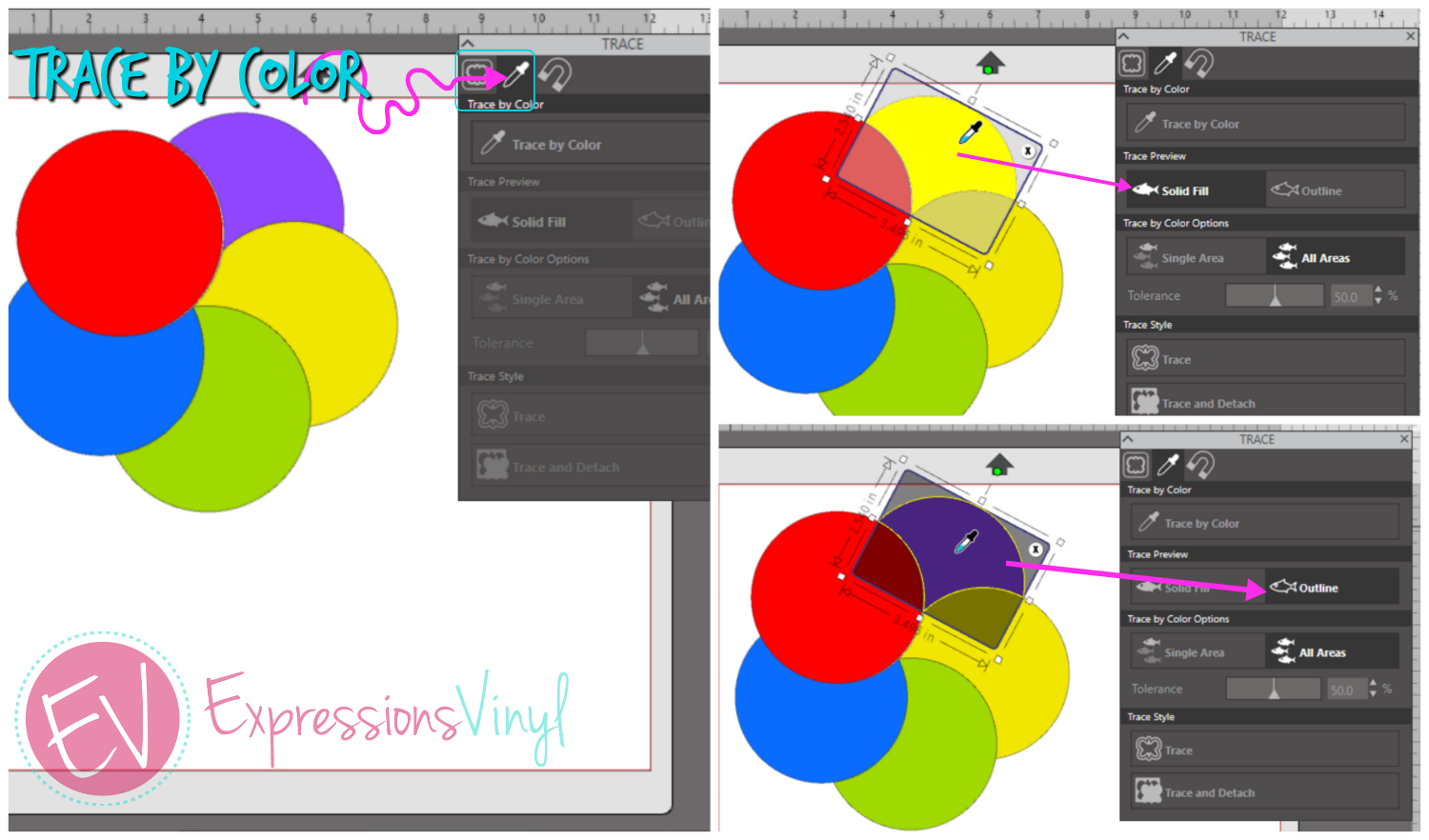 Magnet trace you will actually trace the image with a line that will "magnatize" to your image to create a cut file. For instance if we take this print and cut that does not have a cut line, we can select our Magnet Trace and it will glide along the side and trace it, for edges like on the card, go slow and steady in short edit points to make the trace much smoother.

(Image: Flashcard: March) By:Silhouette
~Rhinestone Conversion:
Rhinestone Conversion, makes creating your Rhinestone creations much easier with more fill options, size options and a free-hand motion. You can now take any image from the Silhouette Store or your own imported and make it a Rhinestone file.
You can also release set rhinestones to remove, delete or manipulate the image to your liking.
A Rhinestone Counter all so shows in the bottom of the panel so you know just how many you will need of each particular size.
This effect comes in handy when making non-Rhinestone project such as lace projects and String Art. You an also use our Holographic HTV to create a Faux Rhinestone look.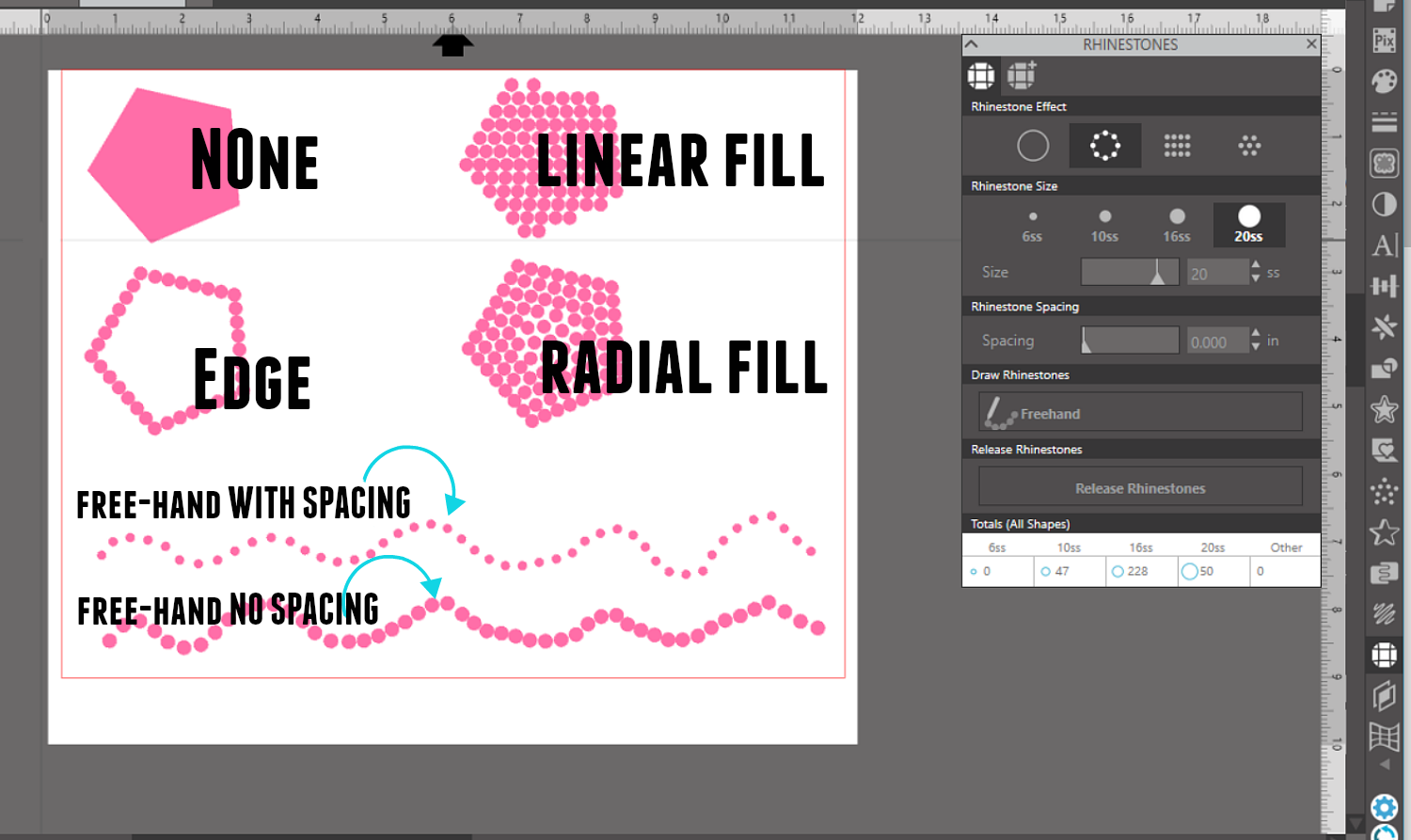 ~Glyph Support:
One of my favorite features of the Designer Edition has to be this Glyph Support, you can easily add those fun flourishes that come with many fonts as well as access fonts that have dingbats which can be hard to see.
Here I have added the Glyph version of the fonts H and o, and it add is a fun look. All you need to do is select in the font where to insert the Glyph and then select the one you need. Somethines there are several variations of the same letter so play around until you like the finished look.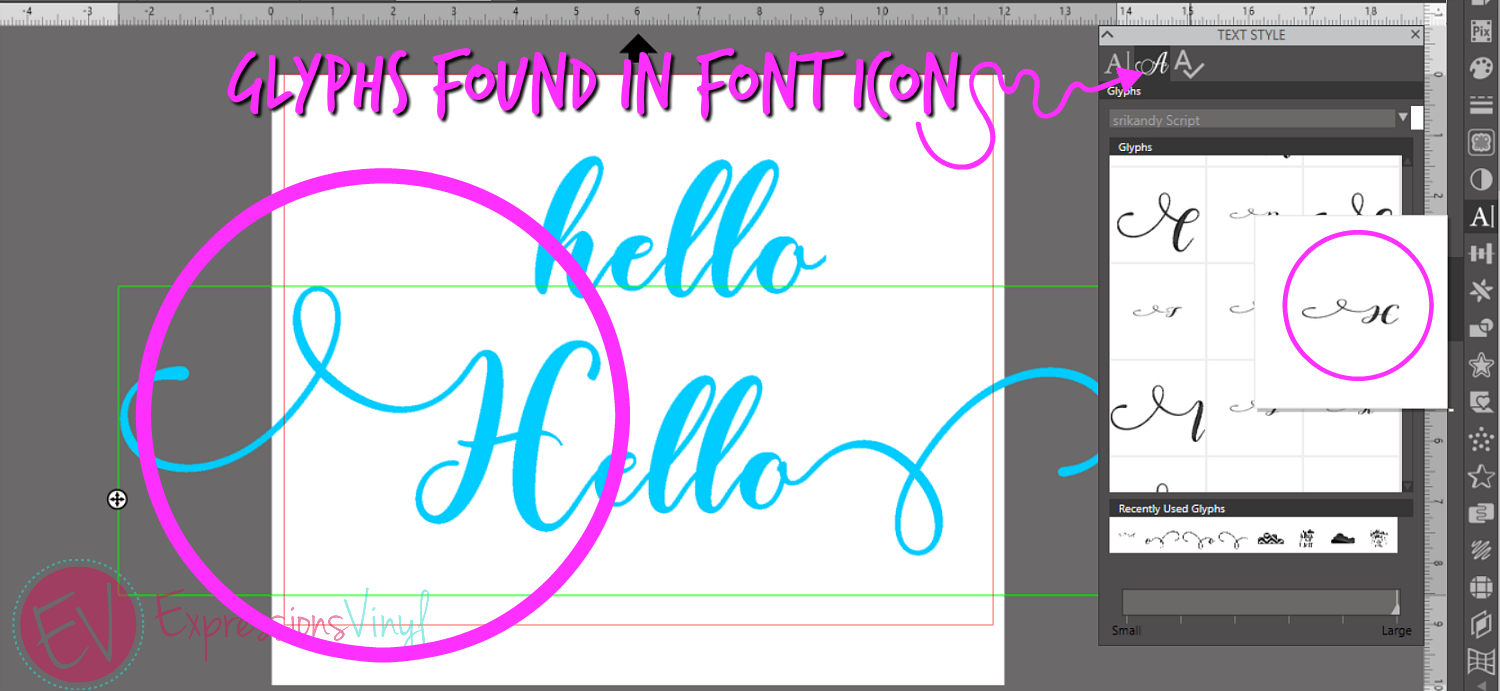 This also comes in handy when inserting Dingbats from fonts so instead of figuring out which letter you need for an image, you can simply select the one you need.
You can even adjust the size of the used glyphs for easier viewing.
(Font: Srikandy Script) and (LW Cloud Dingbats)
~Font Management:
With the basic edition you will see an upgraded font category for frequently used and recently used fonts, but in Designer Edition you will see the option to categorize your Silhouette Fonts by createing subfolders like I have done here with my Silhouette Dingbat fonts, this makes it easy to access them by my own category.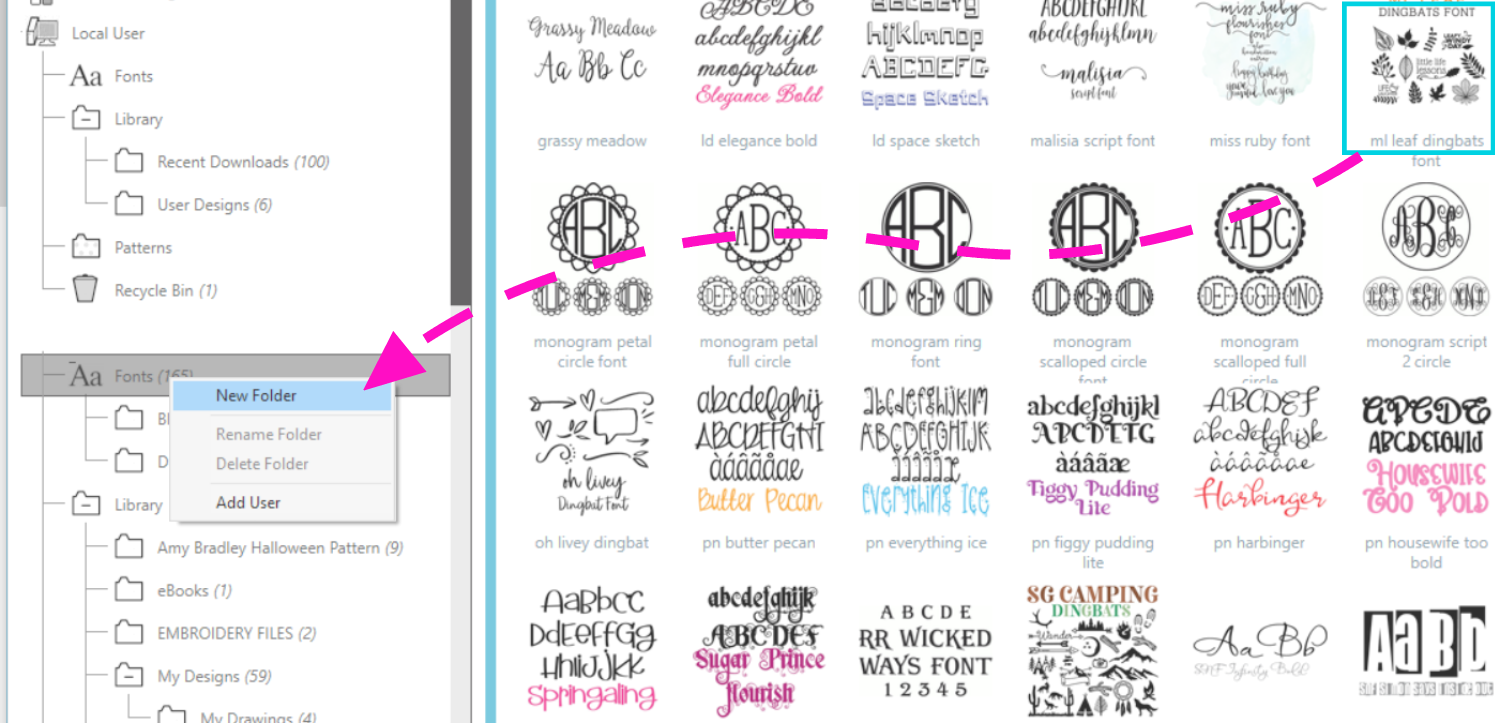 Simply right click your fonts and add a new folder such as script, block, Dingbats,whatever works for you. I have done a dingbat, now when I drag them into the folder they will automatically be organized when viewing from my design area.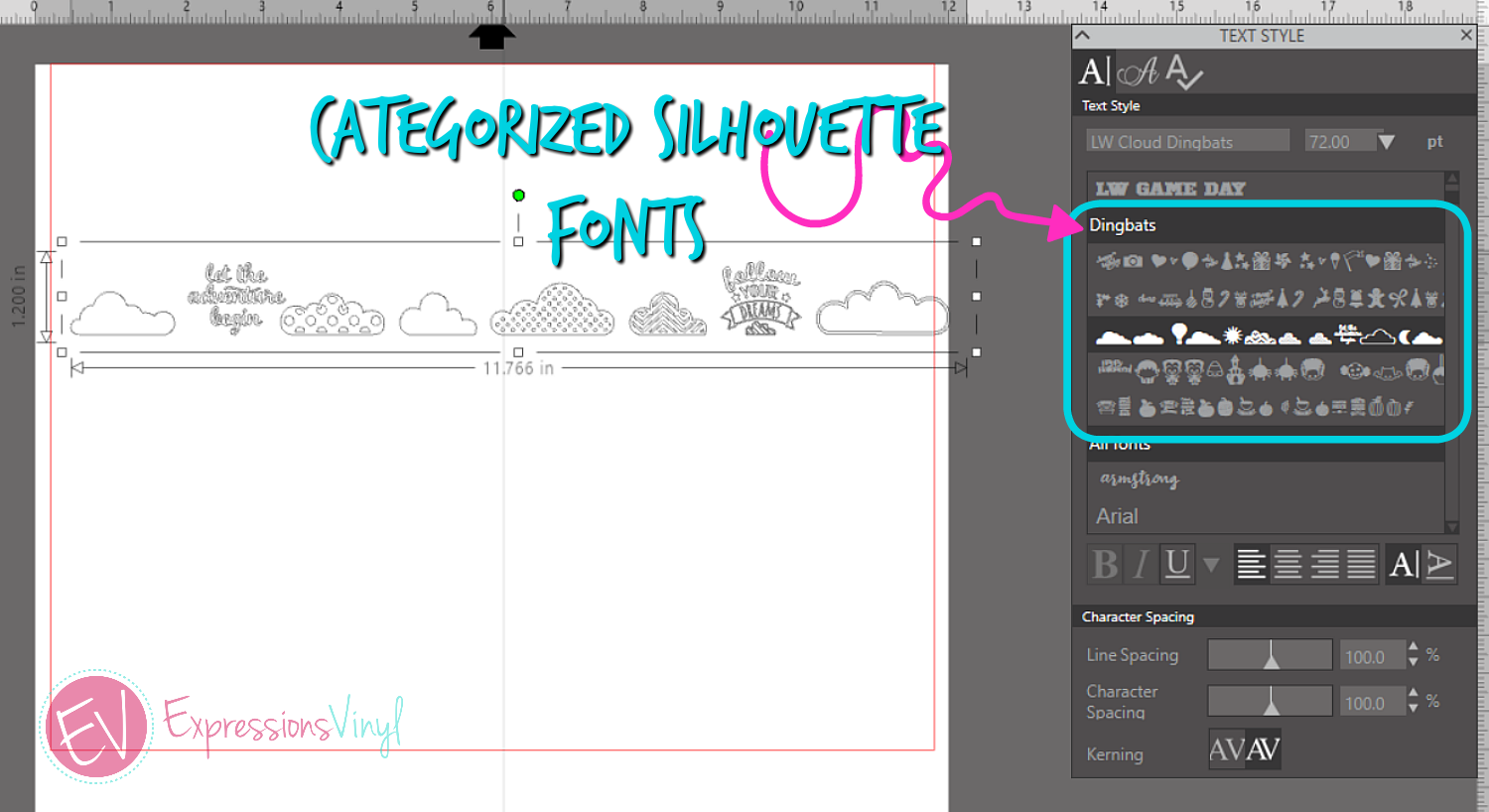 ~Basic Warp:
With the Basic Warm Feature I makes it easy ti manipulate shapes and words to look different. I can take the same star shape and turn one into a puffy star just by dragging edit points to the corners.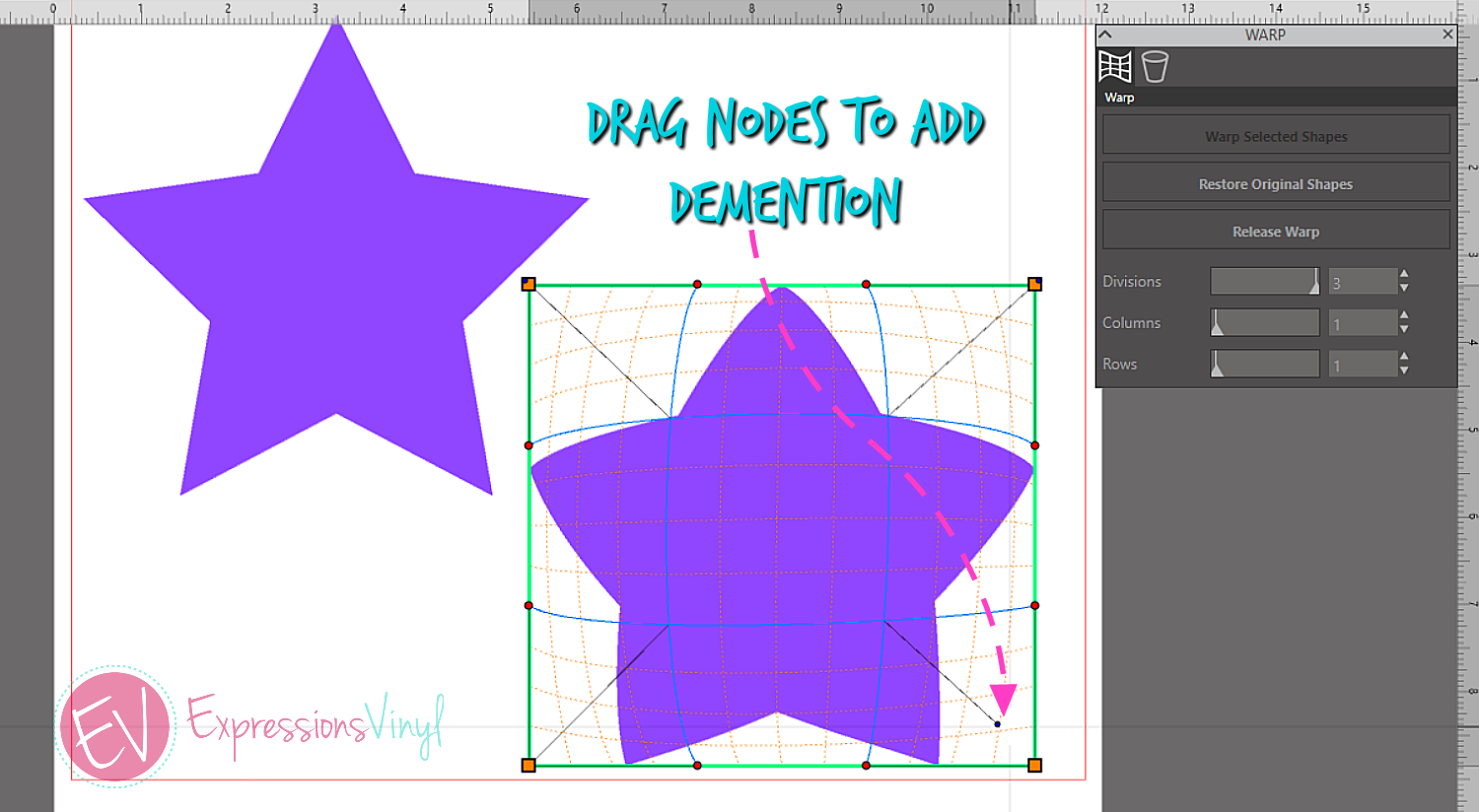 Once its ready and how you like it, simply release the warp and it will be ready to cut. If you want more presision points you can adjust the columns, rows and divisions.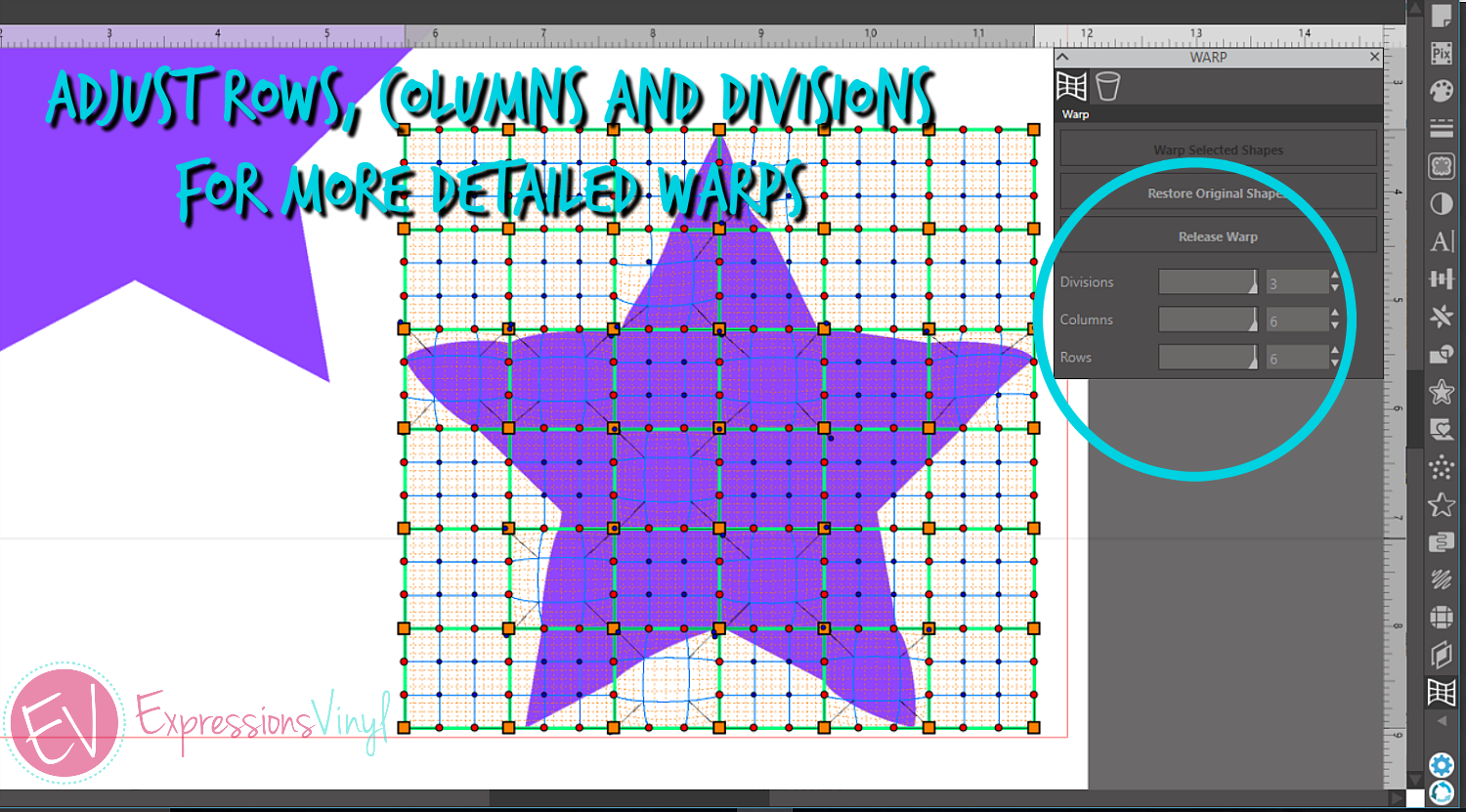 If you want to start over just select Restore Original Shape.
~Pop-Up Creator (Advanced):
This feature is included in the Basic Silhouette Studio, but Designer Edition has more advanced features that makes your pop-up card making much easier.
In Designer Editon, you now have the ability to stagger your pop up so you have a drag handle for every image. Be sure not to group your images together for this feature.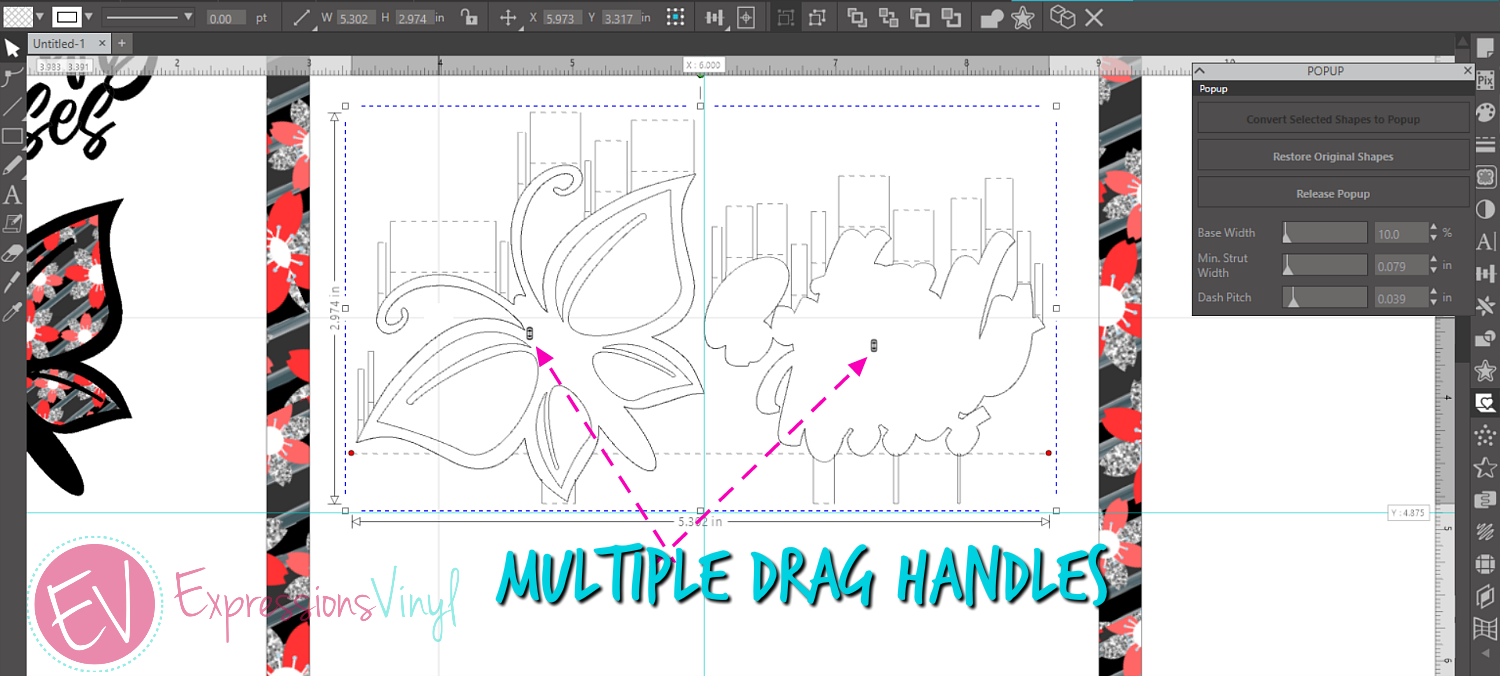 NOTE: Your guides will come in very handy for lining images up visually for the points on the fold markers. With the guides it will stay centered with your base paper that will fit inside your card base.
In the Pop-Up feature, there are 3 options for adjustments.
~Base Width: how much of the design is connected to the page
~Min Strut Width: how many and skinny your connections are
~Dash Pitch: How long your dash cut lines are.
These can be adjsted to your liking. You are now ready to cut and add any embelishments to your card.
That was a quick rundown of the Designer Edition, if you need further guidance and would like to see videos on each topic in more depth you can do so my selecting the specific category near the top.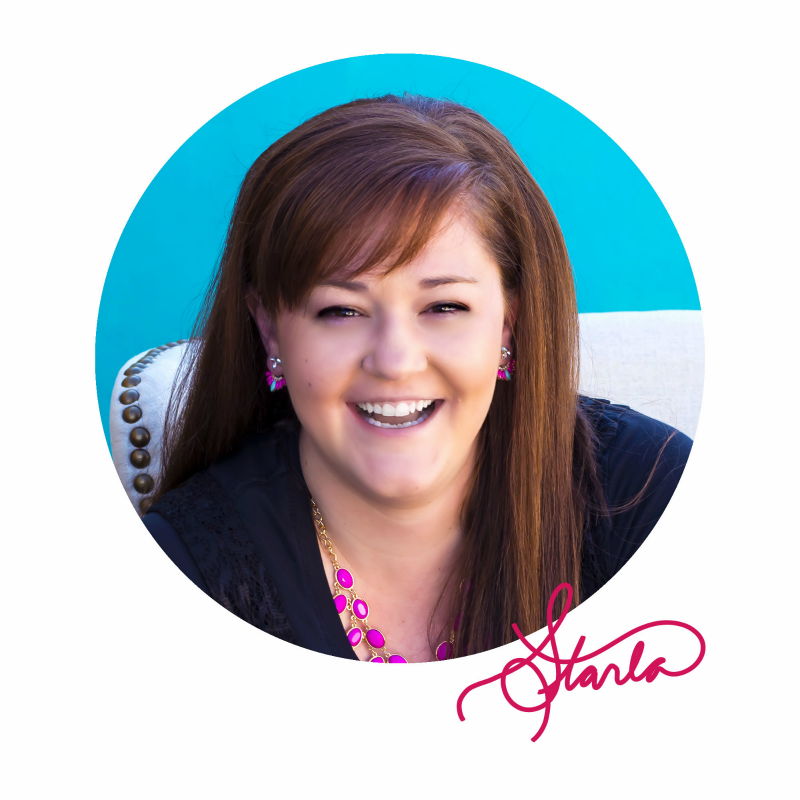 Recent Posts
August is the perfect time for end of summer, back to school, or even prepa …

Back To School 2022 Can you believe it' …

Layering vinyl can make your project look amazing, but it can be diff …