It's that time again! Vinyl Countdown!
We love these challenges and especially when we get to display them some where. Starla, Jessica and JoAnn created fun displays for the store front windows. If you are in the area, you'll want to stop by and see them.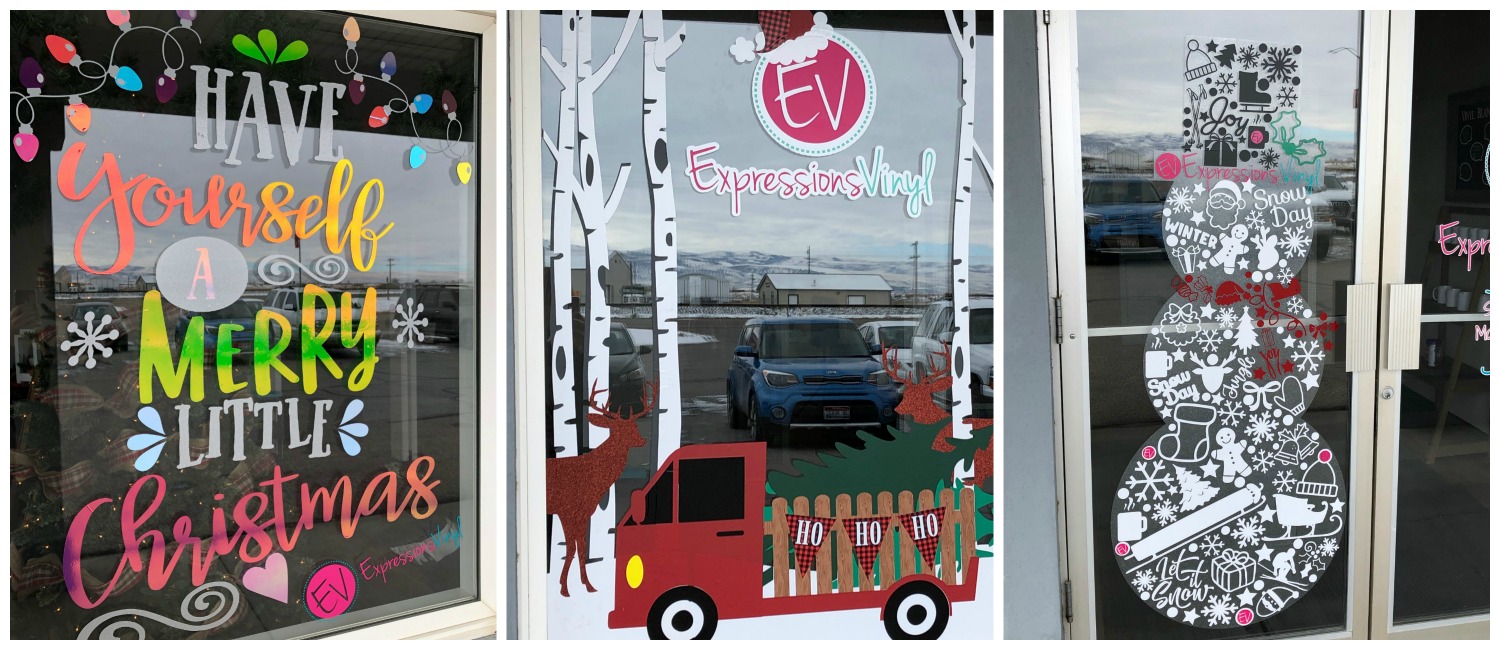 Here is everything we used to create these fun windows!:
Jessica's Window (Have Yourself a Merry Little Christmas)
Silver, Pink, Turquoise
Silver
Yellow, Orange, Pink, Blue, Bright Green, White
Images
Have Yourself a Merry Little Christmas
Design ID # 233464
Design ID # 165484
Starla's Window (Outdoor Scene)
Vinyl
Bronze
Brown, Black, Brimstone Yellow
Wood Texture #4, Buffalo Plaid Bright Red
Dark Grey, White, Dark Red, Pink, Mint, Dark Green, Green
Images
Ev Logo
Reindeer from "Reindeer and Birch Tree Monogram Frame" #109210
Christmas Tree Truck Birch Forest # 279073
JoAnn's Window/Door (Snowman)
Vinyl
Stardust
White
Black, Pink, Turquoise, Green, Red
Images
Cricut Images
Snowbaby M2F5B4
Joy M30F7E
Holly M352B5
Sleigh M3FA07
Snow Day M40DAF
Holly M411E5
Winter Tree M41A3D
Sled M4627D
Holly M46446
Christmas Tree MEFB20
Winter MEFF1B
Circle M369879
Square M369896
Star M36989A
Skiing M4C7D16B
Ski Poles M7BC51A9
Hat M7D36B0E
Mitten M7D36F04
Santa M7D371DE
Wreath M7D37A06
Present M7D380ED
Stocking M7D38F77
Candy M7D39100
Snow Day M7F06CB1
Joy M800ECEB
Sled M8046625
Present M804A03B
Santa Hat M8B28C5E
Winter M8B28E9A
Bow M8B36DC8
Bow M8B36DCE
Christmas Light Border M8B36E5C
Christmas Tree M8B36EAF
Deer Head M8B36F7B
Gingerbread Man M8B3700D
Jingle M8B370D6
Present M8B37296
Present M8B372A6
Rudolph Silhouette M8B372EB
Hot Cocoa M8D6E995
Ice Skate M8D6E9A0
Santa M8EEEADE
Jingle Bells M8F7D4D0
EV Logo
WHEW.......
Here's the preview video when we got the challenge.
Here's the full live window application!
Recent Posts
What are the Holiday's without crafts? Some say it is not a holiday at all! We just mi …

Christmas Tree Canvas with Lights If yo …

Are you ready to Fall in Love with September's Mystery Box?! Fall vib …