Hey and welcome back to the Blog, so Jessica, JoAnn and I, did a fun Vinyl Challenge using mixed media as our theme.Meaning anything was up for the challenge.
We each created a "Mystery" Mixed Media box for this challenge, that none of us knew what each other was creating.
We did create some ground rules however.
~At least 2 HTV Colors
~At least 2 Adhesive Colors
~A blank(s) of some sort
~And a Prop (something to throw them off or something just random)
If you want to check out the whole challenge, watch the video below for the whole YouTube Challenge and also check out our other fun videos.
So lets check out the projects and what you will need to complete ones similar to them.
I decided to do a fun IceCream Cone Banner. I was hoping the throw off whomever got it by making it look like a simple banner and clouds and some circles, but I think I gave it away when throwing in our awesome Waffle Pattern. Also I saw some cute Red,White and Blue pom poms at Hobby Lobby on a good sale, so I thought it might throw it off too by making Red,White and Blue Icecream Cones.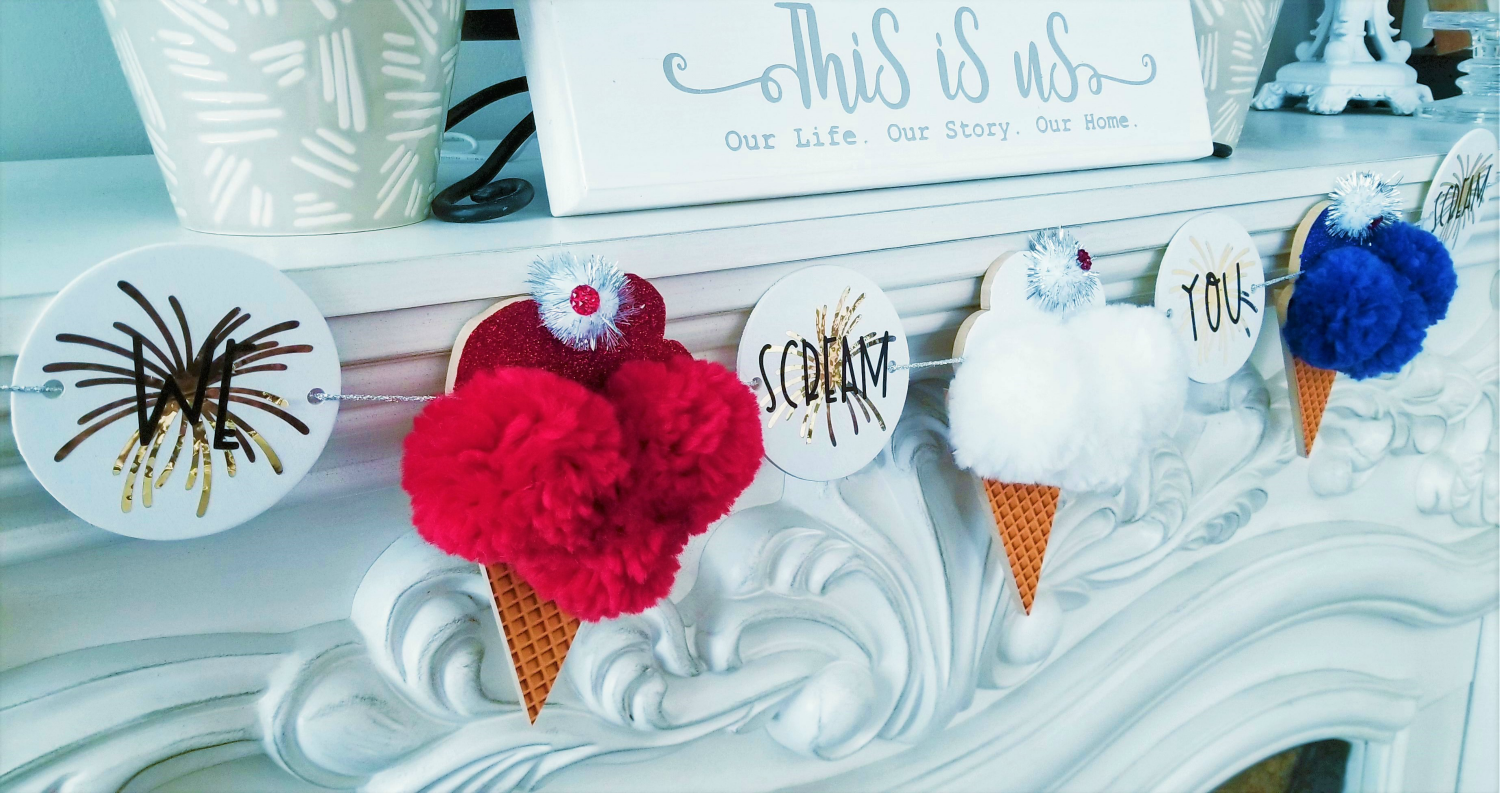 Vinyl:
~Glitter HTV (Red,Rainbow White, and Blue)
Cut File(Wood Template):
~ We Scream You Scream (Etsy.com)
Supplies:
~ MDF Wood
~Pom Poms
~Rhinestones
~String
JoAnn, I think did a great job with hers, and whomever got her box, well I think it stumped them for a bit, because she did a good job at making it really random.
This is JoAnn and I was looking for a fun lamp but just couldn't find exactly what I wanted. When we got this challenge I decided this was the perfect time to just create what I wanted. I matched the colors and similar designs with what I already had in the room so it would blend right in.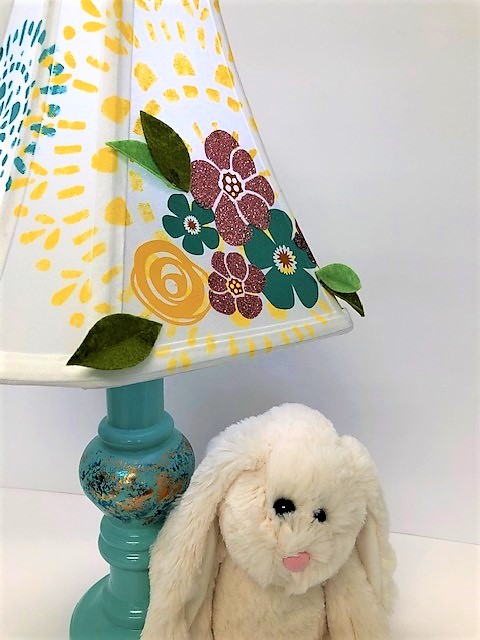 Vinyl:
~Easyweed Electric Yellow, Orange, and Peacock Teal
Cut Files:
Cricut Images:
~Flower #M8912F45
~Flower #MBFCCF4D
~Flower #MD1E914C
~Mandala #M4A773FD
Supplies:
~Felt
~Lamp and Lamp Shade
~Acrylic Paint
This turned out so cute! It would definately be a fun touch to any room in the house or a Kids room.
Jessica, Likes Disney....I should say LOVES Disney, because no one just "likes" Disney. And her project is a fun Disney Family Themed package which had some good mixed media in it, with a shirt,Hat, and a gift bag!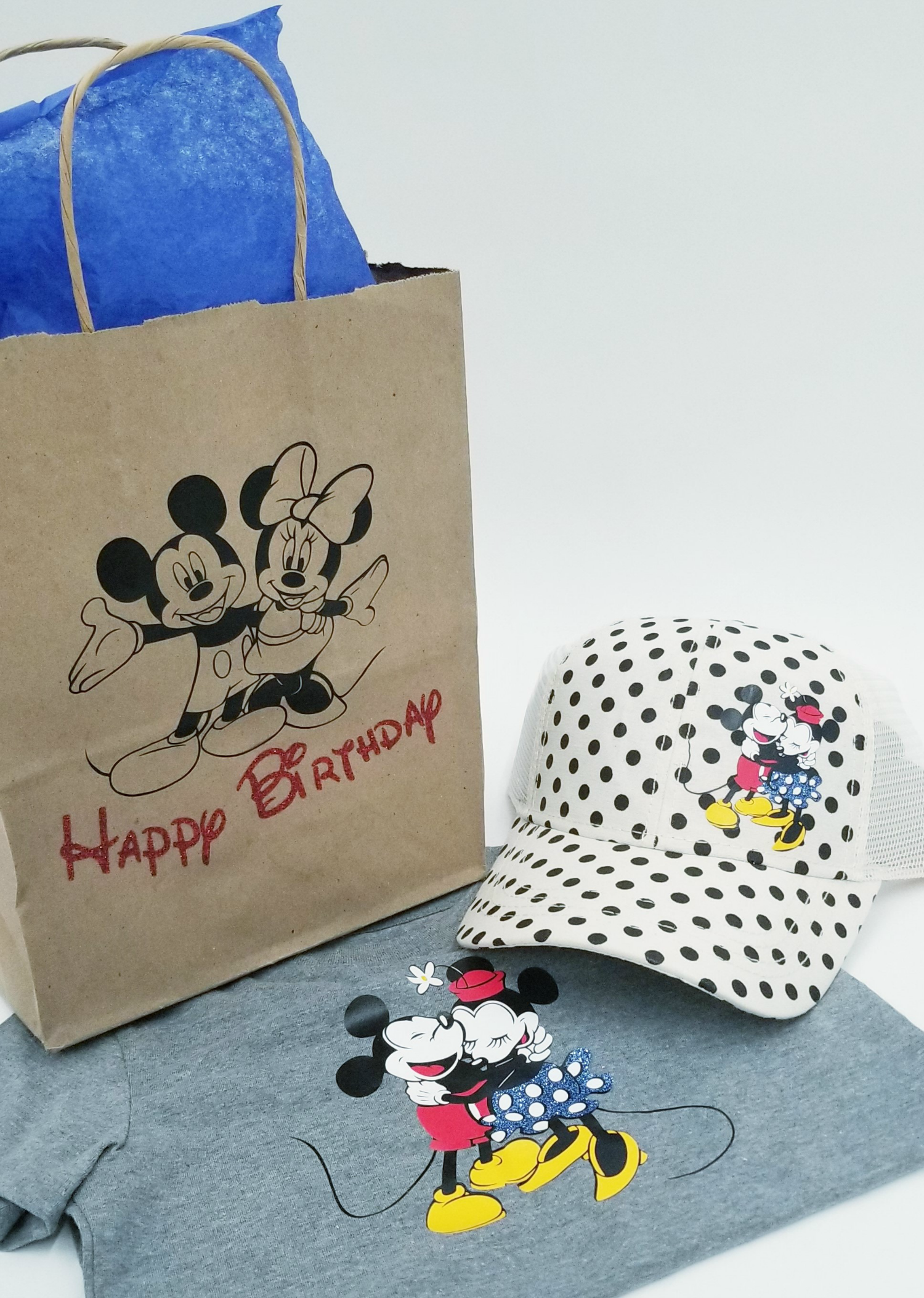 Vinyl:
~Siser Easyweed Red,White,Black, and Lemon
~Siser Glitter True Blue, and Red
Images:
~Lucky SVG Shop on Etsy.com
Supplies:
~Paper Bag and Tissue Paper
~T-shirt
~Hat C.C Beanie
We had a lot of fun doing this challenge, I think it was by far one of our favorite ones and I think we were all thrown on for just a bit. Chcck out the Full Challenge on our YouTube Channel.
And let us know if you thought this was a fun challenge and blog and of couse let us know what you make with all the Vinyl ExpressionsVinyl.com has to offer.

Recent Posts
'Tis the season of joy, and what better way to spread holiday cheer than by adding a personal touch …

Finally!!! The November 2023 Mystery Project Box is here and it is full of all sorts of fun vinyl …

It's that time again! The October 2023 Mystery Project Box is here. This box was designed by Jess …