What are the Holiday's without crafts? Some say it is not a holiday at all! We just might be some... So we have put together a nice little collection of some of our favorite holiday crafts. This might be just to give you some ideas that can help you on your way to your next craft project, or maybe you will love one so much you will make it just as we have. Either way we hope you enjoy and find inspiration from our creations!
DIY Holiday Crafts - 10 Simple
Holiday Projects For Adults & Kids
The holidays are here! While you're breaking out the holly and rolling out the cookie dough, don't forget to plan your 2019 keepsakes. DIY holiday crafts guarantee to make every year special! Our list of fun holiday projects for all extends to Halloween, Thanksgiving and Christmas, celebrating the beauty of the season.
---
Click here for the full Vinyl on Ornaments Tutorial
When it comes to decorating the Christmas tree, there are many cute or pretty ornaments that you can simply buy, but making your own using any of our permanent vinyl gives your tree some personalization.
Though not traditional, the 651 Mint, brings a shine to the matte finish of the red ornament.
Vinyl Type - Color
Styles Used
Replicate this ornament using the Silhouette Store cut file:
Merry Christmas Flourish SIL ID#228916
---
Buffalo Plaid Wooden Fall Pumpkin
Click here for the full Buffalo Plaid pumpkin Tutorial
Sometimes the best crafts are simple and easy. This fall pumpkin was made with a fun wooden crafting pumpkin and our Buffalo Mustard Plaid. Then, we added some fun hearts to give it some texture using our Fall Dahlia Pattern.
Using our Pattern Vinyl for your projects makes a big statement on its own, especially with so many options to choose from!
Vinyl Type - Color
Styles Used
this project is a simple stick and trim with basic heart shapes added.
---
Let It Snow Light-Up Canvas
Click here for the full Light up Christmas canvas Tutorial
One of the best things about winter is that the world gets covered in a soft white blanket of snow. It's so beautiful when the Christmas lights gleam off the fresh powder! So, why not make a stunning Christmas or winter décor piece for your mantel or wall? Ironing on Glitter HTV really makes the image stand out and is a thicker material, making it easy to apply. To add extra sparkle and shine, simply poke small holes where you'd like to put Christmas lights. Don't forget to attach the lights with some glue to keep them in place! Who knew that some canvas and Christmas lights could brighten your décor so much?!
The color possibilities are endless with the wide variety of Glitter HTV that we carry here at ExpressionsVinyl.com. Grab a sample kit today with your next order!
Vinyl Type - Color
Styles Used
This cut file is available through designbundles.net
Let it Snow Cut File
---
Count Your Blessings Throw Pillow
Click here for the full Count your Blessings Pillow Tutorial
Stenciling is not only for wood surfaces. It also works great on tight-weaved canvas material such as this fun project!
Oramask 813 Stencil Vinyl allows you any color that acrylic and fabric paint have to offer, plus it gives the benefit of having fun with color-blending such as the pumpkin shown on the pillow.
The Count Your Blessings Throw Pillow is a great accent to your living room or outdoor porch.
Vinyl Type - Color
Styles Used
The cut files used on this pillow can be found in Cricut Design space:
Count Your Blessings #MEE21A25
---
Decorate Your Faux Pumpkins with Craft Vinyl
Click here for the full Vinyl Pumpkin Tutorial
Decorating pumpkins does not have to be an in-depth project. Sometimes making it simple and to the point is the best décor you can do.
This faux pumpkin was decorated with some Oracal 651 Black Polka Dots, which is a simple shape meaning anyone can create this look with a machine, craft punch, or even by hand drawing and cutting them out with scissors. You don't even need Transfer tape! Simply lift and stick it to the surface.
A pumpkin with this design is sure to be trendy every year.
Vinyl Type - Color
Styles Used
This design was created with just some simple circles
---
Click here for the full Etched Pie Plate Tutorial
Another great use for the Oramask 813 Stencil Vinyl is etching into glass material. Adding a fun design like this one with a family name not only makes for a great gift, but everyone will know who to return the plate to after a party. Since the Etching cream scratches away at the glass surface, you are left with a permanent image that will never wash or fade. But steer clear of the Pyrex brand as it will not take on the etching material.
We also recommend trying out our Etched Vinyl line for those glass materials that will not come in contact with and oven or microwave. Etched vinyl is great on windows, glassware, and many other glass products.
Hint: these also make great neighbor gifts!
Vinyl Type - Color
Styles Used
This image is available from the Silhouette Design
Store: Baking Split Monogram SIL ID# 123437
Font: Arial
---
Fall Wooden Pumpkins with HTV
This Fall Pumpkins Project is an awesome idea for a mixed media project. Here, both Adhesive and Heat Transfer Vinyl are being used.
The Glitter HTV on the back pumpkin give a nice glitzy texture to an otherwise smooth solid finish. It's also a great alternative to the classic method of pouring glue and glitter and making a mess all over (been there, done that!). Simply iron it right on and you have a glamorous pumpkin!
Pairing some of our Patterned Adhesive makes the whole project fall into place. To give it some enhanced character, top it off with some twine or matching ribbon around the stem.
This makes a cute porch decoration, or even a harvest centerpiece!
Vinyl Type - Color
Styles Used
This simple project requires no cut files or fonts, just vinyl application.
---
Faux Embroidery with Stripflock Pro
Click here for the full Faux Embroidered Tea Towels with StripFlock Pro Tutorial
This winter idea is a super fun one. StripFlock has a fuzzy velvet finish to it, giving the illusion of an embroidered look when cut out as border. This also keeps your fabric sealed at the edges.
If you sew or quilt and never quite finish that project because embroidery can be a daunting task, try the StripFlock Pro for a quick and easy finished look.
Try it with our Patterned Vinyl to transform your home into a winter wonderland!
Vinyl Type - Color
Styles Used
Images can be found in the Silhouette Design Store:
LD HANG Ten Font #8723
Art Swirls Snowflake #14826
SImple Snowflake #4943
Font: Kite Script
---
Click here for the full Pet Scarf Tutorial

Along with all the fall décor and clothing style changes, why not share the love with your fur-babies. Chloe here is sporting her custom-made scarf using our EasyWeed and EasyWeed Electric lines.
Any material works great for Heat Transfer Vinyl, especially items made of cotton or polyester. This fun scarf is meant for fall, but flip it around and make a fun everyday monogram.
Vinyl Type - Color
Styles Used
Cut file for this scarf can be found in the Silhouette Design Store:
Pumpkin Plaid Monogram #149567
Font: Beyond the Mountains
---
Click here for the full Stenciled Christmas Sign Tutorial

We sure do love our Oramask 813 Stencil Vinyl here. It so so fun and easy to work with. Due to its film material, you can easily see where it is applied and where it may need a little extra burnishing.
This fun Buffalo Plaid sign was created completely with Oramask, so don't sell your self short with only stenciling words, why not try a fun background like this buffalo plaid its a little intricate but totally worth the work for your finished product
Add a silly phrase and this is sure to brighten your home, even before Christmas.
Vinyl Type - Color
Styles Used

Get the Buffalo Pattern background from the Silhouette Store:
Buffalo Check Stencil SIL ID# 249949
(Or try our Adhesive Patterned Vinyl, too!)
And this silly saying from CreativeFabrica.com:
It's Never Too Early for Christmas Music
---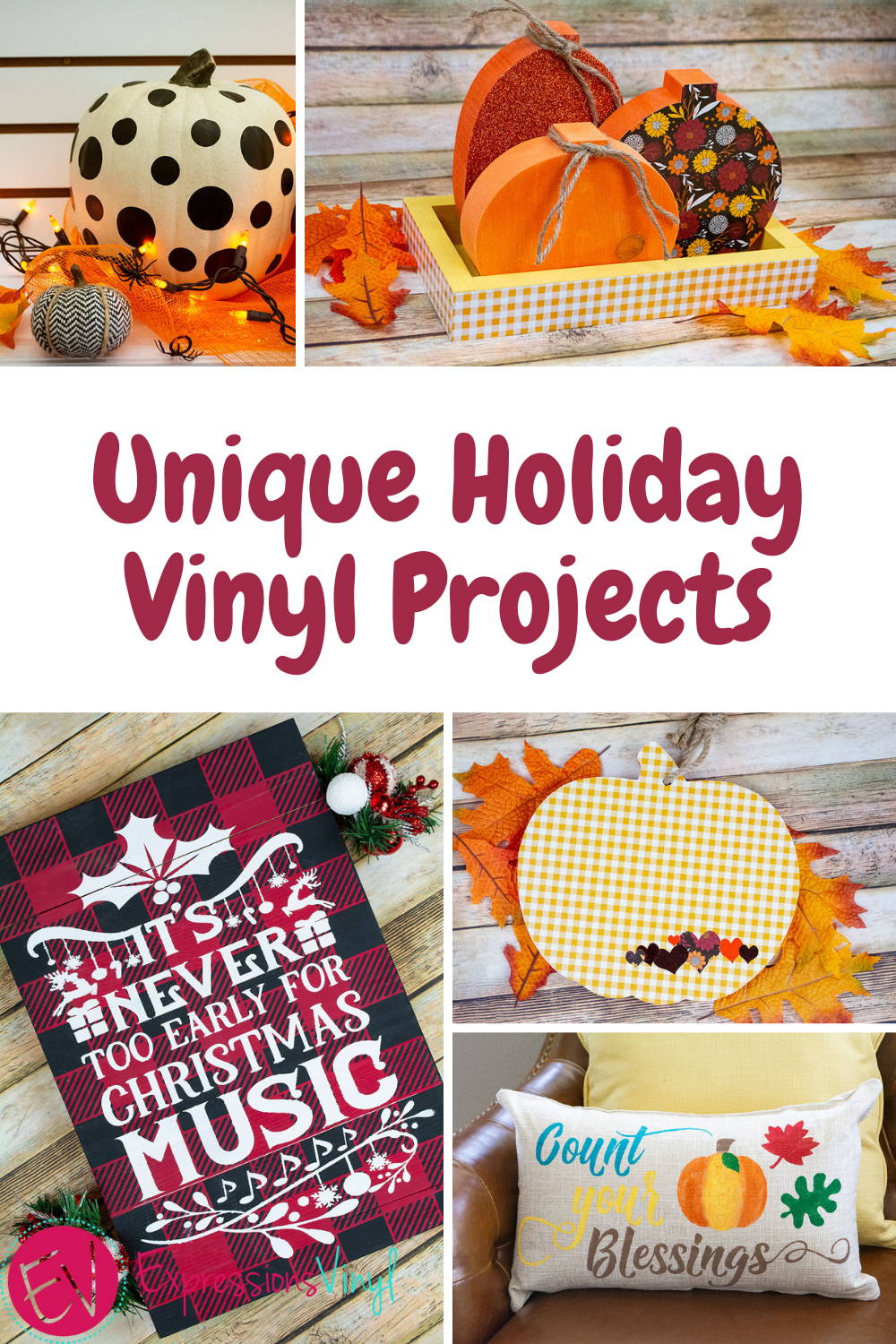 Recent Posts
The May 2023 Mystery Project Box is finally here and it is full of all sorts of fun things …

The April 2023 Mystery Project Box is finally here and it is full of all sorts of fun thin …

The March 2023 Mystery Project Box is finally here and it is a fun one. We …